NULL
2010-12-06 13:38:12.000 – Stacey Kawecki,  Observer and Meteorologist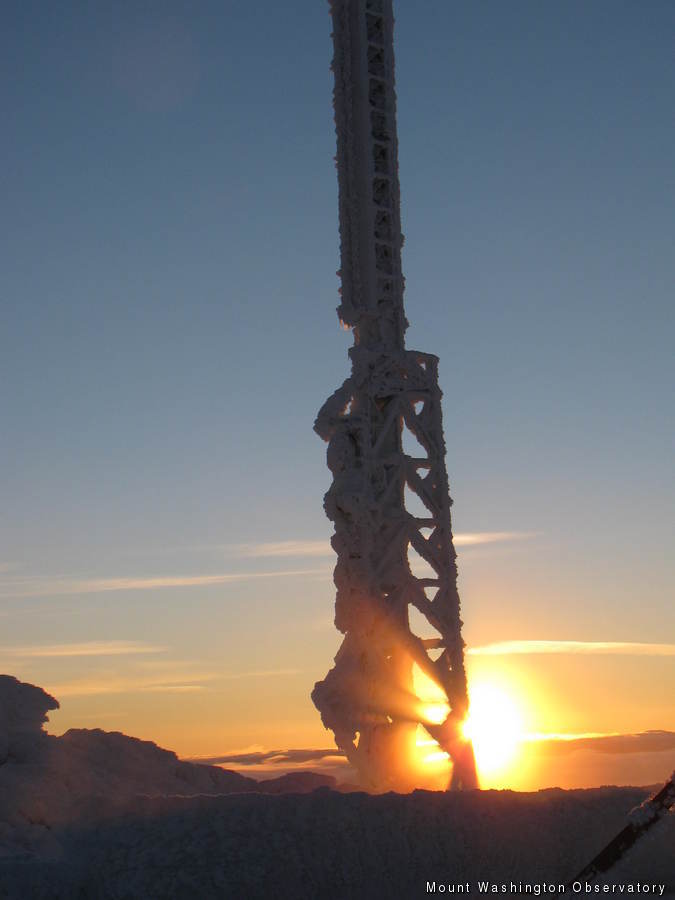 fun with light
Yesterday was great. As Kristin mentioned, we had sun, an undercast, and a persistent fog-bow. One of my favorite views was from the top of the parapet. You can see the fog like a gossamer sheet blanketing the summit buildings. The fog-bow was pretty sweet as well.
Going up to the parapet for some pictures inspired my afternoon task. The strong sun, light winds, and warm temperatures were the perfect combination for a little bit of parapet de-icing. After the glaze and rime, it was pretty messy up there with not much room for maneuverability. Armed with an ice chipper, crowbar, shovel, Kristin's i-pod, and a burning desire to be rid of the nuisance ice, I took to the tower.
I apologize to the innocent bystanders who may have inadvertently been subjected to my singing, but after 2 hours of hacking, chipping, shoveling, and dancing (I mean, with music in my ears and a shovel being the perfect dance partner, how could I not?) the parapet and tower were much cleaner.
Sunset was perfectly serene; it was so quiet you could hear the whisper-soft crunch of rime underfoot. The sun sank beneath the bank of clouds, but not before shining through one of the radio towers like the ball of fire it really is.
Today is exciting for a different reason; it's snowing, and it's going to stay cold. That means the snow might actually stick around for awhile, as opposed to our shift notoriously melting all the snow by Wednesday. Maybe this off week I'll get to break out my snowboard!
Stacey Kawecki,  Observer and Meteorologist
Ellen Estabrook
Adjusting to Life on the Summit By Charlie Peachey Working on the summit of Mount Washington is not your average job. There aren't too many other places where the employees work and live together for
Ellen Estabrook
A Surprise Aurora By Francis Tarasiewicz After 17 months of working at New England's highest peak, it finally happened. On the night of November 12th, 2023, I was lucky enough to view the famous and
Ellen Estabrook
A Glimpse at METAR Reports By Alexis George, Weather Observer & Meteorologist METAR observations are submitted every hour of every day at Mount Washington Observatory. METAR is a format for reporting weather information that gets