Observatory Expands Education Team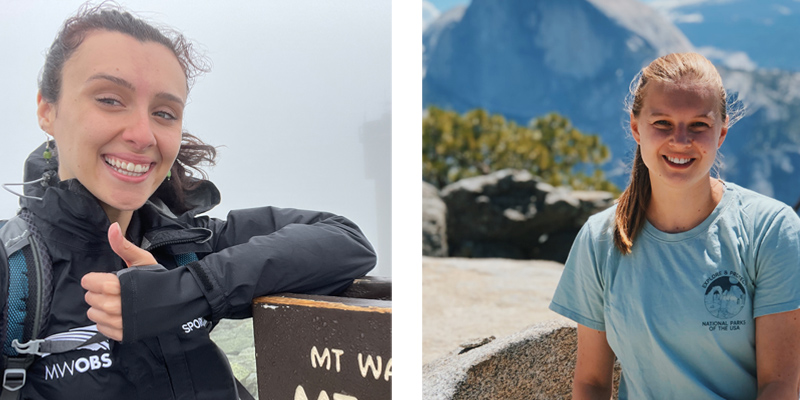 Jackie Bellefontaine, left, and Emily Veh recently joined our education team.
This summer, Mount Washington Observatory welcomed Jackie Bellefontaine and Emily Veh to the education team led by the Director of Education Brian Fitzgerald. Bellefontaine is the Observatory's School Programs Coordinator, and Veh joins the organization through AmeriCorps as the School Programs Educator.
Bellefontaine, a former MWOBS weather observer, is excited to be part of the team once again. She is a Boston native with a B.S. in Earth Sciences from the University of Maine. During her undergraduate studies, she was given the opportunity to join the Juneau Icefield Research Program (JIRP) and spent the summer ski-traversing the icefield from Juneau, AK to Altin, BC. This expeditionary-style program, focusing on studies relating to glaciology, solidified her passion for cold, dynamic places.
In 2021, Bellefontaine began her winter internship at the Observatory, then shifted into the Weather Observer & Education Specialist role after just a few months as an intern. Later in 2022, after thoroughly enjoying her summit experience, she pursued a position with the Lake Winnipesaukee Association, managing their educational outreach and development efforts. Now back at the Observatory, Bellefontaine is looking forward to developing educational programs and engaging with educators, students, and adult learners in the immediate community and beyond.
Veh is also thrilled to be joining the education team this year. Originally from California, she relocated to New Hampshire to pursue her interest in environmental education and interpretation. In 2022, Veh was an interpretive ranger at Franconia Notch State Park as part of the New Hampshire Conservation Corps and the Student Conservation Association. In her role at Franconia Notch, she interacted with park visitors daily, educating the public on topics of natural and cultural history. Her favorite part of being an interpretive ranger was interacting with children and students and facilitating a space to spark an interest or sense of wonder about the natural world.
Veh is looking forward to developing programs that will connect students to the fascinating world of weather and climate on Mount Washington, and is excited to further her own experience in environmental education.
Together, our education team has some exciting plans to continue developing and implementing innovative educational programs and resources for K-12 students, educators, and adult learners alike. Expect to see these educators leading field trips to the summit, making in-classrooms visits, and educating learners of all ages on the forces that drive Earth's weather and climate.
If you're interested in MWOBS educational programming and resources, please email jbellefontaine@mountwashington.org.
MWOBS Staff, Education
Ellen Estabrook
Adjusting to Life on the Summit By Charlie Peachey Working on the summit of Mount Washington is not your average job. There aren't too many other places where the employees work and live together for
Ellen Estabrook
A Surprise Aurora By Francis Tarasiewicz After 17 months of working at New England's highest peak, it finally happened. On the night of November 12th, 2023, I was lucky enough to view the famous and
Ellen Estabrook
A Glimpse at METAR Reports By Alexis George, Weather Observer & Meteorologist METAR observations are submitted every hour of every day at Mount Washington Observatory. METAR is a format for reporting weather information that gets