Oh Hello Winter
2014-11-15 14:56:25.000 – Caleb Meute, Summit Intern
Well, upsloping winds and persistent snow showers would pretty well define the last 24 hours. Yesterday it was looking like the skies would clear overnight and the summits would trend out of the fog. Yeah, that did not happen. As I went to sleep I did not anticipate the amount of shoveling that would have to be done when I woke up. Overnight, the summits remained socked in the fog and snow showers caused by upsloping winds fell throughout the whole night. Upslope snow showers were not picked up at all by forecasting models so they were difficult to forecast. Generally up here on the mountain, however, we can assume that they may occur when a good amount of moisture is present below the summit and the winds will be blowing from the west or northwest direction. When winds approach the mountain, they tap into this moisture and carry it up and over. As the moist air is rising over the mountain, it cools and nears its dewpoint temperature. Once the air reaches this temperature, it condenses and will form clouds. With enough moisture in the air, the clouds will then be able to drop snow. This phenomenon is what occurred for most of yesterday and all of last night continuing until around 11:30AM this morning. Total accumulation from these upslope snow showers was 6.9 inches.
Before I came to the summit of Mount Washington, I very much enjoyed shoveling for any snowstorm we received in Pennsylvania. A 6.9-inch snowstorm would not take very long for my dad and I to shovel walkways, and our somewhat long driveway. Well, something else that was occurring up here in the last 24 hours was wind. We get quite a bit of wind up here, and the last 24 hours was no different than most days. Winds were sustained around 60 mph for much of this period, while gusting up to 80 mph. That 6.9-inch snowfall we got decided to go for a ride, and it decided to land in front of the doors. It's favorite spot was in front of the main entrance which we utilize when we go to collect the precipitation can. This morning, Mike Carmon went to collect this can and when he got to that door, it didn't budge. After 3 minutes of vigorous shoving, Mount Washington Observatory inside linebacker Mike Carmon was able to get the door open just enough to walk through. When I woke up and got into the weather room after my short commute from downstairs, he informed me that we were going to have a good bit of snow to shovel.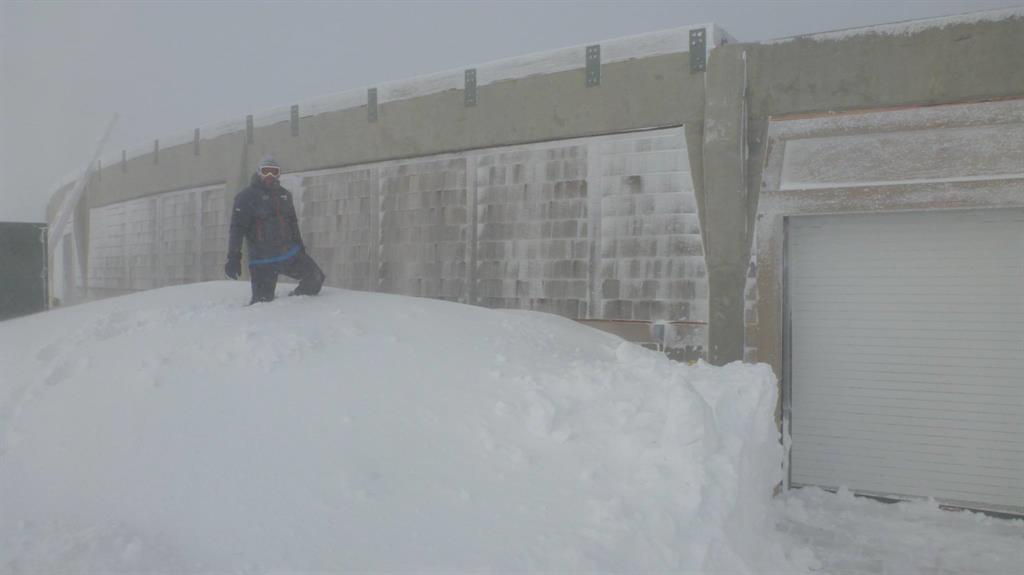 Obviously I did not realize how much exactly he meant, but when I went outside and saw the SIX FOOT snowdrifts it all made sense. Thankfully, he helped me with the shoveling and it didn't take too long. That being said, it was a pretty gnarly workout. I shouldn't complain about this though, because as a direct result of all of our volunteers' exceptional cooking, I can use the exercise.
In conclusion, I still like shoveling/snow/wind and Mount Washington, but like a wise Dorothy would say, I don't think I'm in Pennsylvania anymore. Well she said Kansas, but… Oh look its Marty.
THE END
Caleb Meute, Summit Intern
Ellen Estabrook
Adjusting to Life on the Summit By Charlie Peachey Working on the summit of Mount Washington is not your average job. There aren't too many other places where the employees work and live together for
Ellen Estabrook
A Surprise Aurora By Francis Tarasiewicz After 17 months of working at New England's highest peak, it finally happened. On the night of November 12th, 2023, I was lucky enough to view the famous and
Ellen Estabrook
A Glimpse at METAR Reports By Alexis George, Weather Observer & Meteorologist METAR observations are submitted every hour of every day at Mount Washington Observatory. METAR is a format for reporting weather information that gets