PSU interns parting comment
2011-01-21 18:21:58.000 – Michael Pirhalla,  Plymouth State Intern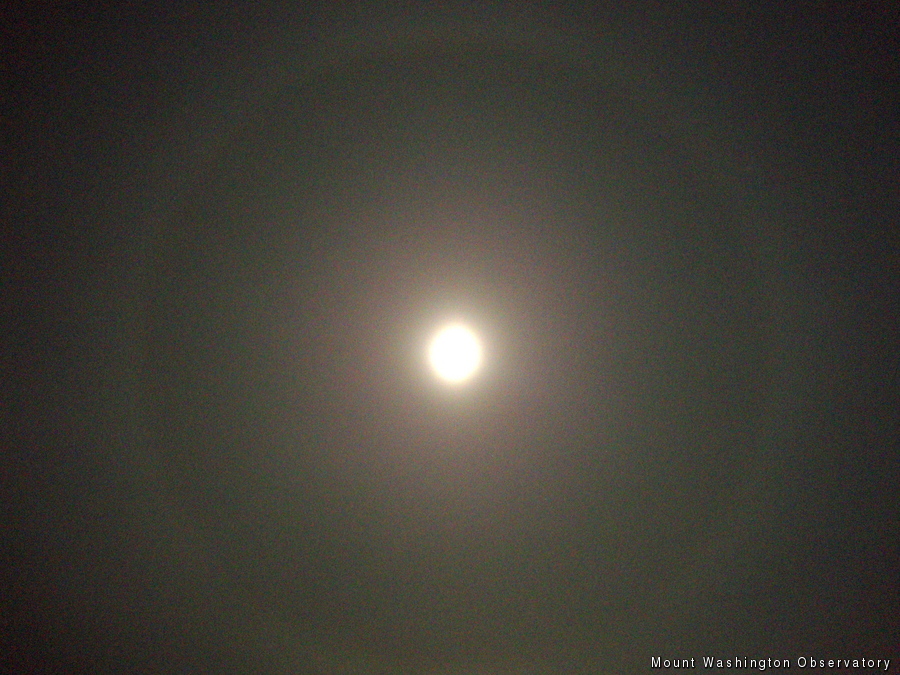 Halo around last nights moon.
An interesting optical effect of the moon occurred last night. Around 9PM, I decided to take a walk around the observatory deck for some fresh air and to check out the lights of the surrounding towns. The full moon brightly illuminated the summit. As I stepped outside, I immediately noticed there was a large halo encompassing the moon. This ring around the moon is caused by the refraction of moonlight from ice crystals in the upper atmosphere. The shape of the ice crystals results in a focusing of the light into a ring. This can similarly occur around the sun, as well. Sometimes, a lunar halo could be confused with a corona. However, coronas are typically formed by low and mid-level clouds and have a much smaller diameter around the moon.
We have been in the clouds all day, and the wind has picked up over the last few hours. Winds tonight could gust as high as 80 mph with temperatures well below zero. The wind has caused any snow we received to drift. One of our doors had a snow drift of over five feet. It was an interesting experience for me to try to dig it out, with the help of Rebecca, the summit intern. The gusty winds kept blowing the snow all around, and I couldn't keep my goggles from fogging up.
It has been an awesome two week adventure for my fellow PSU Intern, Jason Kaiser, and I. We leave Mt. Washington tomorrow afternoon with a bunch of memories and a completed research project. I can't think of a better way to spend my college winter vacation!
Michael Pirhalla,  Plymouth State Intern
Ellen Estabrook
Adjusting to Life on the Summit By Charlie Peachey Working on the summit of Mount Washington is not your average job. There aren't too many other places where the employees work and live together for
Ellen Estabrook
A Surprise Aurora By Francis Tarasiewicz After 17 months of working at New England's highest peak, it finally happened. On the night of November 12th, 2023, I was lucky enough to view the famous and
Ellen Estabrook
A Glimpse at METAR Reports By Alexis George, Weather Observer & Meteorologist METAR observations are submitted every hour of every day at Mount Washington Observatory. METAR is a format for reporting weather information that gets