Rain, Then Snow on the Summit
2014-11-24 16:53:46.000 – Michael Dorfman, Weather Observer/IT Specialist
While rain pushes through the area today (see above), we're all on the edge of our seats monitoring the forecast for Wednesday night and Thursday for what could be the first significant snowfall for the area! While the different weather models have not come into complete agreement, it looks like a coastal storm will be pushing into the region Wednesday and Thursday. At this point, it seems to be hugging the coast, with less of an effect further inland, but models can change dramatically in 48 hours, so keep your eyes peeled for updates!
Why is this storm rain and not snow? The simple answer is because it is too warm. But what dictates temperature in storms? One big principle in meteorology is that the characteristics of an air mass depend on where that air mass comes from. Low-pressure systems consist of a large area of atmosphere rotating counter-clockwise. In a perfect world, if you're to the west (left) of the storm, the air mass you encounter will be coming from the north, and will generally be colder than typical air from your latitude. This is known as the "cold sector" of a storm. On the other hand, if the center of the storm is to your west, an air mass from the south is pushing toward you, allowing you to feel warmer temperatures, and increasing the chance of rain during winter storms. Of course, the atmosphere is never perfect, so variables involving atmospheric conditions, geography and water temperatures all play a role in how this general concept applies to specific situations.
We are currently being pummeled by rain from a low-pressure system. With southerly winds, our air mass is very warm, hence why we aren't receiving snow from this storm (even on the summit of Mount Washington!) To the frustration of ski-minded individuals, the air mass that is pushing into the area gained a large amount of ocean moisture, allowing it to drop a significant amount of rain on the summit.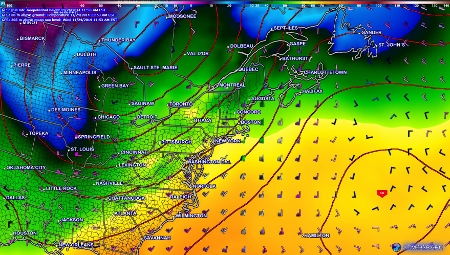 New England's current rain storm. Contours represent pressure, barbs represent the direction wind is blowing from, and color represents temperature. New England is receiving a southerly flow of air, making it too warm to snow. Image courtesy of Atmograph.
Skiers, don't fear! You can also see a map of the upcoming storm on Wednesday below. We're going to be in the cold sector of this storm, so no threat of rain for the mountains. The big question is what specific track will this storm take? If it pushes further inland, we could see more moisture out of it, with significant snow throughout much of New Hampshire. If the system pushes further offshore, we'll see colder temps but less precipitation. As of now, coastal and southern New Hampshire will bear the brunt of this storm with projected totals of around a foot of snow. Central and northern New Hampshire will see less, but still receive a decent 6+ inches. Only time will tell when old man winter will visit the region once again.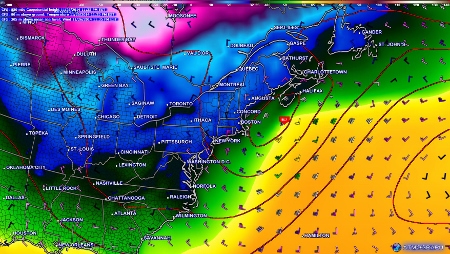 We'll be in the cold sector for the upcoming storm! Contours represent pressure, barbs represent the direction wind is blowing from, and color represents temperature. Image courtesy of Atmograph.
Michael Dorfman, Weather Observer/IT Specialist
Ellen Estabrook
Adjusting to Life on the Summit By Charlie Peachey Working on the summit of Mount Washington is not your average job. There aren't too many other places where the employees work and live together for
Ellen Estabrook
A Surprise Aurora By Francis Tarasiewicz After 17 months of working at New England's highest peak, it finally happened. On the night of November 12th, 2023, I was lucky enough to view the famous and
Ellen Estabrook
A Glimpse at METAR Reports By Alexis George, Weather Observer & Meteorologist METAR observations are submitted every hour of every day at Mount Washington Observatory. METAR is a format for reporting weather information that gets