Rainy Days
2008-11-15 15:08:52.000 – Jordan Scampoli,  Summit Intern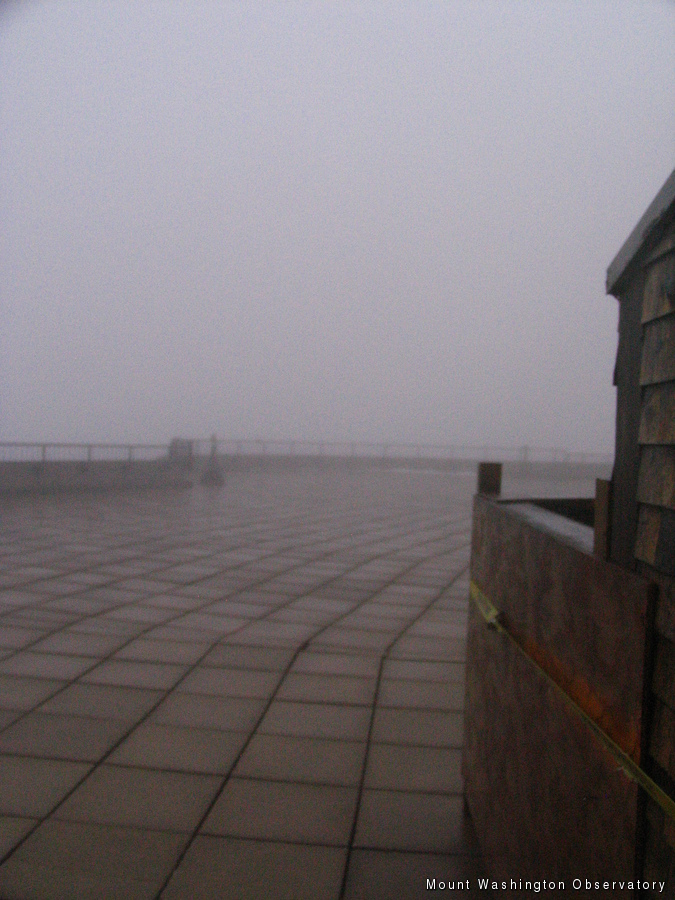 Blowing Rain
Rain, rain, go away, come again another day. Our shift is yet again graced with interesting weather. Since Thursday morning we have been watching the inside of a cloud, breaking out to see beyond the deck only once in that time. Right now we have sustained 50 MPH winds and moderate rainfall.
The forecast is calling for more fog, more rain, more wind. I'm being reminded of my childhood, when all I wanted to do was sneak out and jump in the puddles. Now, even though my research and not mom is the doing the nagging, I still sneak out every once in a while to enjoy the wind and the fog and the rain and the reason why I came to the summit – to relish in some nasty weather.
Just a reminder that tonight (11/15) between 10 PM and midnight the website may be down due to the upgrade of our web server. Thanks for your consideration.
Jordan Scampoli,  Summit Intern
Ellen Estabrook
Adjusting to Life on the Summit By Charlie Peachey Working on the summit of Mount Washington is not your average job. There aren't too many other places where the employees work and live together for
Ellen Estabrook
A Surprise Aurora By Francis Tarasiewicz After 17 months of working at New England's highest peak, it finally happened. On the night of November 12th, 2023, I was lucky enough to view the famous and
Ellen Estabrook
A Glimpse at METAR Reports By Alexis George, Weather Observer & Meteorologist METAR observations are submitted every hour of every day at Mount Washington Observatory. METAR is a format for reporting weather information that gets