Record High Temperatures and Fall Colors
2016-10-07 20:27:20.000 – Adam Gill, Weather Observer/IT Specialist
Today we have broken our daily record high reaching 57 degrees! The old record high was 56 set back in 1990. Luckily it was a really nice day up on the summit so people could enjoy the fall colors below!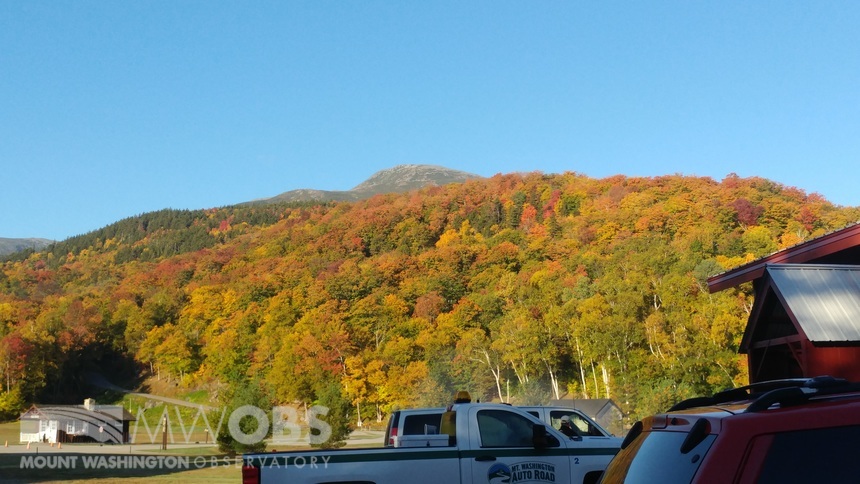 Fall foliage at the base of the Auto Road heading up for shift change
So why have we been so warm over the past couple of weeks? Our average temperature for this time of year is only 33 degrees so we should be seeing freezing temperatures much more frequently than we are. The reason for that is because this summer has been plagued by high pressure ridge after high pressure ridge. The persistent ridging is largely due to a lot of blocking patterns that have set up. When a blocking system sets up, it stagnates all the long waves along the jet streams so all the upper level troughs and ridges will not move for a week or more. Consistently getting stuck under the ridges has lead to sunny skies and warm temperatures for extended periods of time where the opposite is true for being under troughs.
This summer New England has been stuck under a ridge almost every time a blocking pattern forms so drought conditions have persisted. Looking ahead at the next week, it looks like there is a blocking pattern that is occurring again and we are stuck under a ridge. This does not mean we will not get precipitation, but the storms that we do get are weak and will not amount to much over the next week.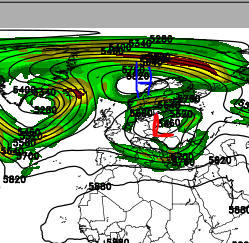 In the photo above, over central Europe there is a Rex block which is where an upper level high gets stuck over a upper level low. Due to the rotation of the two systems, it takes some time for one of the systems to begin to move.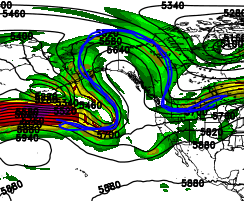 In this photo, there is an omega block (named this way because it looks like the greek symbol omega!) over the northern Pacific that is also helping hold upper level troughs and ridges in place. Luckily up wind of this block there is a strong jet streak that will punch through the block over the next few days so that will be a good start to freeing up the jet stream.
Unfortunately, this next week it looks like a ridge will hold strong over New England with only weak storms moving through. Some of the longer range models are starting to look like there could finally be a big pattern shift with more frequent storms moving into the Northeast next week. This is still a long ways out so here is to hoping more winter like conditions will finally come to the summit!
Adam Gill, Weather Observer/IT Specialist
Ellen Estabrook
Adjusting to Life on the Summit By Charlie Peachey Working on the summit of Mount Washington is not your average job. There aren't too many other places where the employees work and live together for
Ellen Estabrook
A Surprise Aurora By Francis Tarasiewicz After 17 months of working at New England's highest peak, it finally happened. On the night of November 12th, 2023, I was lucky enough to view the famous and
Ellen Estabrook
A Glimpse at METAR Reports By Alexis George, Weather Observer & Meteorologist METAR observations are submitted every hour of every day at Mount Washington Observatory. METAR is a format for reporting weather information that gets