Reflections on a Mount Washington Summer
2022-08-26 15:00:13.000 – Henry Moskovitz, Summit Intern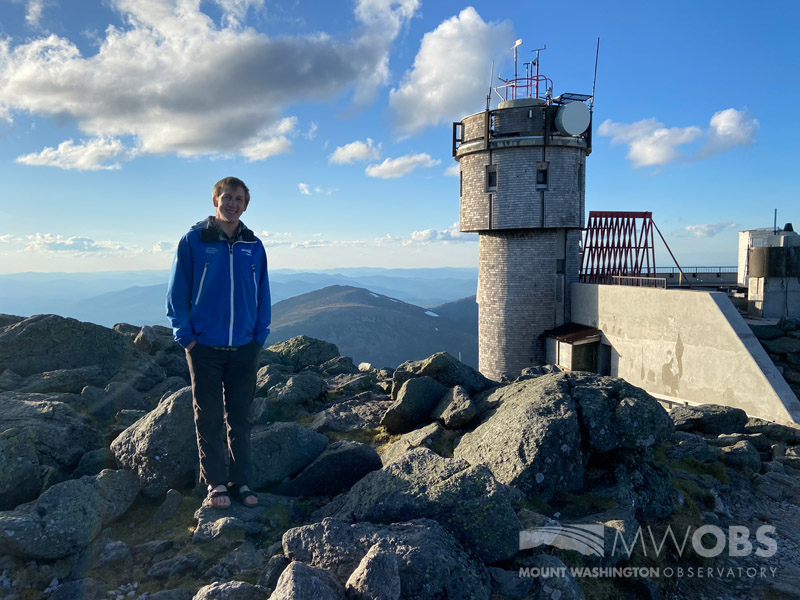 Having concluded my summer internship at Mount Washington Observatory, I look back on a beautiful, exciting summer full of meaningful work, friendships, and laughter.
I began my internship in early May with anxious excitement. This was an opportunity that I had dreamed about for a year and it was finally happening, but I felt nervous about fitting in and being comfortable in this new environment. Fortunately, Jay and Jackie (the observers on my first shift) helped me feel at home and got me working right away. Throughout this summer I have met, worked, and even danced with so many wonderful people that the experience will be one that I always cherish and remember.
A large part of my work was comprised of a research project studying near-surface lapse rates on Mount Washington. A near-surface lapse rate is the rate of change of surface air temperature with elevation along terrain. This project highlighted for me how variable temperature is in areas with complex terrain. It also illustrated why weather in the mountains can be so unpredictable. Watch our August edition of
Science in the Mountains
to learn more about the project.
Temperature is fundamental to the formation of weather, and as temperature varies widely over terrain, so too does the weather. After one of my shifts, I experienced this while hiking from Pinkham Notch to the Lakes of the Clouds Hut. Above tree line, I felt a rapid change in temperature as I became exposed to air rising out of Tuckerman Ravine. This also corresponded with the formation of clouds along the headwall. That day, the east side of the mountain was dry at the surface, but once I crossed to the west side, the rocks became wet as they were exposed to a different lapse rate, which resulted in greater condensation. Having learned some of these concepts in school, the real-world experience is super valuable to me.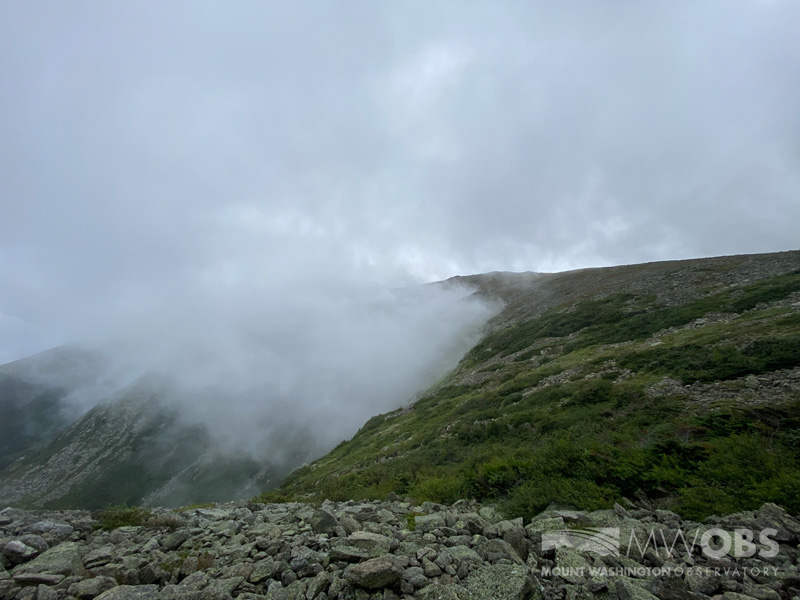 Clouds forming on Tuckerman Ravine.
Mount Washington is a place that is both beautiful and harsh; to me those adjectives are not mutually exclusive.
During my first week, the weather flipped from crystal clear, warm weather, to cold and stormy. While the clear days were pretty in their own right, the storm transported us into a new world. Winds gusted over 100 mph and freezing fog stuck to every exposed surface; to be left alone outside would likely lead to hypothermia and death. Yet, when the clouds parted and the winds eased, I was greeted by a sparkling world of white feathered ice, rime ice. This was a world I had never seen before.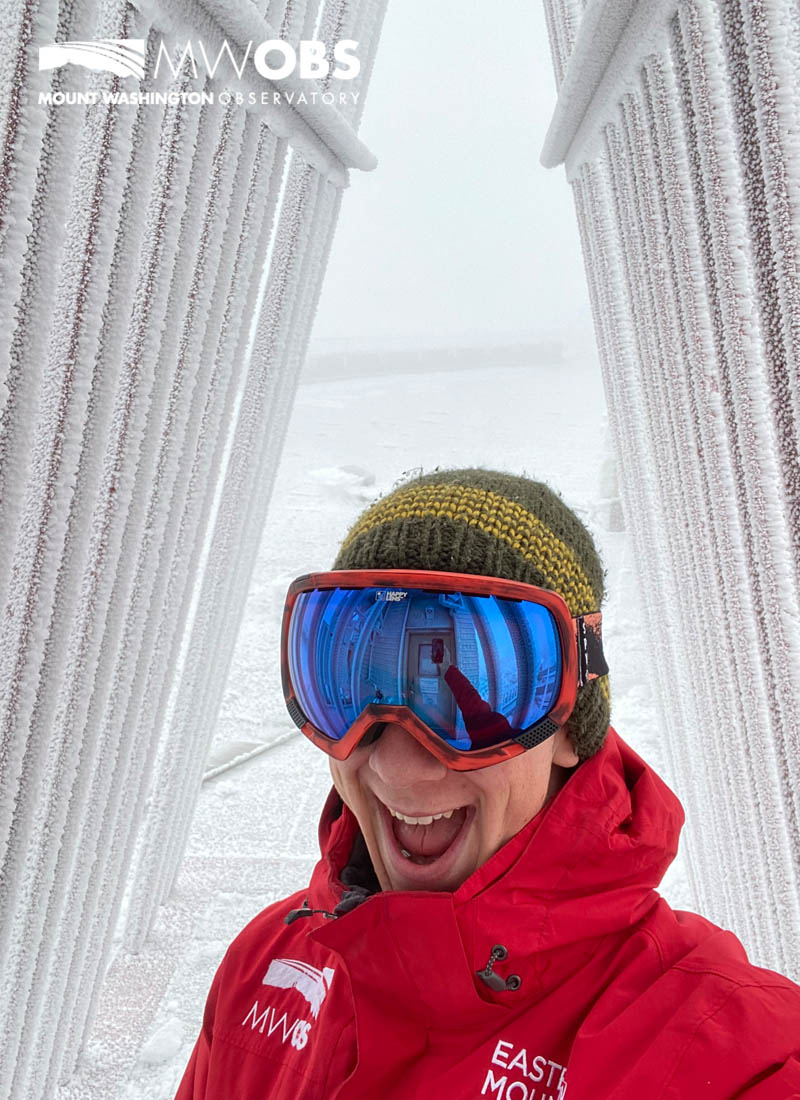 My first time experiencing rime ice. 
Throughout the summer, I continued to see the world from a unique perspective. On a few occasions, I woke up in the morning to find the summit protruding between layers of clouds: a blanket of clouds below, filling the valleys, and a blanket above. Situated between two cloud layers really feels like being on a heavenly island.
Above the world, the early morning light bounces up and down, between the clouds, almost blinding at times. Some say don't got to the light. I say, give it a try, it's pretty nice up there :)
As the Earth's surface warms, the moisture in the valleys bubbles from below, rising as cumulus clouds. In the afternoon, those clouds have grown into storms, dropping rain showers over the peaks and valleys. Next thing I know we are enveloped by a cloud. I seek shelter indoors as strong gusts of wind pelt rain against our windows. Then out of nowhere explodes a flash and bang! Lightning strikes one of the radio towers, and being so close we experience the thunder instantly. As the storms pass, the summit clears just in time for sunset. Pinks, oranges, deep blues and purple fill the sky. The storms that have passed now look like a watercolor painting on the eastern horizon. With the setting sun, the world fades into a darkness speckled with sparkling stars and wrapped in the ribbon of the milky way.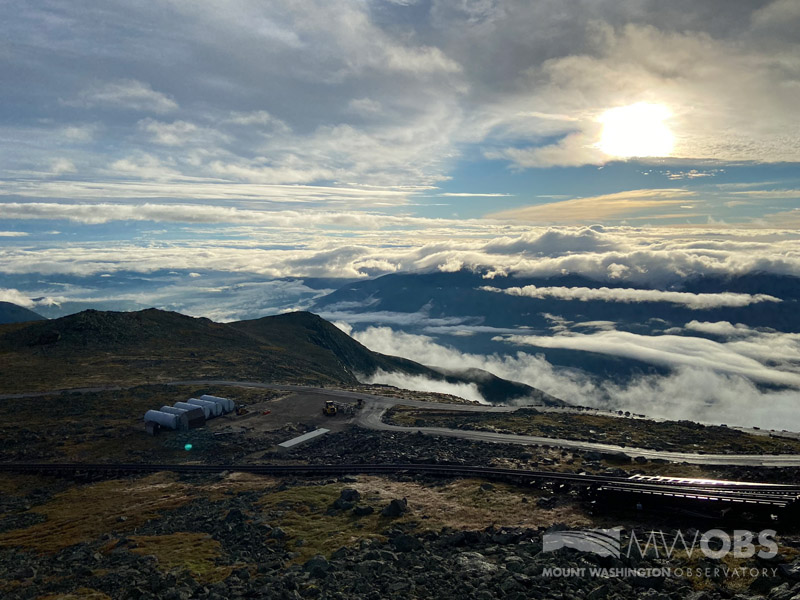 Summit exposed between layers of clouds. 
The summer passed by like a blur before my eyes. Research, forecasting, weather observation and goofing around with the Lakes of the Clouds croo filled my days without a dull moment. Having spent so much time literally in the clouds, now back at the surface, my head is still in them. I look upward and try to determine what feature is forming the weather before me.
This summer has been so full of the real-world application of meteorology that it will be invaluable to me as I continue my education. Returning to my senior year of college in Florida, I will have a greater respect and admiration as I watch storms develop.
The Northeast is nicknamed "the exhaust pipe of America" because so many storms converge there. With that logic, Florida is like the engine. This coming year I will watch storms develop and drift up the east coast to Mount Washington, and hopefully I can send a greeting embedded in the howling wind.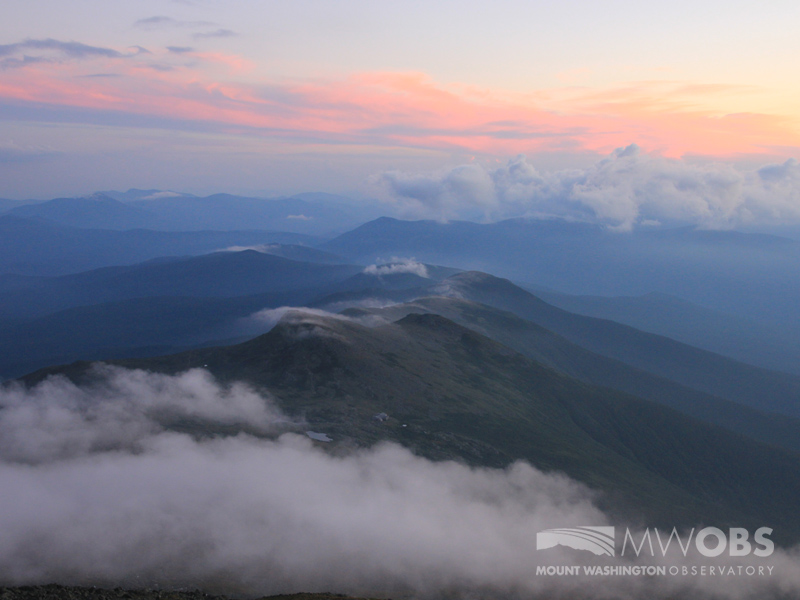 Beautiful colors at sunset. 
Henry Moskovitz, Summit Intern
Ellen Estabrook
Adjusting to Life on the Summit By Charlie Peachey Working on the summit of Mount Washington is not your average job. There aren't too many other places where the employees work and live together for
Ellen Estabrook
A Surprise Aurora By Francis Tarasiewicz After 17 months of working at New England's highest peak, it finally happened. On the night of November 12th, 2023, I was lucky enough to view the famous and
Ellen Estabrook
A Glimpse at METAR Reports By Alexis George, Weather Observer & Meteorologist METAR observations are submitted every hour of every day at Mount Washington Observatory. METAR is a format for reporting weather information that gets