Research to Look at Near-Surface Lapse Rates: the Amount of Temperature Change with Elevation
2022-05-17 18:55:34.000 – Jay Broccolo, Weather Observer & Meteorologist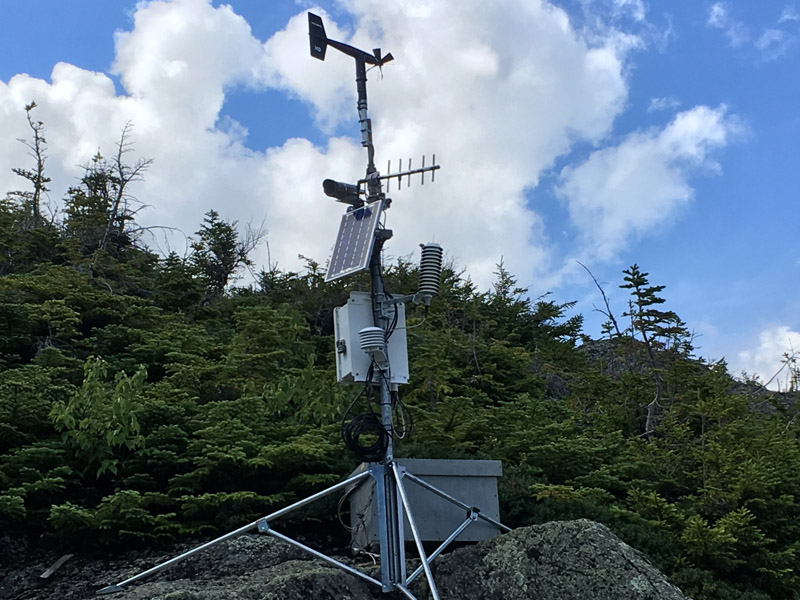 The MWOBS automated weather station at elevation 4,300 feet, part of the Mount Washington Regional Mesonet.
We recently completed a technical overview of the Mount Washington Regional Mesonet (MWRM) for submission to a scientific journal. The paper coalesces the history, metadata, instrumentation, functions, and uses of the MRWM, our network of remote weather stations at varying elevations. The overview also explains the value of a mesonet in the White Mountains along with the unique challenges presented by the terrain and harsh weather.
The overview is beneficial not only for our work but also other organizations that operate a series of automated weather stations in close enough proximity to measure, record, track, and communicate mesoscale meteorological phenomena. By mesoscale, I am referring to an area larger than microscale, like a town or city's environment, but smaller than synoptic scale, a large country or continent. Mesoscale, typically between tens of kilometers to several hundreds of kilometers, essentially refers to an area large enough to encapsulate storm-scale systems, like cyclones, extra-tropical cyclones, frontal systems, and squall lines.
Organizing all of this information will make it much easier for MWOBS observers and the scientific community to access this information as well as assist other mesonet system administrators to overcome some of their own unique challenges, establish a new mesonet, add further stations to one in existence, or maybe spark some new ideas and technology solutions.
We look forward to making our overview available to the public in the near future.
As we move into the summer, our intern program is back in full force and focused on research and weather operations. One of the research projects that will occur throughout 2022 and bring us into 2023 is the establishment of near-surface lapse rates on the windward and leeward flanks of Mount Washington.
One of our new summer interns, Henry Moskovitz, will be starting this project with a literature review, initial collection of data, and establishment of methods of analysis. Henry will be fortunate to get a first look at the summer seasonal lapse rates and see how they compare to what is generally known.
The project will make use of our MWRM, provide undergraduate research experience, and produce research that will add to the scientific community, improve our forecasting toolkit to better prepare the recreational and business community, and improve our understanding of climate change and its effects on the alpine zone.
As we dive into the research project this summer, let's welcome Henry and get to know him a little bit better…
————————————————————————-
Hi Everyone,
Wednesday, May 11 was my first day as the new intern on the summit of Mount Washington, and only a week prior I was finishing my last final exam at school all the way down in Daytona Beach, Florida.
After exams, I drove back to my home in Massachusetts, where I relaxed for a few days before heading up here. Apparently, I must have packed the warm weather with me before departing Florida because the ridge, currently sitting over us and producing record-high temperatures, looks like it was dragged up Interstate 95.
While on the subject, temperatures will comprise much of my work here this summer. My mentor, Weather Observer and Meteorologist Jay Broccolo, has begun providing me with a rough overview of the research that I'll be helping him complete.
Jay has been developing a study to establish near-surface lapse rates on Mount Washington. In more simple terms, this means we are looking to determine how the air temperature changes up and down the mountain under different conditions. Establishing more accurate baselines for these lapse rates will help with forecasting precipitation and predicting the effect(s) that changing temperatures will have on the local alpine climate and the surrounding environment.
I am very excited to participate in this important work and I am already finding the observatory to be a dynamic, engaging workplace. I look forward to all I will get to learn this summer!
–Henry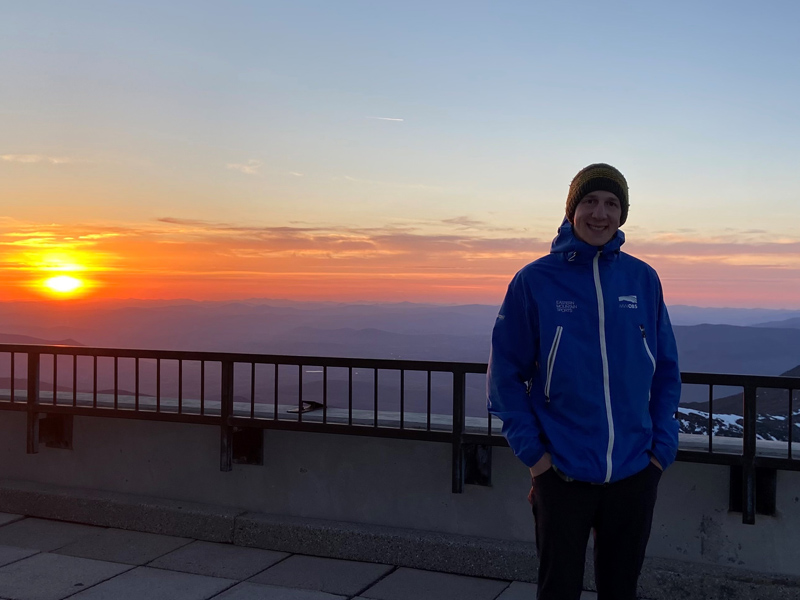 Henry Moskovitz
Jay Broccolo, Weather Observer & Meteorologist
Ellen Estabrook
Adjusting to Life on the Summit By Charlie Peachey Working on the summit of Mount Washington is not your average job. There aren't too many other places where the employees work and live together for
Ellen Estabrook
A Surprise Aurora By Francis Tarasiewicz After 17 months of working at New England's highest peak, it finally happened. On the night of November 12th, 2023, I was lucky enough to view the famous and
Ellen Estabrook
A Glimpse at METAR Reports By Alexis George, Weather Observer & Meteorologist METAR observations are submitted every hour of every day at Mount Washington Observatory. METAR is a format for reporting weather information that gets