Returning to Mount Washington Observatory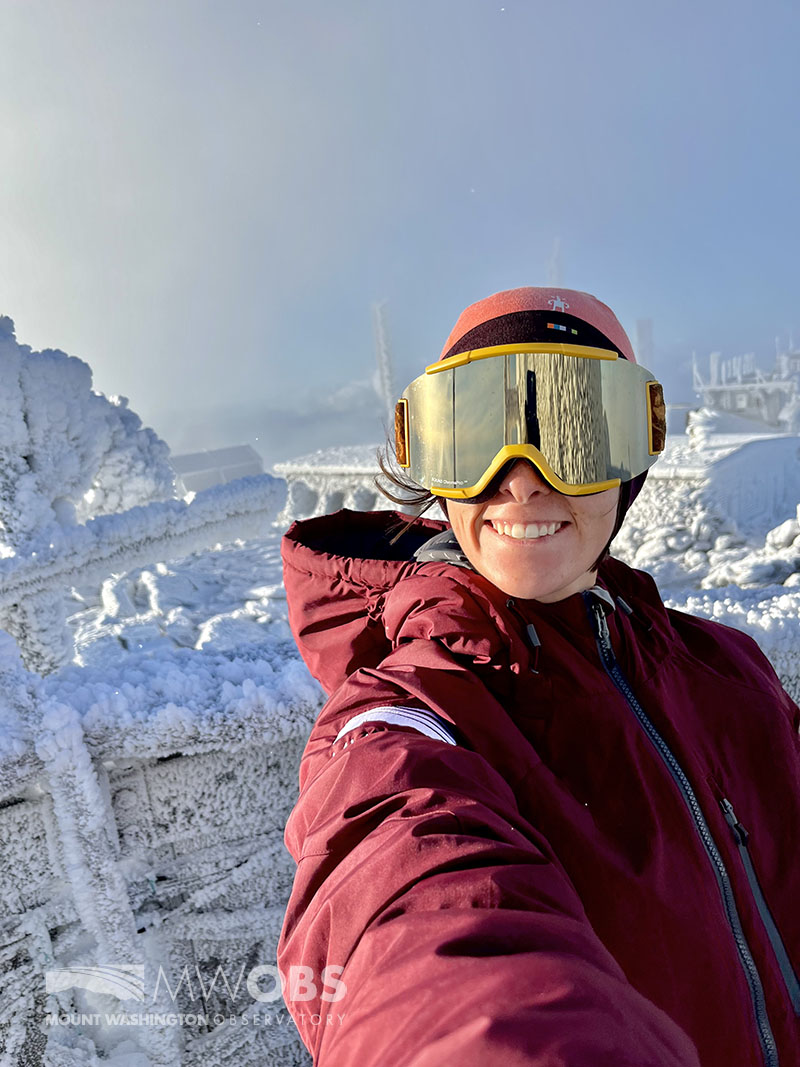 Weather Observer & Education Specialist enjoys winter conditions on Sept. 24.
Hello! My name is Alex Branton and I am a new Weather Observer & Education Specialist at Mount Washington Observatory. Although I am far from my home in Pensacola, FL, this is not my first time on the summit. Last summer, I was an intern here, and I fell in love with the job and the White Mountains. I am so excited to return and experience all the extreme weather Mount Washington has to offer.
During September, I have experienced many "firsts" on the summit. One morning while driving up the mountain for shift change, I got my first taste of Fall with leaves starting to change color. This is something that does not really happen in Florida, and I am so excited to see the foliage continue to change.
Last weekend, Sept. 23-25, Mount Washington received its first inch of snow and coating of rime/glaze ice of the season. Wintry conditions are another thing that I am not used to, and this was my first time seeing snow fall from the sky. Waking up to the summit being coated with ice and physically being outside in those conditions was such a surreal experience, and I look forward to the next one.
During the same event, we recorded 100 mph winds for the first time this season. The peak gust was 116 mph on Sept. 23 followed by 108 mph on Sept. 24, both surpassing my previous wind record of 107 mph during Hurricane Ivan.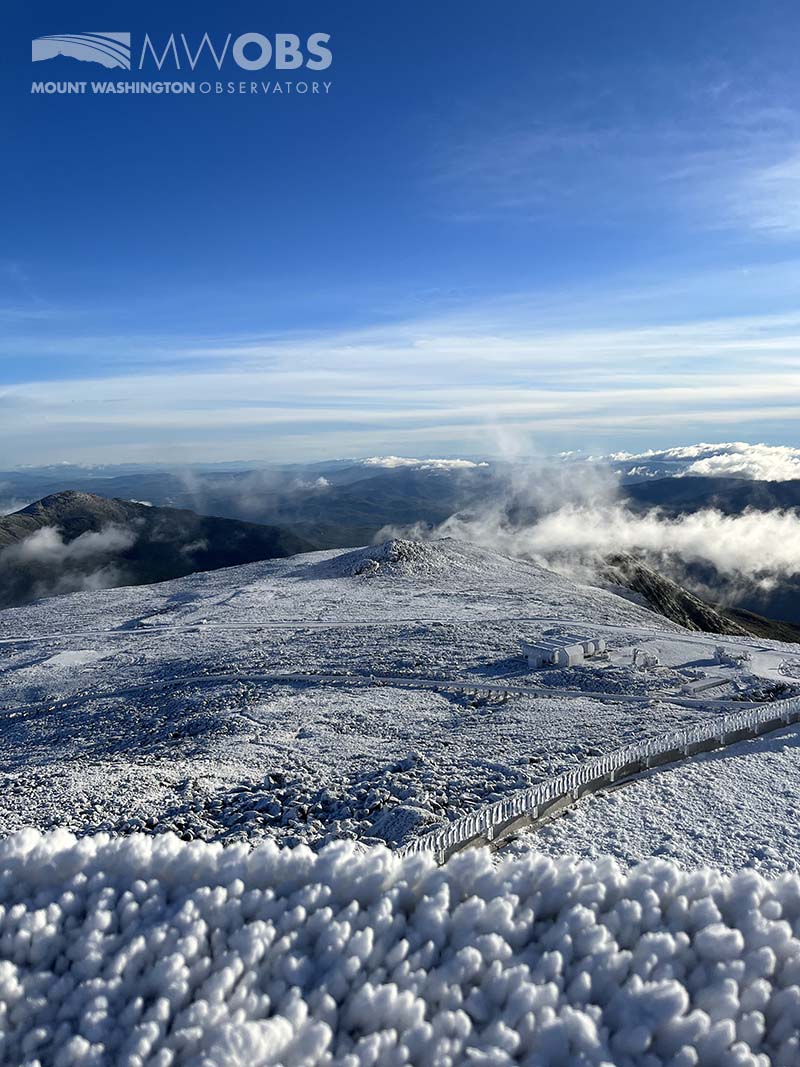 Snow and ice coat the summit cone on Sept. 24.
Mount Washington weather is so powerful and beautiful, and I feel incredibly lucky to be a meteorologist at The Home of the World's Worst Weather.
Having a career as a meteorologist has been a dream of mine since I was young. Some of my earliest memories include hunkering down in a hotel during Hurricane Ivan in 2004 and riding out Hurricane Katrina at home in 2005. Each of these storms were devastating to everyone impacted by them, but they inspired my passion for the weather. I remember watching meteorologists on television as they reported from the middle of the worst weather across the country and thinking, "wow, I want to do that when I grow up," (not necessarily the TV reporting part, but the being outdoors in extreme weather part).
In addition to meteorology, another passion of mine is being in the mountains. I enjoy the physical challenge and the emotions that recreating in the mountains can inspire. Combining these two things, I can think of no place more fitting to me than Mount Washington Observatory.
In the time between the conclusion of my internship and moving back to New Hampshire, I graduated from the Florida Institute of Technology where I was a member of the Women's Cross Country team and received degrees in Aviation Meteorology and Air Traffic Control. Through college, I spent my summers zip line and via ferrata guiding, thru hiking the John Muir Trail, and interning at MWOBS.
After graduation, I spent the majority of the summer travelling in the United States and in Spain before beginning my new position at the Obs. In the U.S., I drove across the country in a campervan so that I could hike, rock climb, and visit as many national parks as I could. In Spain, I cycled around the entire island of Mallorca over the course of five days.
I have had some incredible adventures, but I am excited for the adventures ahead at the summit, writing mountain forecasts and helping aviation and outdoor communities understand the unique relationship between weather and high terrain in the White Mountains.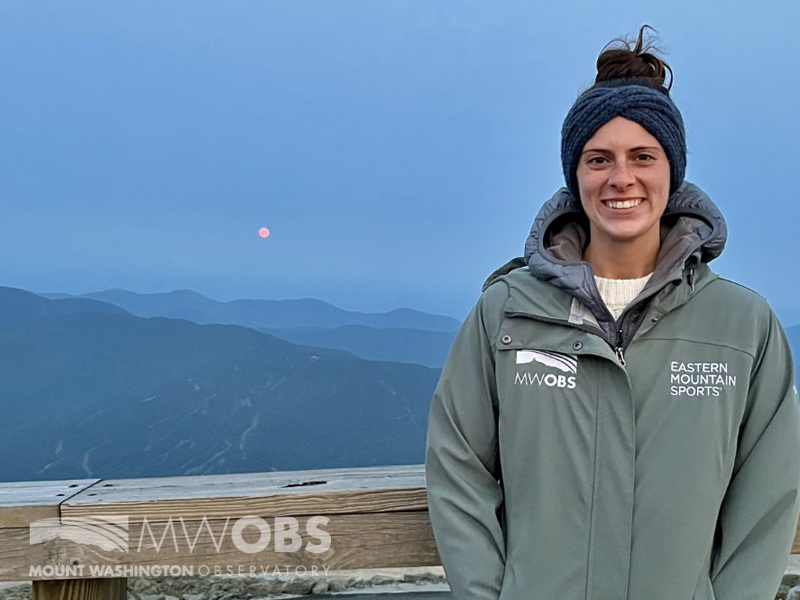 Alex at the summit of Mount Washington.
Alexandra Branton, Weather Observer & Education Specialist
Ellen Estabrook
Adjusting to Life on the Summit By Charlie Peachey Working on the summit of Mount Washington is not your average job. There aren't too many other places where the employees work and live together for
Ellen Estabrook
A Surprise Aurora By Francis Tarasiewicz After 17 months of working at New England's highest peak, it finally happened. On the night of November 12th, 2023, I was lucky enough to view the famous and
Ellen Estabrook
A Glimpse at METAR Reports By Alexis George, Weather Observer & Meteorologist METAR observations are submitted every hour of every day at Mount Washington Observatory. METAR is a format for reporting weather information that gets