Roller Coaster Weather Week
2021-03-31 09:20:05.000 – David DeCou, Night Observer
There is never a dull day on the summit of Mount Washington and so far this shift has certainly kept the excitement going. We have had rain, snow, ice pellets, fog, sunshine, high winds, low winds, rime ice, glaze ice, thunderstorms and everything in between! Just after experiencing record low temperatures and wind chills below -70°F during my previous shift, we started the week off to some of the warmest summit temperatures in months. We arrived on Wednesday with temperatures above the freezing mark, which then soared to a high of 43°F on Thursday, breaking a 68-year daily high record. Friday we hit the 40s once more amidst a foggy, rainy, and extraordinarily windy day with gusts roaring over 120 mph. This was accompanied by an early season thunderstorm that struck the summit directly in the late morning. Just as we had finally begun to feel some springtime warmth, a cold front swept in and knocked temperatures back down below freezing on Friday night, giving the summit a fresh coat of glaze and rime ice. Pictured below is the sun coming up the next morning just as the clouds began to clear.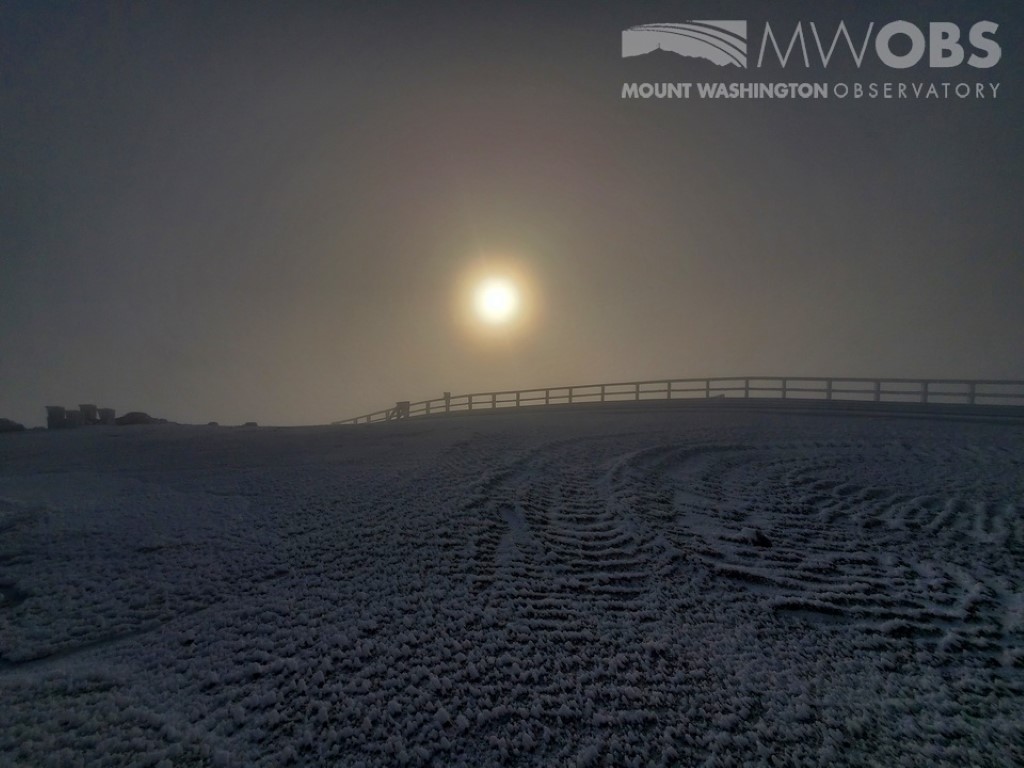 Despite the return of winter overnight, Saturday was gorgeous. The winds decreased and the sun came up, breaking through the fog in the morning ahead of a pleasant wintry day. I slept through much of it as night Observer, but was up in time to enjoy a spectacular sunset (pictured below), glowing through brushstrokes of cirrus and altocumulus. In spite of the below-freezing temperatures, it was a beautiful evening to go for a stroll around the summit. That night, the clouds filled in from below under a rising full moon, bathing the scenery in light for a few hours, which gave me an easier time with my nighttime visibility during observations. A low-pressure system was approaching for Sunday, and the fog eventually settled back in for the rest of the night.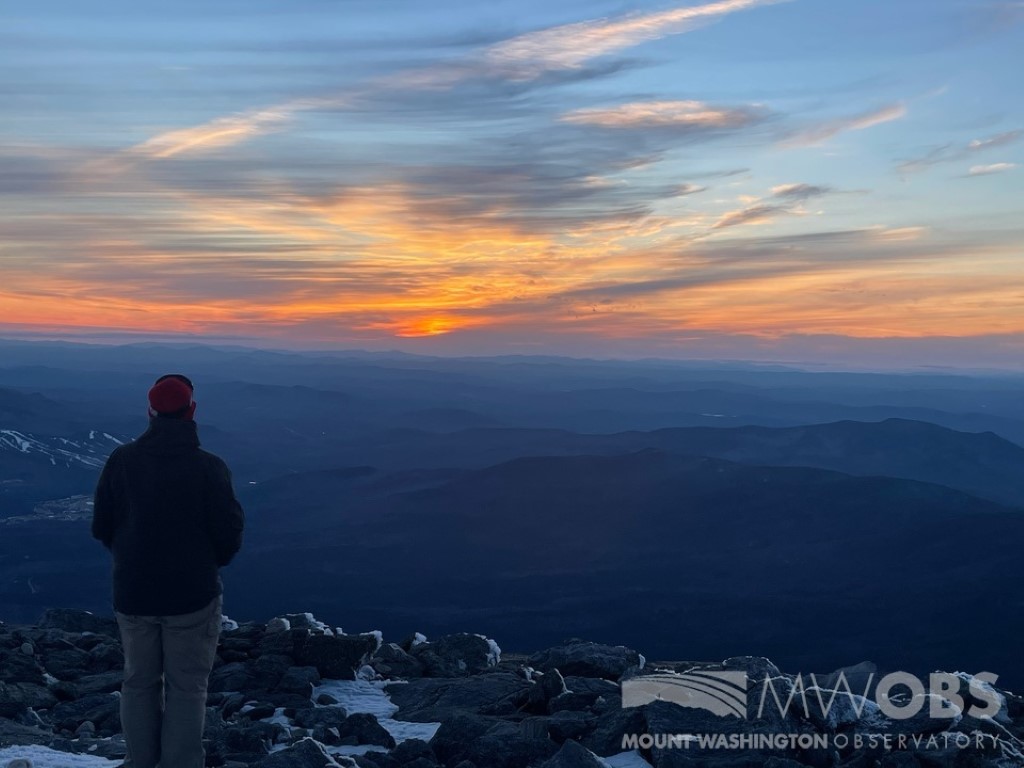 On Sunday, we had strong winds, fog, snow, freezing rain, and rapidly accumulating glaze ice. We even had a brief period of rain as the warm front lifted through in the evening, kicking temperatures up into the mid-30s. The cold front swept in immediately from behind and rain switched back to freezing rain, eventually becoming snow during the night. Determining precipitation type, icing type, and start/end times all required constant vigilance, but the most important thing was keeping the instruments de-iced. Heavy, dense glaze ice can build up quickly when rain falls from a warm layer above to a sub-freezing layer at the surface. At the very least, glaze ice will quickly freeze our wind vanes in place, but at worst, it can be a danger to both instruments and observers. It packs down, clings tightly to surfaces, and can become heavy quickly, making it more difficult to remove than brittle rime ice. Summit Operations Manager Rebecca Scholand and Director of Technology Keith Garrett have been working up here this shift, and they handled the brunt of this glaze ice episode. They have both been fantastic to work with! Sunday happened to be my 27th birthday, and I could not have had better people to spend it with on Mount Washington. During the craziness of the day, Rebecca managed to find the time to bake a beautiful cake for my birthday. I could not have hoped for a more sugary and delicious surprise. It was a banana cake with maple and cream cheese frosting with bacon bits sprinkled on top and it was amazing. Here it is below in all its glory: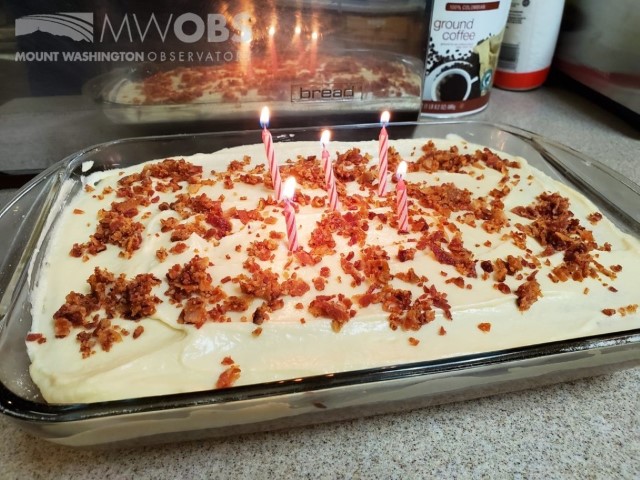 In addition, Keith has been cooking amazing meals throughout the week, including on my birthday, so I have been extra spoiled this shift. I would include photos of those meals as well but they were too delicious and unfortunately could not be photographed in time. While the weather on Sunday night was unpleasant at first, the banana maple bacon birthday cake got me through to Monday.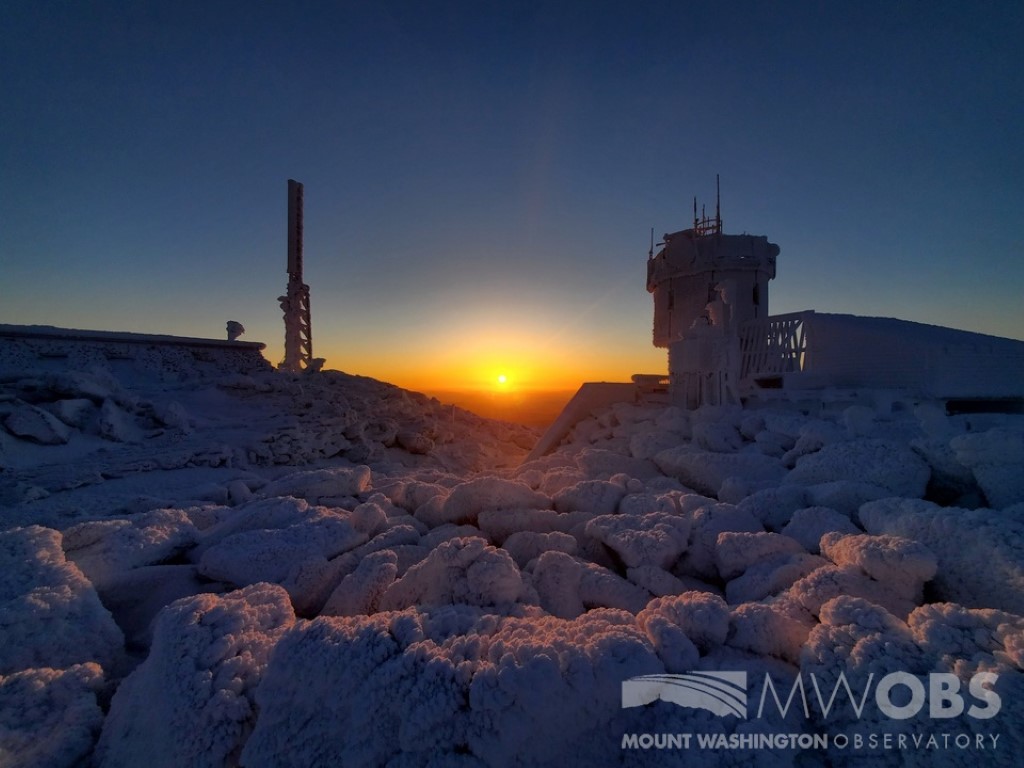 The system that brought freezing rain and rain ending in eventual snow on Sunday night headed out on Monday, and left some very strong winds in its wake. We received multiple gusts over 120 mph through the morning, which died down later in the afternoon. The skies and summits cleared by sunset, which was tricky to get a steady photograph of given the -30°C wind chill and still-elevated winds. The end of this shift is coming up quickly, and it really feels like we have experienced a full rollercoaster ride of Mount Washington weather just over the course of one week. The temperatures are now back up to around 40°F and rain is in store for tonight, followed by freezing rain and snow tomorrow as another system comes through. While the constant ups and downs in the weather pattern can be exciting during these shoulder seasons, I am definitely looking forward to the summer.
David DeCou, Night Observer
Ellen Estabrook
Adjusting to Life on the Summit By Charlie Peachey Working on the summit of Mount Washington is not your average job. There aren't too many other places where the employees work and live together for
Ellen Estabrook
A Surprise Aurora By Francis Tarasiewicz After 17 months of working at New England's highest peak, it finally happened. On the night of November 12th, 2023, I was lucky enough to view the famous and
Ellen Estabrook
A Glimpse at METAR Reports By Alexis George, Weather Observer & Meteorologist METAR observations are submitted every hour of every day at Mount Washington Observatory. METAR is a format for reporting weather information that gets