Snowed in at 6288′
2017-12-22 14:44:08.000 – Tom Padham, Weather Observer/Education Specialist
It's already been a very snowy start to our winter season on the summit of Mount Washington, and that trend looks to continue to end out 2017. The summit was actually just over a foot (13.0") below average for our seasonal total at the start of December, but things have quickly turned around with 60.5" of snow to date for the month, over 5 feet!
December is actually our snowiest month of the year, with an average of 46" of snowfall. March and January are close seconds with just one inch less on average. Our snowiest December occurred in 1968, when an incredible 104" (8.5 feet!) of snow was recorded. December 2016 actually takes second place, with 93.6".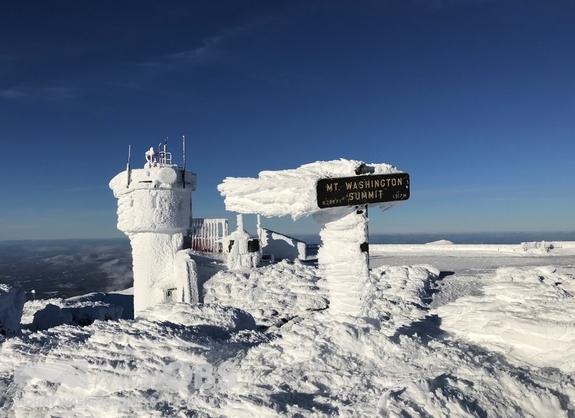 There is already a deep snowpack in place on the summit as of 12/22, with nearly 2 feet of snow on the ground.
So just how much more snow will we see to end out the month? Including the snow currently falling, we have 3 storm systems through the 31st, with the potential for more than 2 feet of additional snow. Snow this evening will continue through the predawn hours before a potential break centered around sunrise, with 6-8" of snow expected. Mixed precipitation will likely follow for the second half of Saturday, but if precipitation stays mostly in the form of snow and sleet we may see an additional 3-6" of new snowfall through Sunday morning.
After only about a 24 hour break, it looks likely that we will see a white Christmas across New England! Early Christmas morning a quick moving coastal storm will intensify and track towards Newfoundland, with heavy snowfall possible for coastal New England and a lighter snowfall here in the White Mountains. With plenty of cold air in place and lighter winds this will likely be a light and fluffy snow, and therefore could still add up to somewhere in the 3-6" or 4-8" range here on the summit before winding down to snow showers Tuesday, December 26th.
Last but certainly not least, models are now hinting at another potential snowstorm for the Northeast in the December 30th-31st timeframe. With the storm being a week away details are likely to change in the coming days, but with how models have looked this could be a powerful storm system. If the storm were to track close to the coast, here on the summit 100+ mph winds and well over a foot of snow would be possible. I can't think of a better way to end 2017 and ring in the new year!
06Z GFS Model showing a potentially strong Nor'Easter in the Gulf of Maine on 12/31/17. Image courtesy of Tropical Tidbits. Note: this is just one potential solution!
Tom Padham, Weather Observer/Education Specialist
Ellen Estabrook
Adjusting to Life on the Summit By Charlie Peachey Working on the summit of Mount Washington is not your average job. There aren't too many other places where the employees work and live together for
Ellen Estabrook
A Surprise Aurora By Francis Tarasiewicz After 17 months of working at New England's highest peak, it finally happened. On the night of November 12th, 2023, I was lucky enough to view the famous and
Ellen Estabrook
A Glimpse at METAR Reports By Alexis George, Weather Observer & Meteorologist METAR observations are submitted every hour of every day at Mount Washington Observatory. METAR is a format for reporting weather information that gets