Some September Stats As We Transition Seasons
2021-10-06 08:12:23.000 – Jay Broccolo, Weather Observer and Meteorologist
September has come to a close and with it comes some end-of-month stats.
September Stats: September averages compared to 1991 – 2020 climate normals (NCEI)
Temperature:
The average temperature was 43.1° F with a departure from normal of 0.0. The highest temperature this month was 56°F on the 18th and the lowest temperature was 26° F on the 29th, which was also the first observed snowfall and glazing event on the summit of Mount Washington. The average high temperature for the month was 47.9° F and the average low temperature was 38.3° F.
Precipitation:
The summit of Mt. Washington experienced 10.47" of liquid equivalent. Which means all precipitation types, liquid, and the melted amount of frozen precipitation. The average precipitation for September is 7.66" so; this September saw 2.81" more than normal. We measured 3.42" of water in the precipitation can on the 24th, putting it by far as the wettest day of the month. The first frozen precipitation event on the 29th and 30th produced 1.9" of snowfall, which 1.6" occurred during a 24-hour period over those two days.
Wind:
Mt. Washington experienced 205 hours of westerly flow, which was 28% of the total hours of the month. Mount Washington Observatory recorded an average wind speed of 32.0 mph over the month with the fastest wind gust clocked at 93 mph on the 12th.
Pressure:
The average station (KMWN) pressure was 808.549 mbar (23.876 inHG) with the highest pressure recorded at the station of 819.917 mbar (24.212 inHG). The lowest pressure was 799.060 mbar (23.596 inHG).
Wrap Up:
With September behind us and October in its early stages, the region has begun its transition into the shoulder season as winter steadily approaches. The average temperature at the beginning of September started at 47° F and by the end of it, is at 38° F. Heading into October, average temperatures will drop below the freezing point mid-month, so in about a week's time, the summit will be experiencing more and more events of frozen precipitation. The average wind speed for October is 35.5 mph, 3.5 mph faster than September, which indicates that we should start to see higher winds, and our first 100 mph wind gust in some time, certainly the first of the season! Pressure will continue to drop as well. Both high and low-pressure systems will lower as the gradient in temperatures between the poles and the equator intensify. Having said that, Mount Washington and the White Mountains, in general, will start to experience harsher and more intense systems as we begin the transition into winter and Mount Washington Observatory's 90th year of data recording!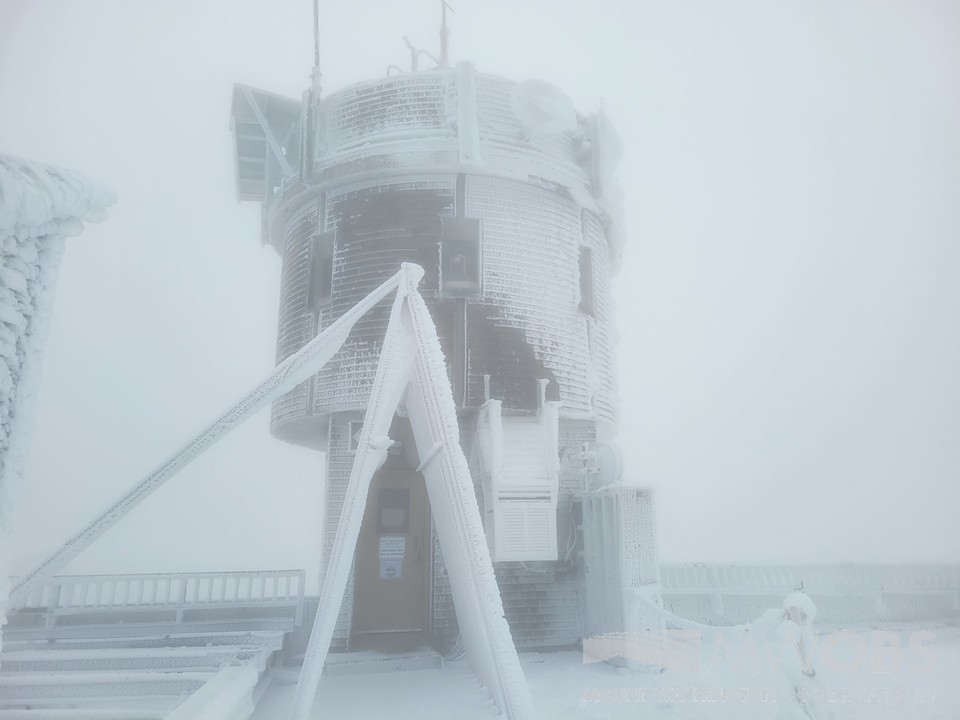 Figure 1: The Mount Washington Observatory's instrument tower coated in the season's first snow and icing event.
Jay Broccolo, Weather Observer and Meteorologist
Ellen Estabrook
Adjusting to Life on the Summit By Charlie Peachey Working on the summit of Mount Washington is not your average job. There aren't too many other places where the employees work and live together for
Ellen Estabrook
A Surprise Aurora By Francis Tarasiewicz After 17 months of working at New England's highest peak, it finally happened. On the night of November 12th, 2023, I was lucky enough to view the famous and
Ellen Estabrook
A Glimpse at METAR Reports By Alexis George, Weather Observer & Meteorologist METAR observations are submitted every hour of every day at Mount Washington Observatory. METAR is a format for reporting weather information that gets