Spending Christmas at The Observatory
2014-12-30 20:11:05.000 – Steve Crossman, Summit Volunteer
This week is my third time at the Mount Washington Observatory as a volunteer. My feelings leading up to the week were mixed since this would be the first Christmas I hadn't spent with my family in a very, very long time. But I was offered Christmas week and decided it would be a nice, unique way to celebrate the holiday. When I arrived at the base for the snowcat ride up, the excitement of the coming week's adventure temporarily put that out of mind. There were several familiar faces from my last trip up in May which also took some of the edge off the whole not being with family aspect. The Observers and the intern made my co-volunteer Dennis and I feel right at home. We had a family style Christmas dinner of turkey with all the fixings, the Observers opened Christmas gifts, and we all sat and watched some seasonal classic movies. I realized that, like me, they too were not home with family so instead they shared the holiday with their summit family. Very cool! Between that and the ability to stay in touch electronically with my family, I got into the spirit and had a very enjoyable, unique, and memorable Christmas. Marty the cat even got into the spirit of things wearing a Santa hat and playing with ornaments on the tree.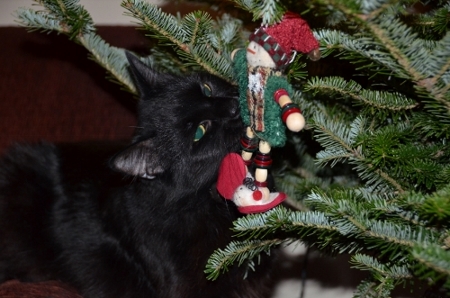 The week was everything I hoped it would be: challenging, rewarding, and educational. We cooked one night for fifteen people including some hikers that were part of an EMS Climbing School trip. I learned more about weather including boundary layers, fog generation, and the hand instruments used to make measurements. I also learned some culinary tips and tricks from my co-volunteer Dennis. And I got to spend some time outside wandering the cone in the snow and wind and cold taking pictures and videos.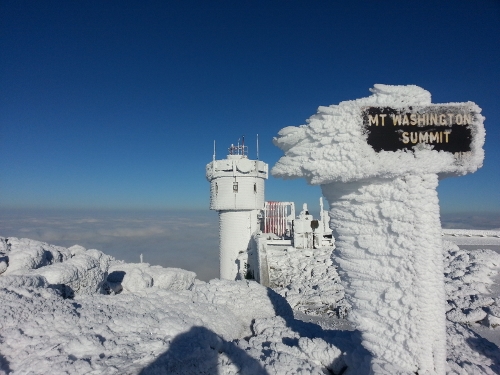 Each time I am up here for a volunteer week I gain more respect and admiration for the people who work and live up here. It takes a special kind of person to work up here. The hours are long, the work environment ever changing and sometimes dangerous, the location remote, and the need for teamwork is paramount to success. I am thankful for the opportunity to make their acquaintance and experience a slice of their lives, and I look forward to future returns.
Two of my three weeks of vacation a year are spent volunteering at MWOBS. I would highly recommend existing members look into this amazing opportunity that is available through your membership. If you're not a member then please look into becoming one, as the benefits and opportunities for unique experiences are well worth it.
Steve Crossman, Summit Volunteer
Ellen Estabrook
Adjusting to Life on the Summit By Charlie Peachey Working on the summit of Mount Washington is not your average job. There aren't too many other places where the employees work and live together for
Ellen Estabrook
A Surprise Aurora By Francis Tarasiewicz After 17 months of working at New England's highest peak, it finally happened. On the night of November 12th, 2023, I was lucky enough to view the famous and
Ellen Estabrook
A Glimpse at METAR Reports By Alexis George, Weather Observer & Meteorologist METAR observations are submitted every hour of every day at Mount Washington Observatory. METAR is a format for reporting weather information that gets