Spring Hike
2016-03-21 22:18:05.000 – Ryan Knapp, Weather Observer/Staff Meteorologist
The first day of spring was a nice one for the summit of Mount Washington and the neighboring summits in the White Mountains. The day started out sunny and remained generally sunny through the day despite some high clouds spreading in from the south late in the day. While temperatures remained on the cool side, low winds and the ample sunshine helped make it a tolerable day to be out and about without a face mask and full on winter gear for a change. With the pleasant spring weather expected, I decided to wake up a bit earlier than normal and go for a short hike prior to beginning my night shift.
With available time limited, I decided to venture down to Clay Col and take a look into the Great Gulf and see how the various gullies were looking. While walking down, I was surprised to find some pretty deep drifts of fluffy snow; and I say "surprised" as earlier this month we had a pretty decent melt out period. Even more surprising was the fact that this fluffy snow even extended into the tops of the surrounding gullies, forming little cornice-like features along the lips of most of them. While there were piles and drifts of fluff, there was also a lot of ice present – I mean A LOT! I was glad to be carrying an ice ax along with adequate ice traction under foot. The calendar might read spring and the surrounding valleys might look like spring, but for the summit of Mount Washington, it is, for now, still full on winter trail conditions. As I picked away at the snow/ice, I slowly made my way down, tagged out, then slowly made my way back up, pausing to take plenty of pictures (like usual) on my way up and down. Despite working up here for over a decade, I never tire of our views and still love photographing and admiring the world around me.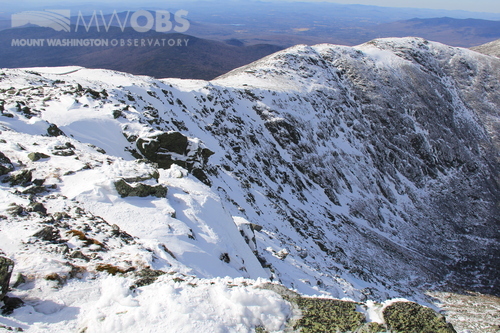 Upper lip of the Great Gulf the first day of spring
But that was yesterday, what about today? That fluffy snow I was talking about? Well, we got a bit more today. Before you get too excited though, we also received high winds. This means everything that had fallen last week and today has been on the move over the course of the day. For hikers, this means drifts that were there yesterday may now be gone or at least relocated. This also means some areas will likely have more ice exposed than they might have had over the weekend. For skiers, this likely means that the eastern side of the Presidential Range likely received some additional snow, not only from what fell today but from what was blown in. While this sounds great, it might increase avalanche dangers on Tuesday. With this in mind, hikers or skiers, prior to booting up tomorrow, should check the Mount Washington Avalanche Center for back country conditions. You can also check the days expected weather conditions at our Higher Summits Forecast page and lower trail conditions on the AMC Trail Conditions page or any one of several forums, blogs, or Facebook groups available out there.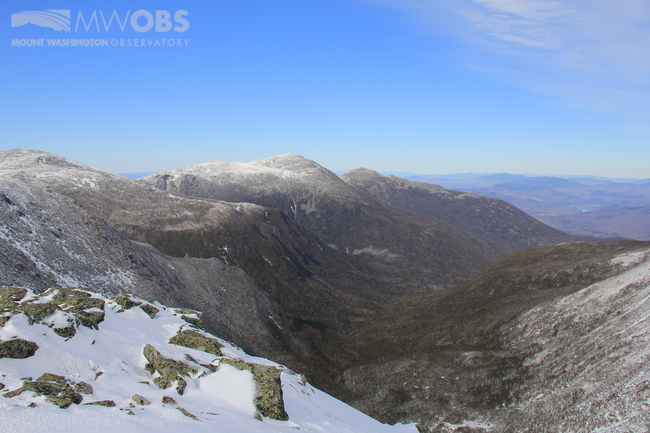 Looking over the Great Gulf the first day of spring
Ryan Knapp, Weather Observer/Staff Meteorologist
Ellen Estabrook
Adjusting to Life on the Summit By Charlie Peachey Working on the summit of Mount Washington is not your average job. There aren't too many other places where the employees work and live together for
Ellen Estabrook
A Surprise Aurora By Francis Tarasiewicz After 17 months of working at New England's highest peak, it finally happened. On the night of November 12th, 2023, I was lucky enough to view the famous and
Ellen Estabrook
A Glimpse at METAR Reports By Alexis George, Weather Observer & Meteorologist METAR observations are submitted every hour of every day at Mount Washington Observatory. METAR is a format for reporting weather information that gets