Spring (Skiing) is in the Air!
2015-03-26 16:58:12.000 – Mike Dorfman, Weather Observer/IT Specialist
While this winter was slow to start, it seems to be the gift that doesn't stop giving. The higher summits have seen an impressively long span of below-freezing temperatures, allowing for minimal melting in our snow pack as well as plenty of snowfall! Coverage at resorts across the state is doing quite well with the deepest base depths reaching over 5 feet!
Taking a look at the natural snow across the state, it's no wonder the base depths are so deep! Natural snow depths are still hovering between 1-3 FEET for most of the state! Even after today's (mostly) rain event, the southern half of the state will see some melting, but the little melting that will occur will be barely noticeable in our impressive snow pack and the northern half of the state will barely see any melting whatsoever. Even better, there is a swath of snow on the backside of the storm that will spread in through the center of the state, giving us a 20-40 percent chance of dropping 6 inches or more in the next 48 hours!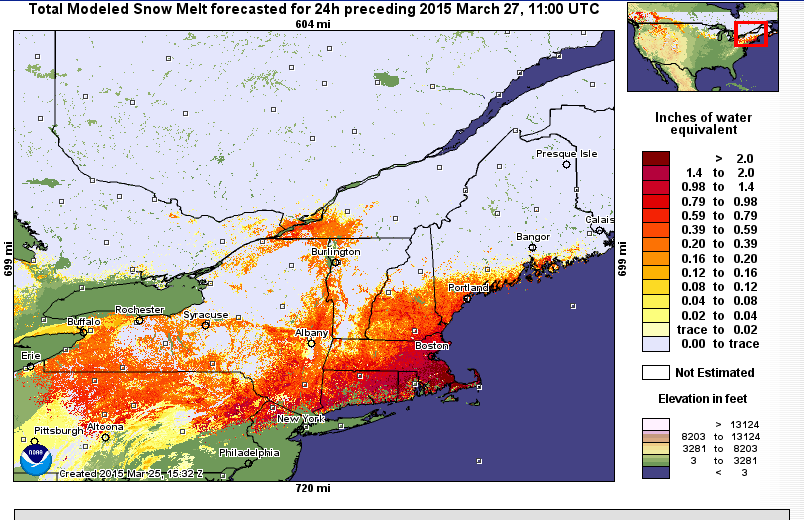 Snow melt over the next 24 hours. Source: http://www.weather.gov/nerfc/snow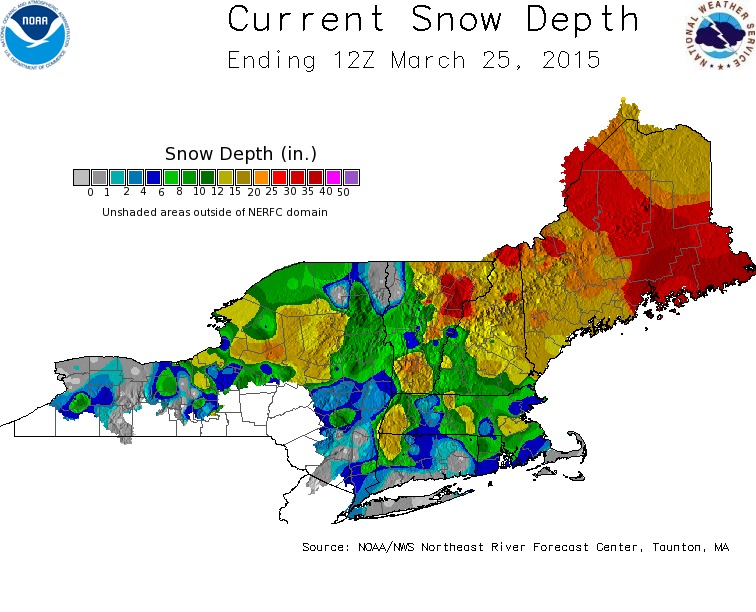 Snow depth in New England. Source: http://www.weather.gov/nerfc/snow
Don't be discouraged by the warmer weather moving through the region today, we're looking to dip back below the freezing mark, getting some snow on the backside of this storm. The weekend is looking perfect for skiing with temperatures in the 30s for the southern two thirds of the state both Saturday and Sunday. Looking a little further out, it doesn't look like we'll be getting any dramatic melt-out events through the end of the week. While temperatures may feel spring-like compared to what we've been getting this winter, this is arguably the best time of the year to hit the slopes! Time to get your tan on!
Mike Dorfman, Weather Observer/IT Specialist
Ellen Estabrook
Adjusting to Life on the Summit By Charlie Peachey Working on the summit of Mount Washington is not your average job. There aren't too many other places where the employees work and live together for
Ellen Estabrook
A Surprise Aurora By Francis Tarasiewicz After 17 months of working at New England's highest peak, it finally happened. On the night of November 12th, 2023, I was lucky enough to view the famous and
Ellen Estabrook
A Glimpse at METAR Reports By Alexis George, Weather Observer & Meteorologist METAR observations are submitted every hour of every day at Mount Washington Observatory. METAR is a format for reporting weather information that gets