Star-Gazing on Top of Mount Washington
2017-06-15 18:11:16.000 – Jillian Reynolds, Summit Intern
Going out and staring at the night sky has always been one of my favorite summer activities. Although, I usually only stargazed on the surface by a lake. Knowing that there were going to be clear skies last night, it gave me a chance to check out the sky from 6288 feet. This made me feel as though I were that much closer to the stars.
My fellow interns and I went out to check the sky out on the observation deck. Since we had to be up by 6 AM, we could not stay out too late. We went to watch the stars at around 9:30 PM when the sun was set and the stars were starting to show themselves. Sadly, the only camera I had with me was my phone. The picture quality is not that great, because all that can be seen is darkness. However, the other interns and I were able to point out a planet (we think it was Saturn) and the big dipper. We then decided to head inside and go to sleep for the night.
I have seen better quality pictures of stars and other night phenomena provided by the Observatory. One of the pictures I have seen shows many stars in the background of some of our weather instruments on the parapet. Just look at all of those stars! If I were there for this, I would have felt like I was in space.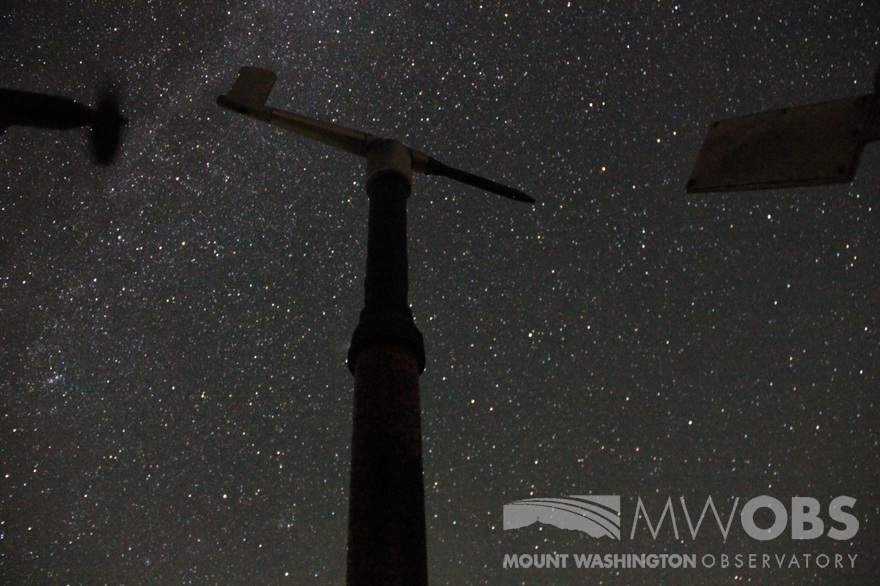 After seeing Mount Washington's night sky, I went and purchased a field guide to the night sky. Hopefully I will be able to see more stars and other night phenomena sometime during my stay here during the summer. Maybe then I would be able to identify more constellations and planets!
Jillian Reynolds, Summit Intern
Ellen Estabrook
Adjusting to Life on the Summit By Charlie Peachey Working on the summit of Mount Washington is not your average job. There aren't too many other places where the employees work and live together for
Ellen Estabrook
A Surprise Aurora By Francis Tarasiewicz After 17 months of working at New England's highest peak, it finally happened. On the night of November 12th, 2023, I was lucky enough to view the famous and
Ellen Estabrook
A Glimpse at METAR Reports By Alexis George, Weather Observer & Meteorologist METAR observations are submitted every hour of every day at Mount Washington Observatory. METAR is a format for reporting weather information that gets