Storm Chasing
2014-01-24 17:36:10.000 – Samuel Hewitt,  Summit Intern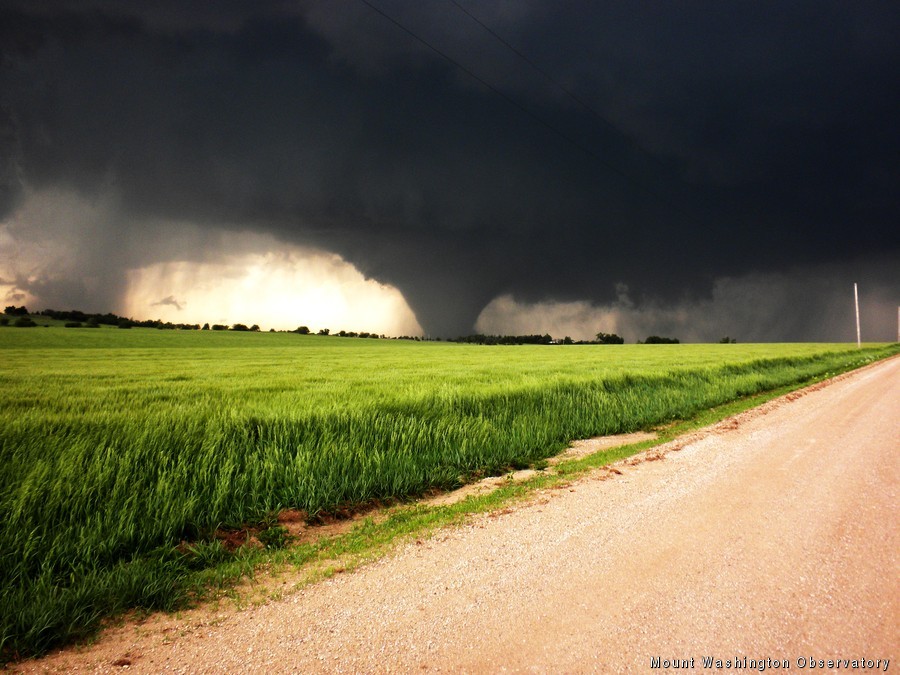 May 28th, 2013 Bennington, KS Tornado
The opportunity to live and work at the summit for a week at time has allowed me to experience weather conditions that I will likely never see at sea level. Since September, I have witnessed 130 mph winds, bitterly cold temperatures, and wind chills as low as -70 degrees Fahrenheit.
Last summer, my passion for extreme weather brought me to the heart of Tornado Alley, where I chased thunderstorms for two weeks as part of a storm chasing and observation program offered by the State University of New York at Oswego. I had waited my entire life for such an opportunity and I was not disappointed! Our first day of chasing brought us to North Central Kansas on May 28th, where we witnessed a violent EF-4 tornado in the small town of Bennington. Although the twister destroyed a few farm houses, we were relieved to hear that no one was injured. I couldn't remember the last time I had such an adrenaline rush!
In the days following, we chased storms through Kansas and Oklahoma; however, we had no luck finding another tornado. And then came Friday, May 31st. All eyes were focused on central Oklahoma, where forecasters were predicting the possibility of violent, long-track tornadoes. Around roughly 5:00 PM central time, a small cell fired to the west of El Rino, OK. Only a few miles away, we decided to chase the storm. Around 6:00 PM, the storm began to drop suction vortices (multiple tornadoes surrounding the parent tornado), which eventually evolved into the widest tornado in recorded history at 2.6 miles wide. Our group witnessed the tornado from about 10 miles away and we could not believe that it was destroying the town we had driven through only 30 minutes earlier. We were deeply saddened to hear that the storm took 8 lives, including those of storm chasing legend Tim Samaras and his crew.
If you too enjoy extreme weather, come out to the Port City Music Hall in Portland, ME on Friday April 4th from 5:30 PM – 9:00 PM for An Evening with Good Morning America's Ginger Zee – Meteorologist and Storm Chaser. A fundraiser to benefit the nonprofit Mount Washington Observatory, Zee will share the trials and triumphs of her ascension to stardom on Good Morning America, then offer an inside look at the world of storm chasing. Through heart-pounding video and first-person narration, she'll detail some of her most challenging and frightening experiences, including the devastating loss of fellow storm chaser Tim Samaras and his crew in 2013. With only a limited number of seats for this event, tickets are sure to sell out fast! So get yours today, before it is too late!
Samuel Hewitt,  Summit Intern
Ellen Estabrook
Adjusting to Life on the Summit By Charlie Peachey Working on the summit of Mount Washington is not your average job. There aren't too many other places where the employees work and live together for
Ellen Estabrook
A Surprise Aurora By Francis Tarasiewicz After 17 months of working at New England's highest peak, it finally happened. On the night of November 12th, 2023, I was lucky enough to view the famous and
Ellen Estabrook
A Glimpse at METAR Reports By Alexis George, Weather Observer & Meteorologist METAR observations are submitted every hour of every day at Mount Washington Observatory. METAR is a format for reporting weather information that gets