Subzero Summit Science
2018-11-27 17:39:18.000 – Ian Bailey, Weather Observer/Education Specialist
It has been an incredibly interesting shift week. We had a great Thanksgiving here on the summit, and Adam and I even got to spend it with Taylor from the other shift! While cooking a hearty meal and spending the evening sharing stories around the dinner table was great, it was Thanksgiving morning that I had the most fun with!
Thanksgiving and the day before, we smashed several low temperature records! On the 21rst we dropped to -20° F, breaking the previous record of -17°F set in 1987. And on Thanksgiving, we bottomed out at -26°F, with wind chills at -75°F! That not only smashed the previous record of -11°F from 1987, but it also broke both the monthly and seasonal records as well! The point I am trying to make is that it was bitterly, bitterly cold. And by far the coldest temperatures I have ever experienced. Now of course, with those incredibly cold temperatures, we had to take every precaution while going outside to take our hourly observations. We were decked out in full cold weather gear, including heavy boots, snow pants, 2 jackets, gloves and liners, 2 face masks, goggles, and a hat! No exposed skin allowed, unless you want to get frostbite in less than a minute. It was pretty intense!
But that doesn't mean that we didn't have fun with it…
You see, when you are experiencing such incredibly freezing temperatures, you have the unique opportunity to perform some fun cold weather experiments; an opportunity that Taylor and I seized and ran with! So we set up 3 experiments and gave them a try, documenting our experience as we went. It was a resounding success across the board, and a ton of fun to perform them. So check these out!
The first experiment that we tried was the Banana Hammer. And hilarious name aside, I think this was our more successful experiment that we ran. It was very easy to set up! We took a banana from our pantry and tossed it out in a snowdrift for an hour. From being in direct contact with the snow/ice and from being exposed to the arctic air, the banana froze completely solid. Once it was frozen, we went out of the deck with a 2X4, a small nail and a roofing nail. And using the banana, I was able to drive the nails into the 2X4 with no issue! It was crazy! The once soft and squishy banana was so completely frozen that it could be used effectively as a hammer, with minimal damage to the banana itself! Needless to say, I was incredibly impressed.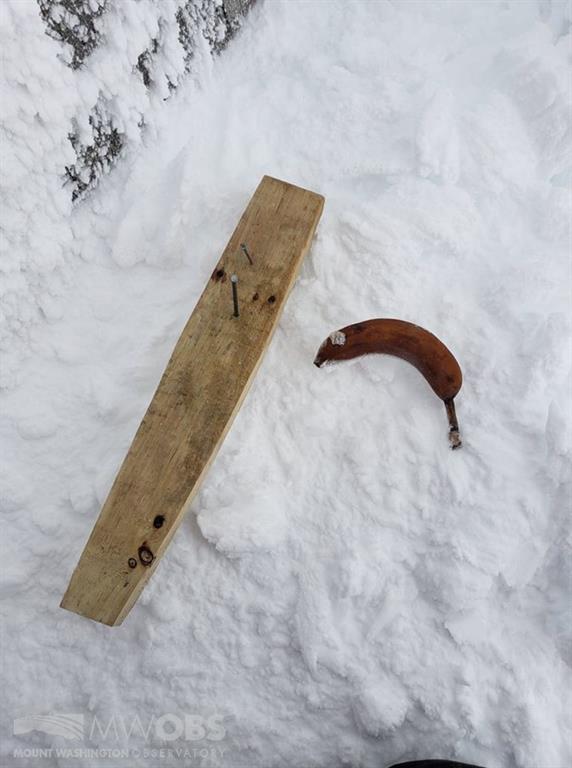 For our second experiment, we "cooked" up some Freeze Fried Eggs. We left a skillet out in the cold with the banana, letting the metal's temperature become so cold that it could "fry" an egg. Again, I was skeptical. But when I cracked the egg onto the skillet it actually began to cook! It didn't cook very much, but enough where I could get a spatula underneath it and flip it over! Impressive!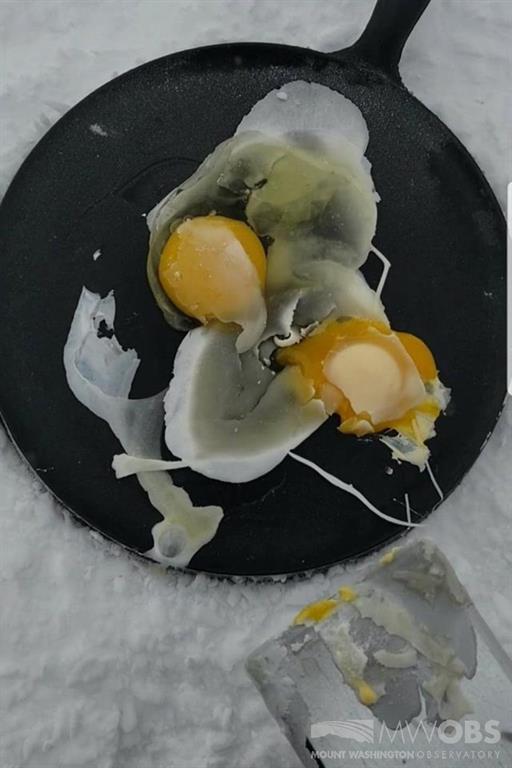 Finally, Taylor cooked up some ramen and wanted to turn it into a Ramen Lollipop! So we took the noodles outside and she tried to hold them up in the air to get them to flash freeze. Unfortunately, the water in the bowl was too hot to allow for the flash freeze we wanted. So Taylor took the noodles on the fork and held them up into the wind. And that's all they needed! They flash froze in about 30 seconds! However, the winds were still gusting high while we were doing this, and a 90 mph gust sent Taylor sliding across the deck! But she's experienced, and has mad skills! She spun in a 360 and slid to a stop right before the Cosmo Shack, holding the bowl the entire way! It was awesome!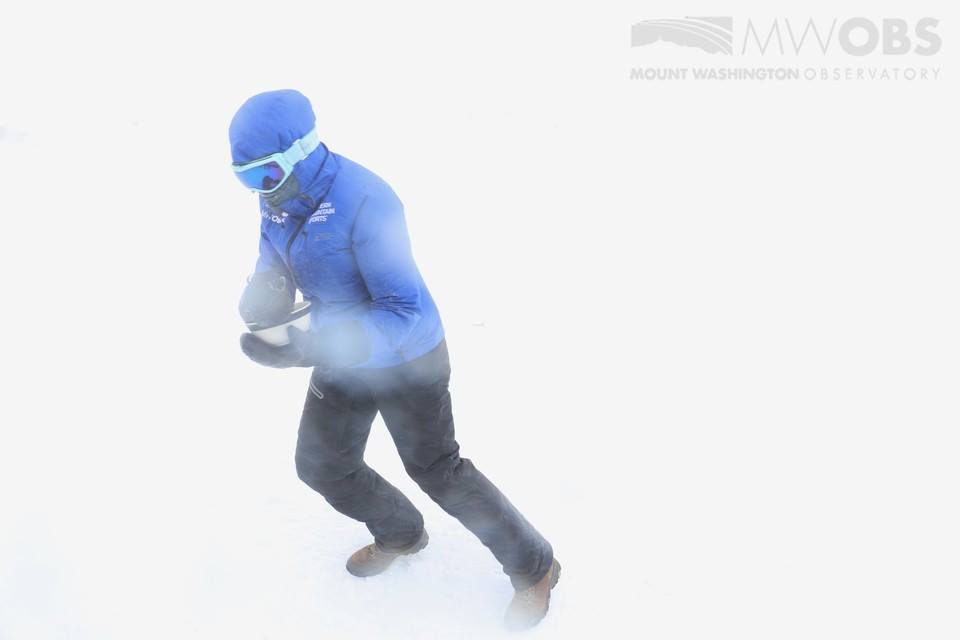 All 3 experiments were incredibly fun to perform! And the experience certainly peaked our appetite for more fun experiments to perform as the winter progresses! So stay tuned, and the next time we have some sub-zero temperatures, your mountaintop scientists will be sharing more experiments with you!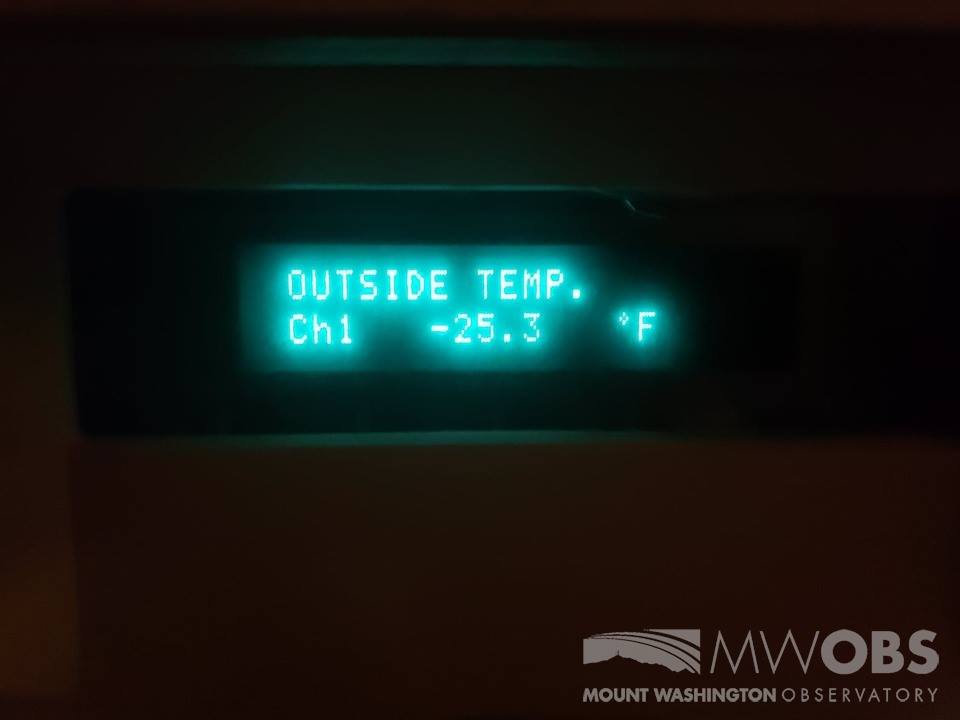 Ian Bailey, Weather Observer/Education Specialist
Ellen Estabrook
Adjusting to Life on the Summit By Charlie Peachey Working on the summit of Mount Washington is not your average job. There aren't too many other places where the employees work and live together for
Ellen Estabrook
A Surprise Aurora By Francis Tarasiewicz After 17 months of working at New England's highest peak, it finally happened. On the night of November 12th, 2023, I was lucky enough to view the famous and
Ellen Estabrook
A Glimpse at METAR Reports By Alexis George, Weather Observer & Meteorologist METAR observations are submitted every hour of every day at Mount Washington Observatory. METAR is a format for reporting weather information that gets