Summary of July Comment
2009-07-31 16:31:59.000 – Alex Jacques,  Summit Intern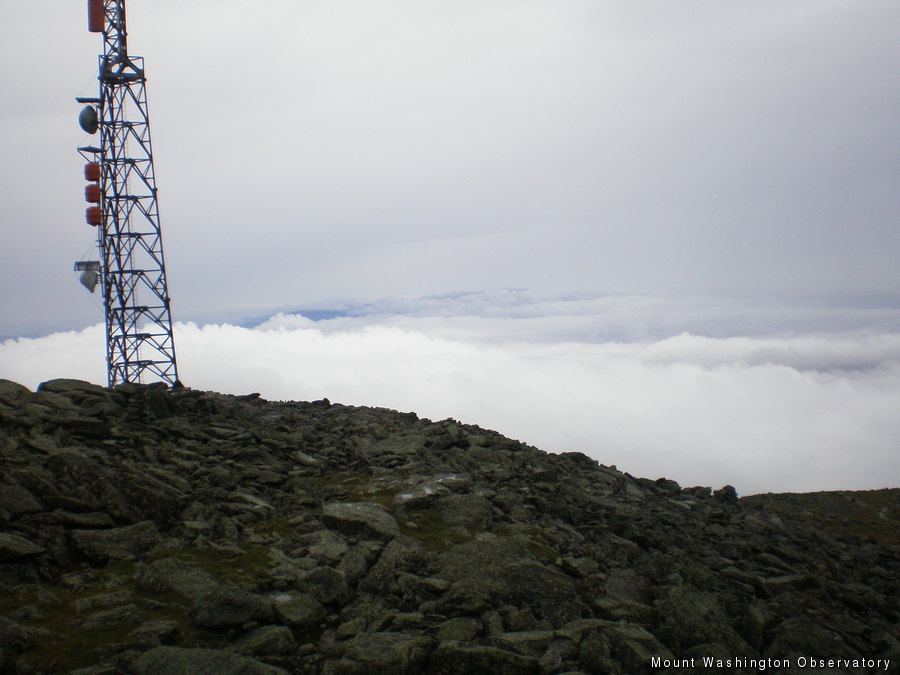 Clouds below and above the summit.
July of 2009 has certainly been a very wet month for the Observatory and New England in general. This month started off with rain showers on the first and is ending with plenty of rain this afternoon. Including this morning, the summit has received a grand total of 12.68 inches of liquid precipitation for the month of July. The July monthly record for the summit is 16.585 inches, which was set back in 1996. Unless we receive another 3.9 inches of rain before midnight, it looks like this record will be safe.
A persistent pattern of disturbances, cut-off low pressures, and tropical moisture have led to all this rain over the past month. A lot of moisture has made its way into the northeast from the Atlantic Ocean and Gulf of Mexico as of late. A persistent trough to our west has spun disturbances into our area, helping to squeeze the moisture out of the air in the form of heavy rain and thunderstorms. Warm valley temperatures late in the month allowed for plenty of instability, which aided in the development of some severe thunderstorms across New England. While writing this, I got a message from my friend Todd in Waterbury, CT who just went through a nasty thunderstorm with some strong winds. Instability has been limited here in the White Mountains, so a steady rain has been falling for most of the afternoon.
The summits did clear out for a short time this afternoon, allowing the staff to view an undercast. Mike, Dottie (one of our volunteers) and I went out to photograph the undercast while the rain subsided. More rain is expected into this evening, but a ridge of high pressure should provide us with a nice start to the month of August. Hopefully, the drier trend will continue into the rest of August.
Alex Jacques,  Summit Intern
Ellen Estabrook
Adjusting to Life on the Summit By Charlie Peachey Working on the summit of Mount Washington is not your average job. There aren't too many other places where the employees work and live together for
Ellen Estabrook
A Surprise Aurora By Francis Tarasiewicz After 17 months of working at New England's highest peak, it finally happened. On the night of November 12th, 2023, I was lucky enough to view the famous and
Ellen Estabrook
A Glimpse at METAR Reports By Alexis George, Weather Observer & Meteorologist METAR observations are submitted every hour of every day at Mount Washington Observatory. METAR is a format for reporting weather information that gets