Summer 2019 Internships
2019-02-08 06:12:03.000 – Thomas Padham, Weather Observer/Education Specialist
Although the calendar reads February and we've still got a lot of winter to go, it's not too early to start thinking about the summer season! I personally started here at the Observatory as a summer intern, and it was a decision that helped shape my career today. We are accepting applications through March 5th, so there's only a few more weeks to go.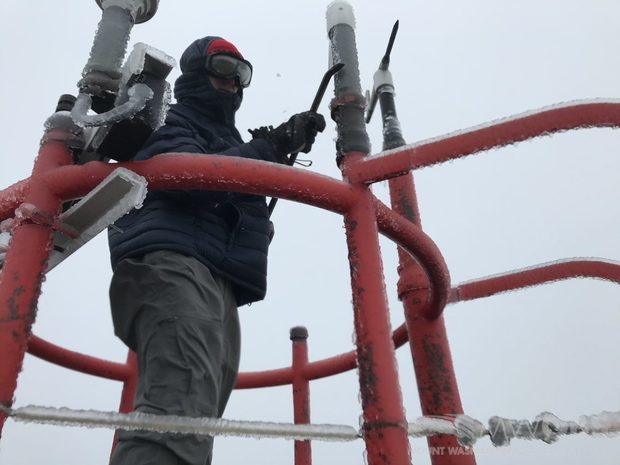 The summer internship can still have a taste of winter! Summer 2018 intern Simon helped de-ice the instrumentation in June.
The summer internship is an excellent opportunity to gain hands-on experience in the field of meteorology. Being able to not just study the weather from afar but also live on the summit only adds to the uniqueness of the internship. A few other tasks summer interns take part in include creating a weather forecast for the summit, radio broadcasts, and guided tours of our weather station. In addition, interns will have the opportunity to work on a research project or assist in any ongoing research taking place on the summit. On a nice summer day you will have the opportunity to get out and enjoy this beautiful place firsthand, and I'd highly recommend taking at least a short hike or two to really appreciate the mountain.
If you are interested in learning more about an internship on the summit or are thinking of applying for the summer internship coming up, now is the time! It's an amazing opportunity, and one that you'll remember for a lifetime. For more information please see our website at https://www.mountwashington.org/about-us/careers-and-internships/default.aspx.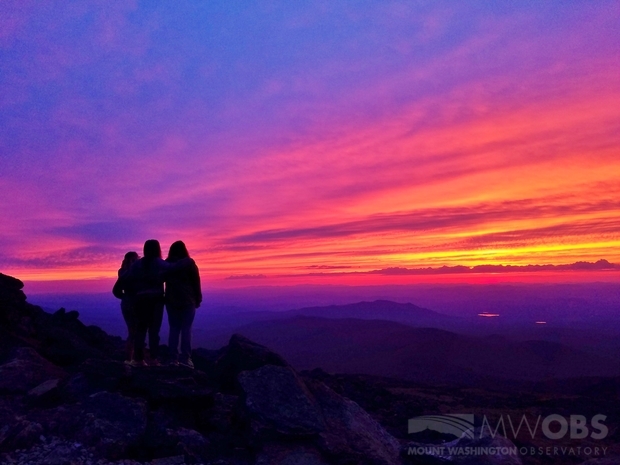 Summer 2017 interns Margaret, Julia, and Elizabeth watch a great sunset to end the day.
Thomas Padham, Weather Observer/Education Specialist
Ellen Estabrook
Adjusting to Life on the Summit By Charlie Peachey Working on the summit of Mount Washington is not your average job. There aren't too many other places where the employees work and live together for
Ellen Estabrook
A Surprise Aurora By Francis Tarasiewicz After 17 months of working at New England's highest peak, it finally happened. On the night of November 12th, 2023, I was lucky enough to view the famous and
Ellen Estabrook
A Glimpse at METAR Reports By Alexis George, Weather Observer & Meteorologist METAR observations are submitted every hour of every day at Mount Washington Observatory. METAR is a format for reporting weather information that gets