Summer into fall into winter…
2006-09-18 06:13:51.000 – Jim Salge,  Observer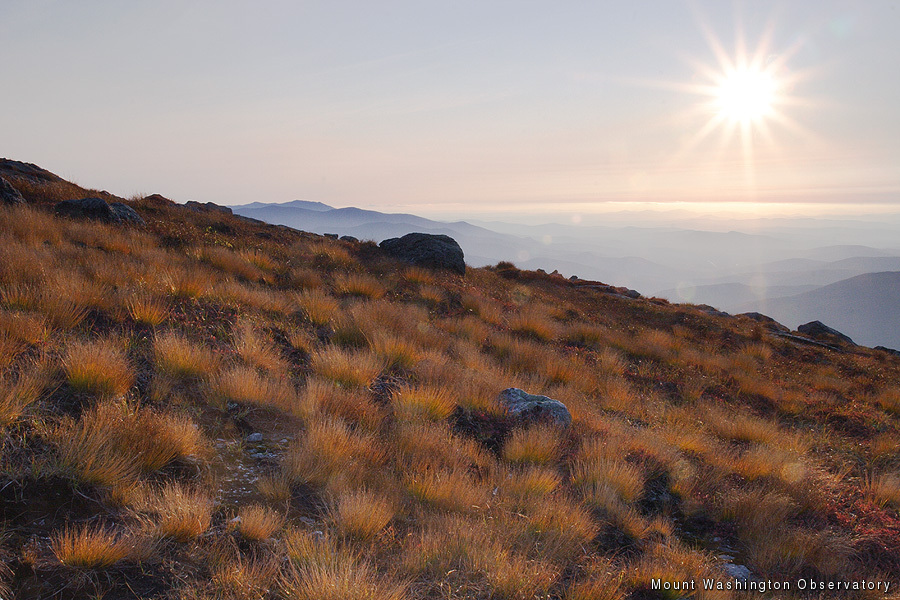 The autumn landscape above the trees…
What a gorgeous weekend to be on the summits. In fact, for much of the time, it was definitively nicer on the peaks than in the valleys! Undercast each morning made for grey skies in the valleys, but we were hard pressed to see any clouds in the sky above the summits for the entirety of the weekend. Additionally, temperatures (near record highs) have consistently been warmer on the peaks to start the day than in the valleys, creating an inversion that trapped all the haze below the peak.
Light winds, undercasts, warm temperatures and clear skies pretty much guarantees that we will not be alone on the summits no matter what time of year it is, and certainly yesterday was no exception. The trails were full of people enjoying the unbelievable streak of weather.
My hikes this weekend included a jaunt to Lake of the Clouds hut to help celebrate their last night. When we visit, we usually eat with the croo, which worked out well as sunset occurred right during dinner. With the sky untypically lacking clouds, a boring sunset was saved by the amazing colors of the tundra vegetation, seemingly glowing in the late day sun. Pictures couldn't possibly capture the vastness of the scene, but here are a few more attempts from the weekend:
Autumn Tundra #1Autumn Tundra #2
It is with considerable excitement that we announce that the weather pattern will be changing tomorrow…plummeting temperatures and likely bringing the peak some SNOW!!!
Jim Salge,  Observer
Ellen Estabrook
Adjusting to Life on the Summit By Charlie Peachey Working on the summit of Mount Washington is not your average job. There aren't too many other places where the employees work and live together for
Ellen Estabrook
A Surprise Aurora By Francis Tarasiewicz After 17 months of working at New England's highest peak, it finally happened. On the night of November 12th, 2023, I was lucky enough to view the famous and
Ellen Estabrook
A Glimpse at METAR Reports By Alexis George, Weather Observer & Meteorologist METAR observations are submitted every hour of every day at Mount Washington Observatory. METAR is a format for reporting weather information that gets