Summit Museum Attendant Perks
2018-03-01 12:52:13.000 – Jillian Reynolds, Summit Intern
Hey everyone! Since the Mount Washington Observatory is still accepting applicants for our Summit Museum Attendant position this upcoming summer through fall, I thought I would explain some of the perks of working in a museum up here on the tallest mountain peak in the northeastern United States.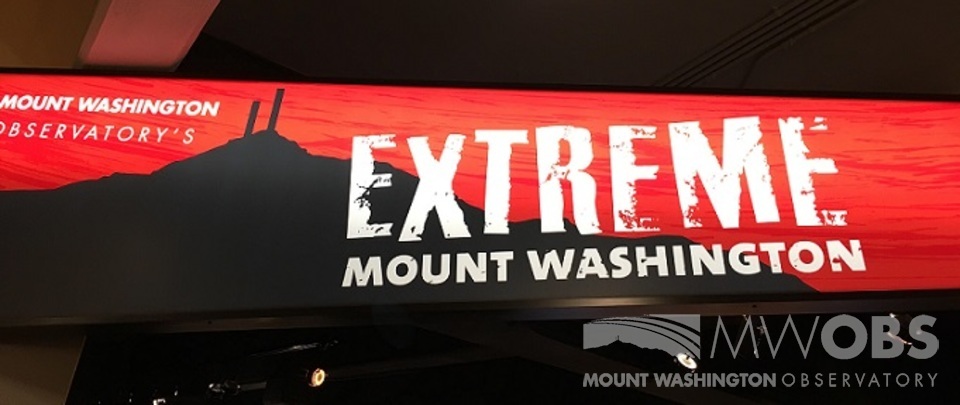 "Extreme Mount Washington" is the name of our summit museum
I am a part-time museum attendant for the Mount Washington Observatory's Weather Discovery Center down in North Conway Village. I also helped the summit's museum attendant during this past summer as an Observatory intern. Working as a museum attendant includes several responsibilities (training interns, working the register, re-stocking inventory, etc.). There are also perks of the job as well!
One perk is that you will have the chance to interact with many interesting people. Whether they hiked up to the summit or took a guided tour up, these museum-goers will always have stories to tell. They will also always have questions regarding the Observatory, but it is always nice to answer them and hear them say, "Oh wow, really?!" if something you said seemed to surprise and excite them.
Another perk of working as a museum attendant is the group of individuals that you will be staying with. There will be the three observers, intern(s) (three during the summer and one during the fall), and two volunteers. It may seem unusual living with a bunch of strangers at first, but you will become very close with this group of people. After a long workday, you can look forward to a nice, big family-style meal back in the living quarters with your crew! There, everyone will be talking about everything that happened that day.
One more perk is that the interns will also assist you throughout the day, so you are not always working by yourself. This will allow you to take a lunch break, nap, explore outside for a bit, or learn more about the mountain by reading one of our books!
If you are interested in applying, here is the link: https://www.mountwashington.org/uploads/old-images/pdf/JD-SMT%20Museum%20Attendant%2018.pdf. It is an opportunity that you will not want to miss!
Jillian Reynolds, Summit Intern
Ellen Estabrook
Adjusting to Life on the Summit By Charlie Peachey Working on the summit of Mount Washington is not your average job. There aren't too many other places where the employees work and live together for
Ellen Estabrook
A Surprise Aurora By Francis Tarasiewicz After 17 months of working at New England's highest peak, it finally happened. On the night of November 12th, 2023, I was lucky enough to view the famous and
Ellen Estabrook
A Glimpse at METAR Reports By Alexis George, Weather Observer & Meteorologist METAR observations are submitted every hour of every day at Mount Washington Observatory. METAR is a format for reporting weather information that gets