Summit Wildlife
2019-03-12 06:01:59.000 – Ryan Knapp, Weather Observer/Staff Meteorologist
The summit of Mt Washington provides an endless supply of subjects to photograph. Beautiful vistas, wild and unique weather phenomena, plants and flowers, insects, geology, people, and on occasion, wildlife. Wildlife in the winter time is extremely limited. The most common wildlife seen are the Ravens that circle the summit riding the wind currents and occasionally landing if they seeing something that catches their eye. On occasion there might be a rogue rodent scampering above the snow or the cameo appearance of a red fox. Apart from this though, wildlife viewing is scarce during the winter. And that is why I look forward to summer as wildlife starts returning to the higher terrain. But even then, most of the wildlife up here is small and skittish so wildlife viewing can still remain scarce in summer months too.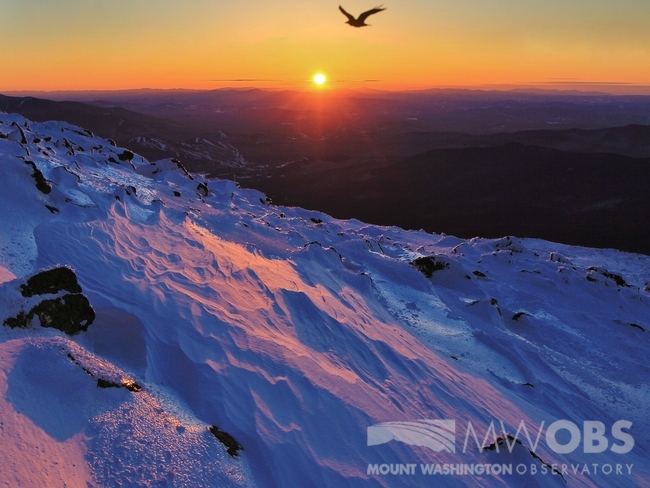 Raven at sunset in winter
Birds tends to be the most common to try and look for as their songs can be heard during the mornings when it is calm enough to hear them. While they can be heard, seeing them becomes a challenge because apart from the large Ravens, most of the birds that pass over the summit are about the size of a golf ball. Some of them stand out but others have dark colorations to blend with the rocks making it even more difficult to spot and photograph them. Some of the more common little birds are slate-colored juncos, white-throated sparrows, magnolia warblers, yellow-rumped warblers, and yellow-bellied sapsuckers. I am sure there are even more, but I am not a birder by any means, so I just know the handful I see most often.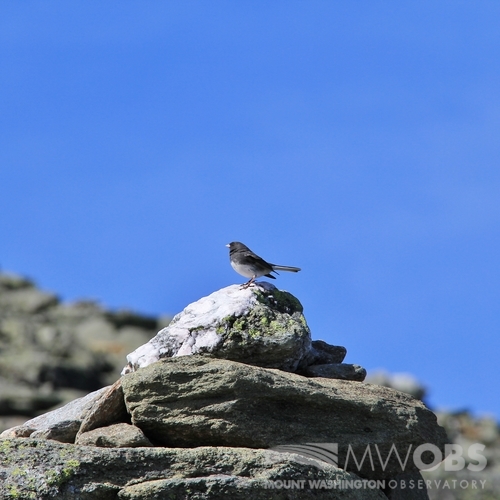 Junco on a cairn
Rodents (small mammals) would be the next most common thing to look for. Deer Mice and voles tend to be most common but chipmunks, red squirrels, gray squirrels, and flying squirrels can be seen running around on the rocks, especially early and late in they day. When they are outside, rodents are fine in my book, and in many cases, pretty adorable. But as soon as they find their way inside, well, then they can say hello to my little friend (Marty Kitty).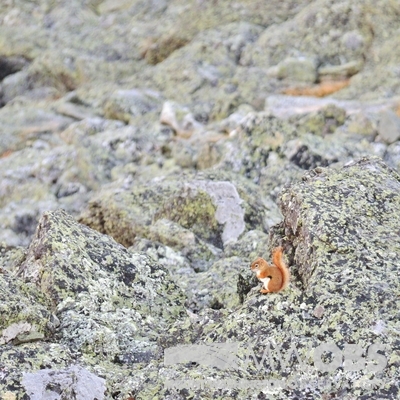 Red Squirrel on the rocks
Then there are the larger mammals. In our old museum, we used have an exhibit that had two parts. The first was a stenciled question that read, "What is the most common mammal above tree line?" Then the second part was a mirror that had stenciled on it, "You!" While humans and Marty Kitty would be the two most common ones seen up here, they are not the only mammals that have on occasion visited the summit. Others include: red foxes, black bears, raccoons, weasels, a pine marten, a moose, a bobcat, a porcupine, a skunk, and a beaver. When I say, "on occasion," what I mean is for most of these is, I have seen them only once grace the summit in my 13+ years. And in most cases, they got here by accident as most have no reason being here. But I like to think they are just like us and want to say they summited the highest point in the northeast. So while I am outside, I'll just snap a pic of them as a reminder of their accomplishment.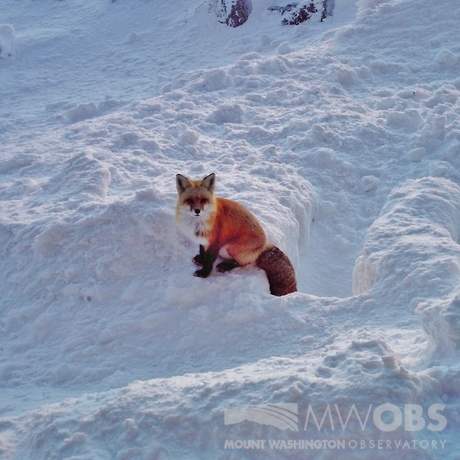 Red Fox in winter on the summit
Ryan Knapp, Weather Observer/Staff Meteorologist
Ellen Estabrook
Adjusting to Life on the Summit By Charlie Peachey Working on the summit of Mount Washington is not your average job. There aren't too many other places where the employees work and live together for
Ellen Estabrook
A Surprise Aurora By Francis Tarasiewicz After 17 months of working at New England's highest peak, it finally happened. On the night of November 12th, 2023, I was lucky enough to view the famous and
Ellen Estabrook
A Glimpse at METAR Reports By Alexis George, Weather Observer & Meteorologist METAR observations are submitted every hour of every day at Mount Washington Observatory. METAR is a format for reporting weather information that gets