The Anything-But Calm Before the Storm!
2019-02-11 08:31:34.000 – Chloe Boehm, Summit Intern
The summit this weekend saw a pretty incredible wind event with a peak gust of 148 mph. Although the highest winds were on Saturday, Friday morning saw the most dramatic increase in wind speed. The winds jumped from 45 mph to 124 mph in just 7 minutes! For those of us working in the weather room, it seemed to come out of nowhere! One minute we could barely hear the wind at all, and the next, a roar of wind erupted.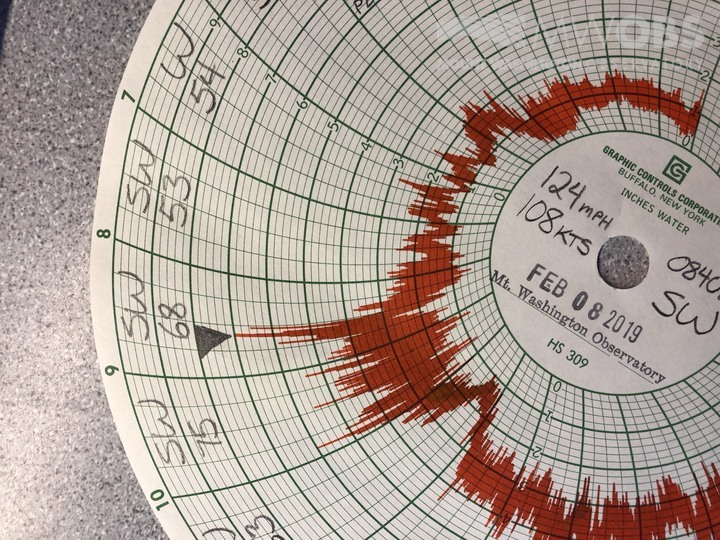 (Picture of the wind gust on the Hays chart)
While the winds were impressive, what was almost equally impressive was the temperature change that was experienced at all elevations. Up on the summit we saw a temperature spike of almost two degrees while the base of the Auto Road (1600 ft) saw a temperature spike of about 7 degrees! The plots below give a visual representation of those temperature spikes.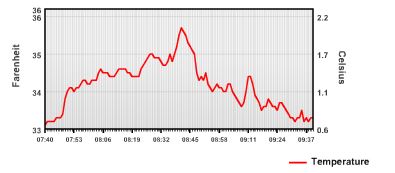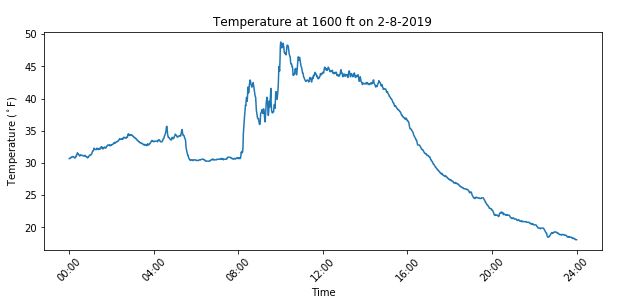 This event was mostly likely caused by a downburst which accompanied the passage of the cold front. These downbursts are a sudden burst of wind towards the surface that commonly occur in rainstorms or thunderstorms. Although there was no thunder present at the summit, there was heavy rain. Since there was a cold front moving into the area there was warm air aloft, so as that air rushed towards the ground, so did a lot of warm air. This then caused the temperature spike both at the summit and the base. Another factor that is indicative of the incoming cold front is that before the downburst, the base was actually colder than the summit. The base temperature was hovering right around 30 degrees where the summit was right around 32 degrees. This layer of warmer air led to this temperature inversion and later resulted in freezing rain.
What started out as a moderate wind day Friday morning, quickly escalated, giving a good indication of what was to come!
Chloe Boehm, Summit Intern
Ellen Estabrook
Adjusting to Life on the Summit By Charlie Peachey Working on the summit of Mount Washington is not your average job. There aren't too many other places where the employees work and live together for
Ellen Estabrook
A Surprise Aurora By Francis Tarasiewicz After 17 months of working at New England's highest peak, it finally happened. On the night of November 12th, 2023, I was lucky enough to view the famous and
Ellen Estabrook
A Glimpse at METAR Reports By Alexis George, Weather Observer & Meteorologist METAR observations are submitted every hour of every day at Mount Washington Observatory. METAR is a format for reporting weather information that gets