The Cold is Here, But Not to Stay
2015-12-19 17:08:20.000 – Mike Carmon, Co-Director of Summit Operations
The uncharacteristically-warm December has taken a brief hiatus.
While we were still experiencing the uncanny warmth yesterday that usually comes in September/October, the first truly potent cold front of the winter season came charging through last night, which has sent temperatures tumbling down to more expected levels.
It's an interesting scenario: it feels much colder, almost too cold, but we're finally right about where we should be for December temperatures. And it only took nearly 20 days! I guess we're getting accustomed to the unseasonable warmth. With temperatures expected to dip below zero tonight for the first time this winter season, we're quickly being forcibly snapped back into reality.
The chillier temperatures are not alone. They've brought some flakes with them too! We've received over two inches of snow so far today, and it's still coming down at a light to moderate rate outside. The summit has taken on a much more wintry appearance–something we haven't really seen since late October!
It's hard to believe as we're in the midst of this cold snap that yet another glimpse of summer-like weather is on its way. Computer models are in great agreement that we'll be back up near the freezing mark in a couple days, with temperatures above 32 degrees F likely by mid-week.
In fact, long-range models are hinting at one of the warmest Christmas Eves/Days on record on the summit. It's still a long way off (meteorologically-speaking), but one thing's for sure: the cold still isn't here to stay!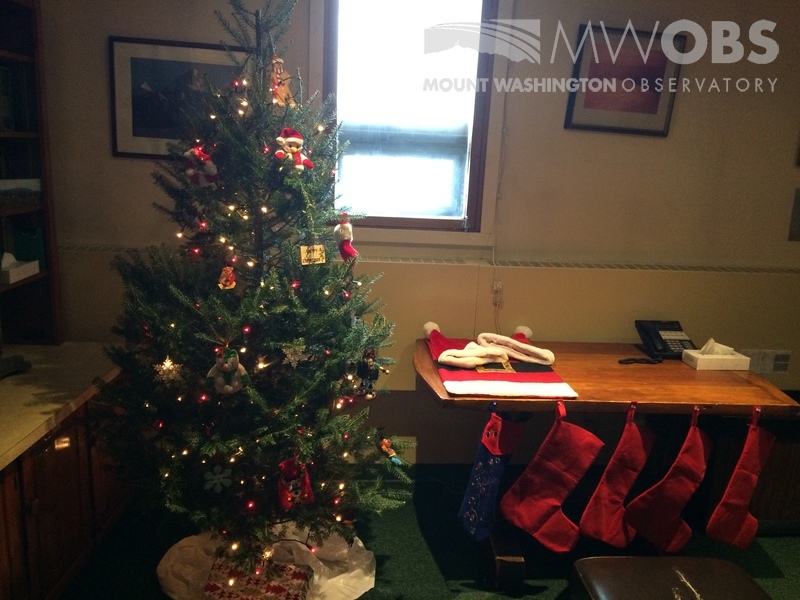 Mike Carmon, Co-Director of Summit Operations
Ellen Estabrook
Adjusting to Life on the Summit By Charlie Peachey Working on the summit of Mount Washington is not your average job. There aren't too many other places where the employees work and live together for
Ellen Estabrook
A Surprise Aurora By Francis Tarasiewicz After 17 months of working at New England's highest peak, it finally happened. On the night of November 12th, 2023, I was lucky enough to view the famous and
Ellen Estabrook
A Glimpse at METAR Reports By Alexis George, Weather Observer & Meteorologist METAR observations are submitted every hour of every day at Mount Washington Observatory. METAR is a format for reporting weather information that gets