The Culprit Behind This Wintry Weather
2019-04-07 12:53:02.000 – Chloe Boehm, Summit Intern
Even though meteorological spring has sprung, the summit has seen its fair share of wintry weather recently with more on its way. Many of the recent precipitation events have not been organized low pressure systems but due to upper level disturbances in the atmosphere. Since this terminology has been common in our forecasts recently, I thought I would take the opportunity to explain a little bit more what it means.
When meteorologists talk about the upper levels of the atmosphere, they are usually discussing elevations with a pressure of 500mb or less, usually above 18,000 feet. Looking at the flow patterns in the upper atmosphere can give forecasters a good sense of the general pattern of upcoming weather as well a reason why areas may be getting precipitation without an organized system. There are two distinct features to look for when looking at upper level flow patterns, ridges and troughs.
Photo courtesy of WeatherOps
As you can see in the picture above, troughs are roughly U shaped while ridges look like an upside down U. Clouds and precipitation is usually associated with troughs while fair weather is associated with ridges. Simply put, this is due to the movement of air in the ridges and troughs. In a trough, air is rising; as this air is rising it cools and condenses, creating clouds and precipitation. On the other hand, ridges are found where air is sinking which brings warmer and drier weather.
The flow in the upper atmosphere is comprised of a series of ridges and troughs, creating a wavy pattern. These large ridges and troughs span over 3,700 miles and move very slowly resulting in long persistent weather patterns. Embedded within these large troughs and ridges, however, are upper level disturbances, also known as short waves or vorticity maximums. These are waves with a length of less than 3,700 miles and move much faster and through the longer waves. This causes the larger ridges and troughs to distort briefly as the short waves pass through them. Below is an example of a 500mb chart showing both long wave troughs as well as short wave troughs. The red dashed lines indicate the long wave troughs and the blue dashed lines indicate the short wave troughs. The green areas indicate areas of precipitation.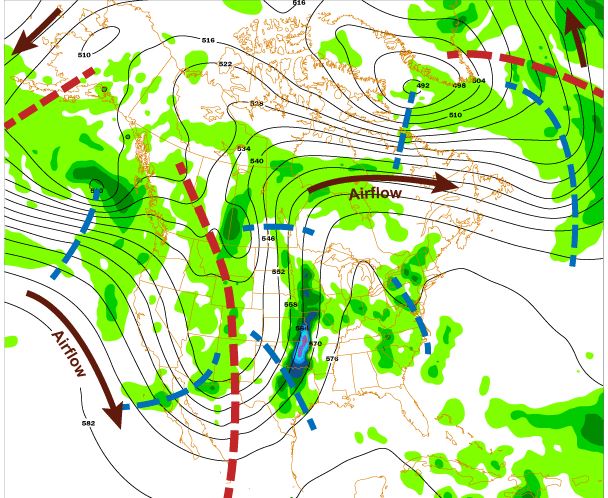 Photo courtesy of NWS
As you can see by the chart, short waves or upper level disturbances are a chief culprit in episodes of precipitation. They can interrupt a long pattern of dry weather with a quick but potentially heavy episode of rain or snow. This is what has been happening this past week and what will continue during the upcoming week. There is a conveyer belt of short wave troughs that are headed towards us, bringing short stints of precipitation with high pressure trying to build in between. Below is an image of a 250mb map for last Friday afternoon. The red arrow points out a short wave trough that brought the band of precipitation throughout New England Friday night.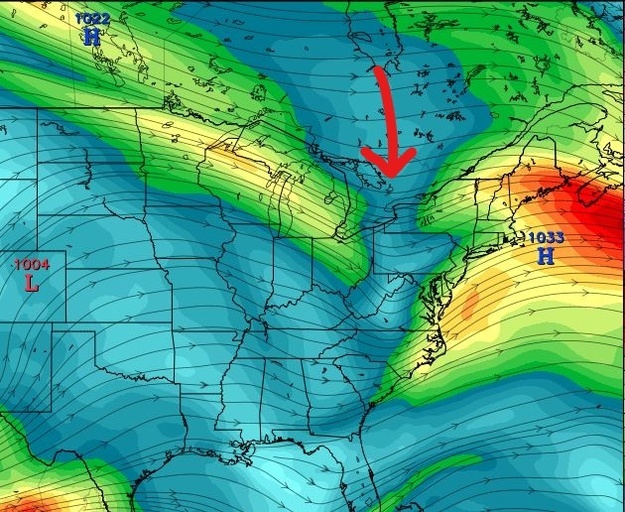 Photo courtesy of Tropical Tidbits
Although temperatures are warming and the snow is starting to melt, wintry weather is not quite over especially on higher terrain.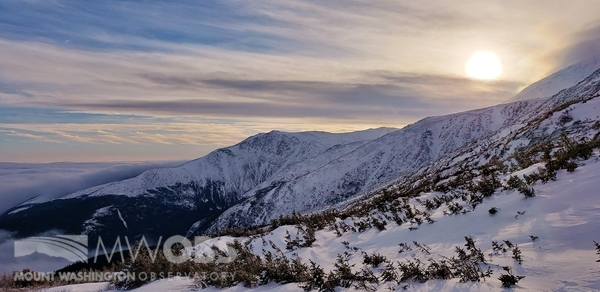 Chloe Boehm, Summit Intern
Ellen Estabrook
Adjusting to Life on the Summit By Charlie Peachey Working on the summit of Mount Washington is not your average job. There aren't too many other places where the employees work and live together for
Ellen Estabrook
A Surprise Aurora By Francis Tarasiewicz After 17 months of working at New England's highest peak, it finally happened. On the night of November 12th, 2023, I was lucky enough to view the famous and
Ellen Estabrook
A Glimpse at METAR Reports By Alexis George, Weather Observer & Meteorologist METAR observations are submitted every hour of every day at Mount Washington Observatory. METAR is a format for reporting weather information that gets