The Jefferson Snowfield
2017-07-09 06:53:21.000 – Taylor Regan, Weather Observer
Up on the summit of Mount Washington, we are somewhat proud of the fact that we can see measureable snowfall in any month of the year. The "fine print" however, is that most of this snowfall doesn't actually stick around! Between the scouring that occurs as a result of fierce winds continually pummeling the summit, and the warmth of the sun, much of the snow that falls either melts or is blown off the summit. It is not unusual to see a barren summit by May, and, save for a few short lived snow or ice events, have the summit and its neighbors in the Northern Presidentials remain mostly snow-free through the summer months. There is, of course, an exception, fondly known by summit staff, skiers, and hikers alike, as the Jefferson snowfields.
Pictured below are the summits of Jefferson, Adams, and Madison, from left to right. (Mt. Clay is cutoff on the left edge of the frame.) The date of the picture is February 21st, and as you can see, each of the peaks, including the summit cone of Mt. Washington in the foreground, are pretty thoroughly covered in snow and ice.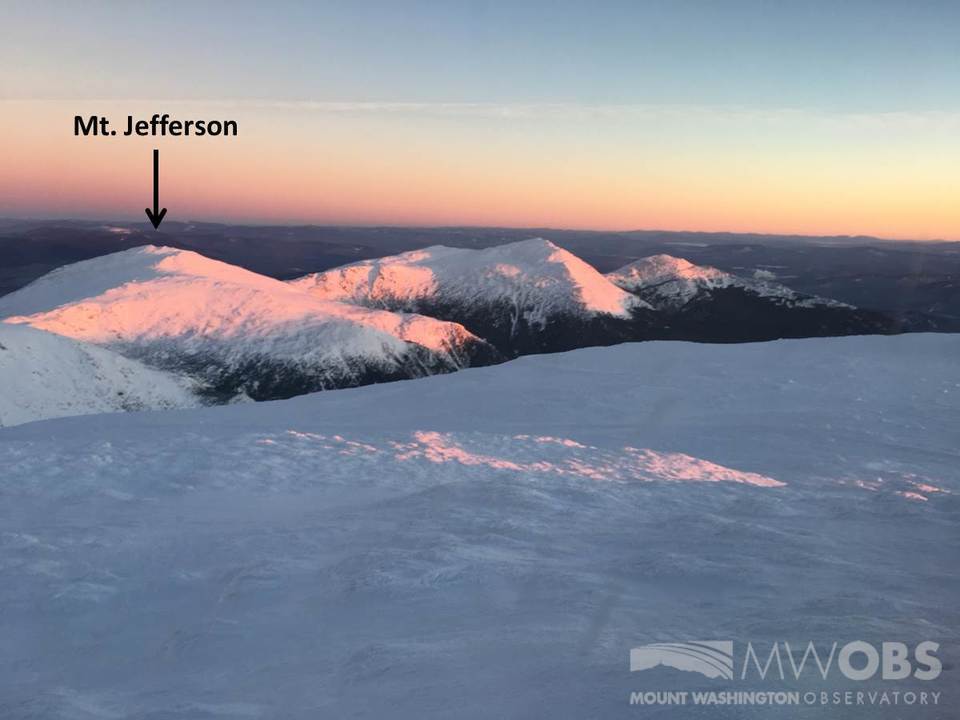 February 21st, Jefferson Snowfield
Significant melting and scouring continued, and in the next series of photos, the disappearance of snow is very noticeable, all except in one location, dubbed the Jefferson snowfield. Can you spot it?
April 16th Snowfield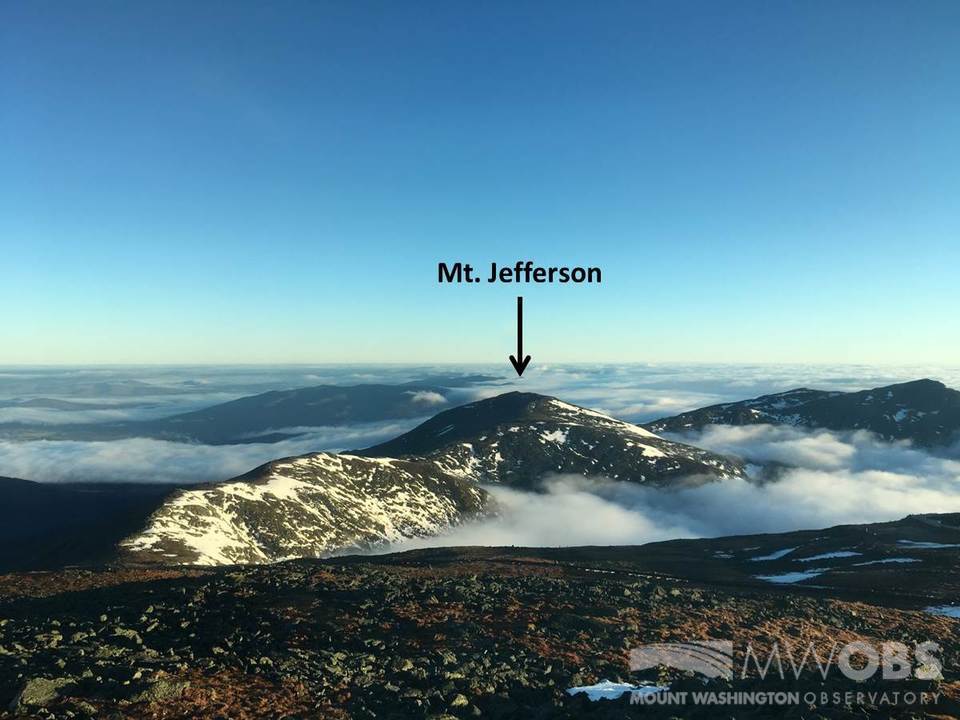 April 27th Snowfield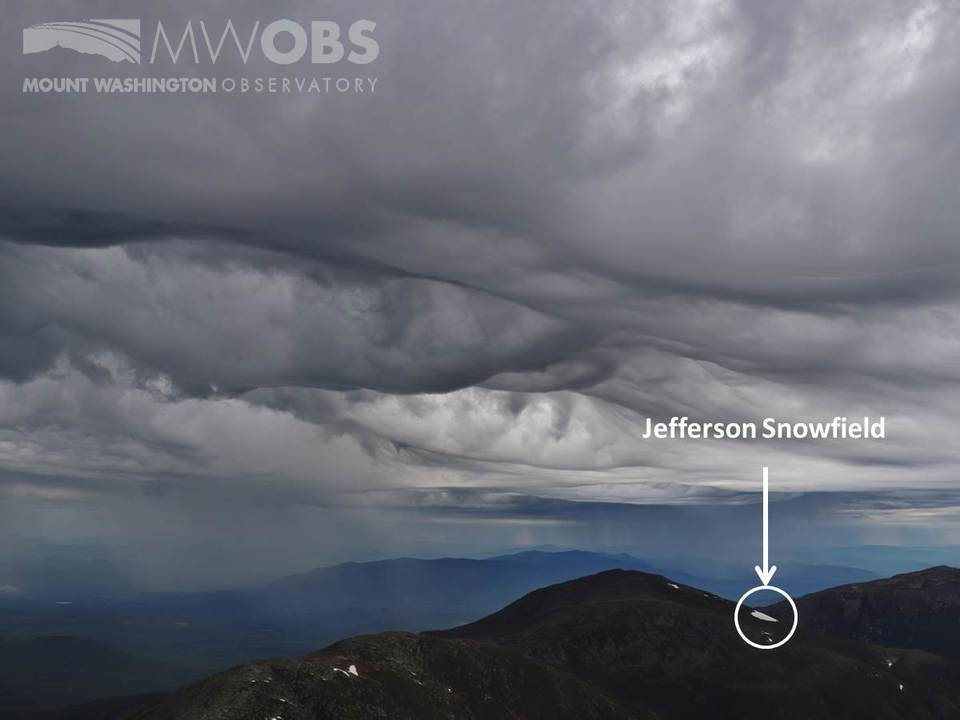 June 9th Snowfield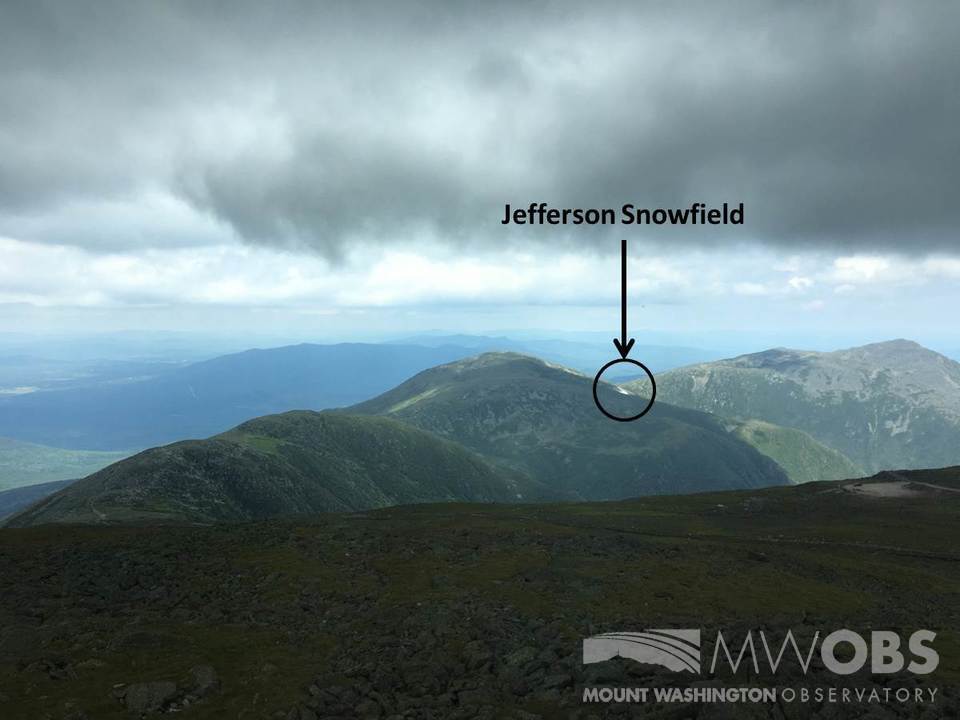 July 6th Snowfield
As of this writing, the Jefferson snowfield is still alive, albeit starting to thin. We on the summit are compiling our guesses for when we think the snow will disappear. What are your guesses for when we will see the melt out of the Jefferson snowfield?
Taylor Regan, Weather Observer
Ellen Estabrook
Adjusting to Life on the Summit By Charlie Peachey Working on the summit of Mount Washington is not your average job. There aren't too many other places where the employees work and live together for
Ellen Estabrook
A Surprise Aurora By Francis Tarasiewicz After 17 months of working at New England's highest peak, it finally happened. On the night of November 12th, 2023, I was lucky enough to view the famous and
Ellen Estabrook
A Glimpse at METAR Reports By Alexis George, Weather Observer & Meteorologist METAR observations are submitted every hour of every day at Mount Washington Observatory. METAR is a format for reporting weather information that gets