The Signs of Summer
2012-05-05 15:46:34.000 – Mike Carmon,  Weather Observer/Meteorologist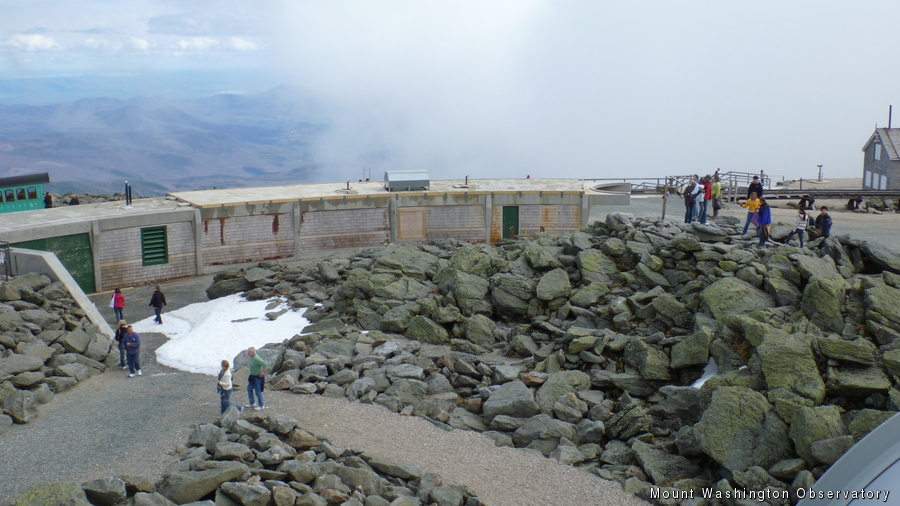 People, people, everywhere!
They're all around…the signs of summer…
With the Sherman Adams State Park Building set to open soon to the public, our rope is up to remind visitors that you need the accompaniment of MWO staff to enter the Observatory.
In addition, ropes are up on the deck as a reminder to deck-dwellers that sensitive scientific equipment lies within, and again, no public entrance here.
Marty has been donned with his summer season collar, as a reminder to folks that he indeed belongs on the summit, and he is not a mountaineering stray!
The landscape is nearly snow-free, thanks to warmer temperatures and plenty of spring rain.
The sun's rays are noticeably stronger, even when partially obscured by clouds and patchy fog. This is due to the more direct angle of the sun overhead as the summer solstice approaches. With less atmosphere to penetrate, more of the sun's radiation makes it to the surface.
More fog. Due to increased moisture content and instability in the air during the summer, fog is more prevalent this time of year.
Our RM Young Anemometer is in place on the tower. Although it is used periodically in the winter months, it cannot stand up to any significant icing, so it is primarily deployed during the summer months, when lighter winds render the pitot-static anemometer less accurate.
Taller clouds. Again, with increased instability in the air, clouds are generally allowed to grow to more sizable heights in the summertime. It's a sign that thunderstorm season is on the way!
The Cog made its first two trips to the summit this season.
Summer hikers are scattered across the rocks.
Marty has begun to re-embrace his role as summit mascot, ensuring he lives up to his infamous re-purr-tation.
Mike Carmon,  Weather Observer/Meteorologist
Ellen Estabrook
Adjusting to Life on the Summit By Charlie Peachey Working on the summit of Mount Washington is not your average job. There aren't too many other places where the employees work and live together for
Ellen Estabrook
A Surprise Aurora By Francis Tarasiewicz After 17 months of working at New England's highest peak, it finally happened. On the night of November 12th, 2023, I was lucky enough to view the famous and
Ellen Estabrook
A Glimpse at METAR Reports By Alexis George, Weather Observer & Meteorologist METAR observations are submitted every hour of every day at Mount Washington Observatory. METAR is a format for reporting weather information that gets