The Weather Channel Visits
2007-09-27 17:01:06.000 – Brian Clark,  Observer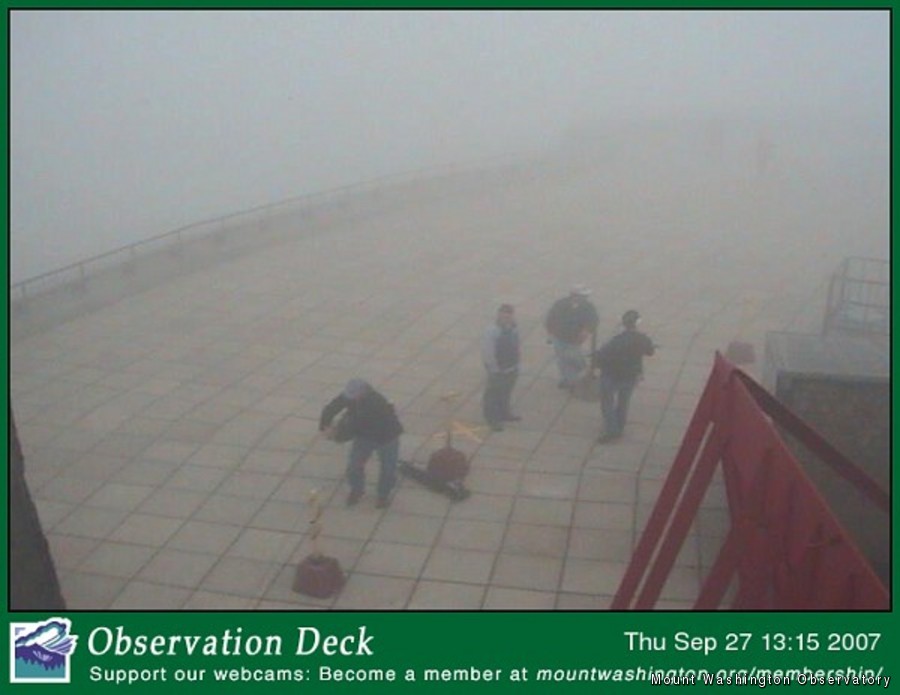 The Weather Channle crew on our webcam
The Weather Channel paid us a visit today. Their crew was supposed to come up last night and stay overnight, unfortunately it didn't end up fitting into their schedule. So, instead most of their crew rode up the Cog Railway late this morning and was around for a couple hours.They shot various outdoor and indoor footage, as well as a question and answer interview with myself and Stacey. It was a lot of fun to do the interview and was definitely a new experience for me.
All the footage and interviews they shot are for a show on the Weather Channel called Road Crew, hosted by Jeff Mielcarz. Basically they visit a bunch of interesting places, document it, and show it on the Weather Channel. I had never heard about it before, but now that I know what it is I will be sure to catch it when I am back in the valley!
The mountain was not necessarily very kind to the camera crew today. The fog was very thick and wet, winds were around 30 miles per hour, and the temperature hovered in the low 50's. The fog gave them the most difficulty. All the moisture kept fogging up the camera lens and started getting into the audio equipment too. Of course, it also kept them from getting good shots, considering we could only see 25 feet at times. As I was sure to mention to the crew though, they certainly got to see 'typical' Mount Washington weather!
Two separate shows will air containing the footage shot today. The first to air will be a short, 2 minutes segment that will show in about 3 weeks. The second, longer show(about 30 minutes long) will air sometime around Thanksgiving. This show will not only feature the Observatory, but other areas and activities of interest in the White Mountains. We will be sure to let you all know more details on when this stuff will air when we know!
The picture shown with this comment is of the Weather Channel crew filming the host, Jeff, on the observation deck. The image was obtained from Brad Bradstreet's Fotki website, where he archives the webcam images shown on our website. Thanks to him for having that site available!
Brian Clark,  Observer
Ellen Estabrook
Adjusting to Life on the Summit By Charlie Peachey Working on the summit of Mount Washington is not your average job. There aren't too many other places where the employees work and live together for
Ellen Estabrook
A Surprise Aurora By Francis Tarasiewicz After 17 months of working at New England's highest peak, it finally happened. On the night of November 12th, 2023, I was lucky enough to view the famous and
Ellen Estabrook
A Glimpse at METAR Reports By Alexis George, Weather Observer & Meteorologist METAR observations are submitted every hour of every day at Mount Washington Observatory. METAR is a format for reporting weather information that gets