This Heat Though…
2017-09-21 22:13:14.000 – Caleb Meute, Weather Observer & Staff Meteorologist
Being a meteorologist, people frequently ask you what the weather is going to be like for the coming days and expect an immediate answer. Unfortunately, we meteorologists do not always have the answer at that moment and need to access forecast models before giving an answer. This is especially true for me when I work a one week shift and then have the following week off. My girlfriend, Molly understands this thankfully and accepts the fact that I am not actually an all-knowing psychic. I think sometimes she wishes I were though because then we would have a massive flow of money coming in from my weekly DraftKings and FanDuel winnings. Also, my forecasts would be even more accurate than they currently are at 99.4%, which could boost the earnings… This past week I was especially oblivious to the upcoming weather, compounded by the fact that we were extremely busy after spending the majority of the week down in Florida.
Molly was getting ready (On Tuesday…) for a wedding that she and I are attending this weekend and she asked what to expect weather wise. I took the quick and easy way out, pulled up one of my trusted weather apps, and typed in the location of the wedding. Looking at the expected temperatures, I thought my eyes were lying as I saw 88°F for Saturday and 90°F for Sunday. We had just arrived back to Vermont after spending time in Florida, and apart from the fact that we were away from family again, I was ecstatic to return to the New England climate and away from the oppressive Florida heat and humidity. I quickly discovered that this un-Caleb-friendly air mass was stalking me and looking to greet me this weekend for the wedding in New York. Typically, I pray that these warm snaps occur while I am in the comfort of my summer time permanent air conditioner (Mount Washington), but in this instance I will be leaving its comfortable summertime grip and descending into the sultry, sweat-causing, asthma-inducing, igloo-destroying heat. I am excited to be with Molly to celebrate our friend's marriage, but rest assured I will not be wearing a gray dress shirt.
After seeing 88°F and 90°F temperatures forecasted for a late September day, I had to dive a bit deeper into the forecast to see exactly what was going on and how it would translate to the temperatures atop the Rockpile. This significant warm up has been ongoing since September 11 when our daily average temperatures began to read higher than normal. The culprit is a massive ridge over the eastern half of the United States, which has allowed the warmer air to stream northward. Through the end of the next workweek, which will take us to the end of September, this ridge is showing no signs of letting up. As a result, the mercury will continue to soar each day, especially with abundant sunshine in the forecast that will help the temperatures to warm even further. September started unseasonably cool; however, our daily average temperature this month has now risen to 45.6°F thanks to the many consecutive days above normal. This weekend, it is very possible for consecutive daily record highs to be set as the core of the warmer air anchors itself over New England. Currently, our average temperature for September lands as the fifth warmest on record. With the warmest temperatures still to come, we will approach the warmest September on record for Mount Washington, which was 49.3°F in 2015.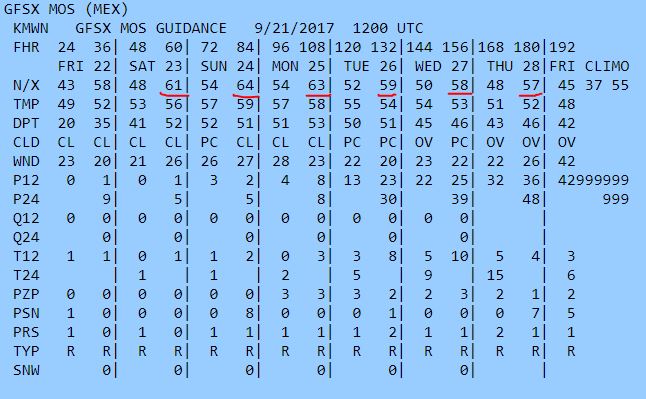 Pictured above is the GFS Extended Model Output Statistics which give a rough estimate of the temperatures to expect through the next week. The current daily records are in jeopardy beginning Saturday and continuing through most of next week. The current records compared to the forecasted temperatures are as follows:
September 23rd Record – 62°F
Forecast: 61°F
September 24th Record – 62°F
Forecast: 64°F
September 25th Record – 62°F
Forecast: 63°F
September 26th Record – 59°F
Forecast: 59°F
September 27th Record – 62°F
Forecast: 58°F
September 28th Record – 61°F
Forecast: 57°F
Caleb Meute, Weather Observer & Staff Meteorologist
Ellen Estabrook
Adjusting to Life on the Summit By Charlie Peachey Working on the summit of Mount Washington is not your average job. There aren't too many other places where the employees work and live together for
Ellen Estabrook
A Surprise Aurora By Francis Tarasiewicz After 17 months of working at New England's highest peak, it finally happened. On the night of November 12th, 2023, I was lucky enough to view the famous and
Ellen Estabrook
A Glimpse at METAR Reports By Alexis George, Weather Observer & Meteorologist METAR observations are submitted every hour of every day at Mount Washington Observatory. METAR is a format for reporting weather information that gets