Total White Out
2014-12-14 16:27:57.000 – Michael Kyle, Weather Observer/IT Specialist
Being socked in the fog for days at a time is nothing new for the summit of Mount Washington. Nor is it uncommon for the dense fog and blowing snow to be limiting visibility to zero feet during the winter time. So yesterday morning when I went outside for an observation it was not surprising to see the fog and blowing snow limiting the visibility.
I proceeded to walk towards to the center of the observation deck to try and collect snowflakes on our snowboard. This helps us to determine if it was still snowing or just blowing snow. After a few moments of standing at the center of the observation deck it was clear that no whole snowflakes were being collected and that the snow showers had come to an end. I turned back to start walking towards the tower and was amazed how poor the visibility was. Only a few steps after that I saw the faint outline of the deck railing. It was then that I realized that between the extremely poor visibility, and the flat white conditions of everything on the summit, that I had become disoriented and veered about 45degrees off my intended path. After realizing that I was at the north side deck railing I quickly got my orientation back and was able to quickly return back inside to complete my observation. Then by the next observation visibility improved enough that making the same journey was not a problem.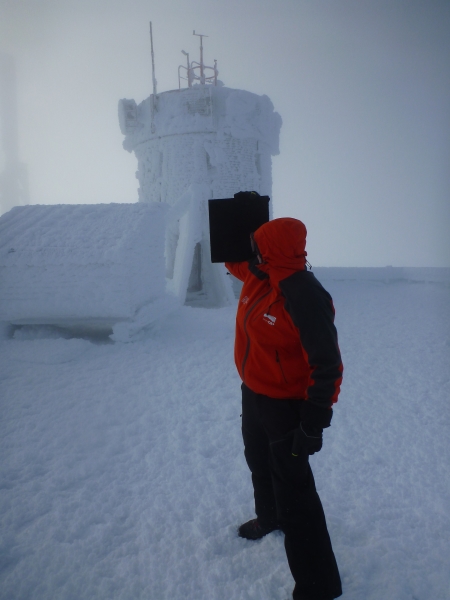 During my time here on the summit I heard countless stories about how people have gotten lost or disoriented during white out conditions. This showed me how easy it really can be. Taking that walk to the center of the observation deck is something that I have done countless times and through all kinds of visibility. I am very familiar with the deck and the land markers around it, but still became so disoriented in the conditions that I didn't realize I was walking in the wrong direction. Hopefully this brief story, while innocent as it was, serves as a reminder to hikers of the extreme and sometimes dangerous weather conditions seen on Mount Washington. Even basic and routine travels can become dangerous during times of poor visibility.
Michael Kyle, Weather Observer/IT Specialist
Ellen Estabrook
Adjusting to Life on the Summit By Charlie Peachey Working on the summit of Mount Washington is not your average job. There aren't too many other places where the employees work and live together for
Ellen Estabrook
A Surprise Aurora By Francis Tarasiewicz After 17 months of working at New England's highest peak, it finally happened. On the night of November 12th, 2023, I was lucky enough to view the famous and
Ellen Estabrook
A Glimpse at METAR Reports By Alexis George, Weather Observer & Meteorologist METAR observations are submitted every hour of every day at Mount Washington Observatory. METAR is a format for reporting weather information that gets