Tracking Jose and the Tropics
2017-09-17 14:29:56.000 – Tom Padham, Weather Observer/Education Specialist
Jose is a long lived tropical system, having formed back on September 5th. Jose will likely remain at least a tropical storm through next Friday, the 22nd, giving it a total lifespan as a tropical system of 14+ days. This is still not even close to the longest-lived tropical system, Hurricane John in 1994. John formed as a hurricane in the far eastern Pacific off the coast of Mexico on August 11th, 1994. 31 days later, on September 10th tropical storm John finally dissipated south of the Aleutian island of Alaska after having traveled 7,165 miles!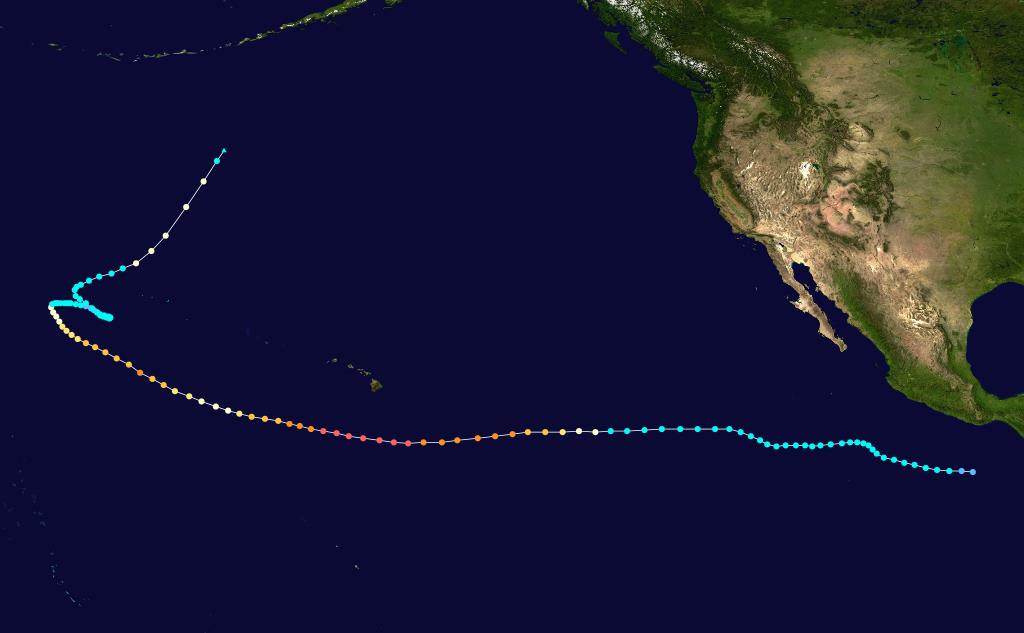 Hurricane John's track across the Pacific in 1994.
Hurricane Jose reached peak intensity as a Category 5 with 155 mph on September 9th. This was the first time in recorded history in the Atlantic that two hurricanes with winds of 150 mph or greater occurred at the same time, with Hurricane Irma moving just offshore of Cuba at the time with 150 mph winds.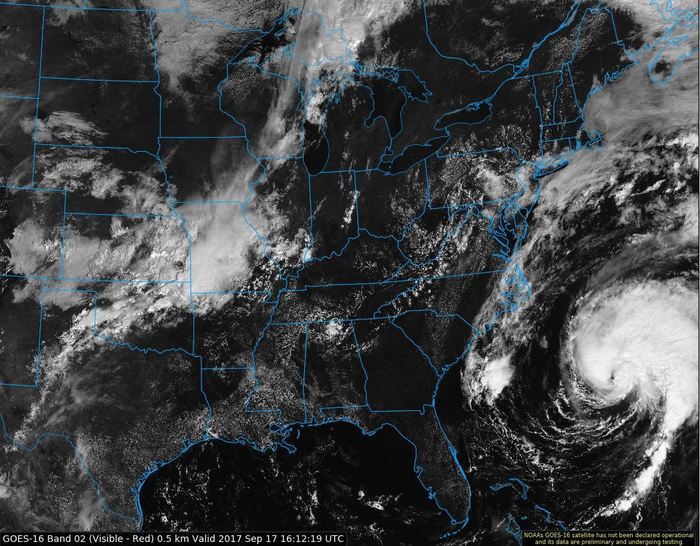 NOAA GOES-16 Visible Satellite showing Hurricane Jose off the Eastern Seaboard on 9/17
Jose is expected to track northward from its current position about half way between Bermuda and the Carolinas before making a northeastward turn south of New England. This current track should luckily keep most of the storm far enough away for little in the way of impacts other than rain to areas from Boston northward. Along Cape Cod and especially the islands just offshore of New England like Martha's Vineyard, tropical storm conditions will still be possible due to the large size of the storm, with impacts from beach erosion and high surf likely along much of the coastline. Any further deviation slightly closer to the close of the track of Jose would potentially bring stronger winds further inland, possibly affecting the Boston metro area.
Hurricane Jose official forecast track and predicted strength at the 11:00 AM EDT update
This has already been a very busy Atlantic hurricane season, with 14 named storms as of this writing. An average hurricane season has only 10 named storms, so we're already above the average year despite still having through November for the typical season. Besides Jose, tropical storm Maria bears attention due to it's predicted track and strength.
Maria is forecasted to become a major hurricane as it tracks across the Leeward Island and towards Puerto Rico, both areas that were recently hit hard by Hurricane Irma. By Friday the storm will likely still be a hurricane just north of the island of Hispaniola. After this point the hurricane could continue a northwestward motion towards the East Coast, or potentially be turned northwards and take a similar path to that of Jose.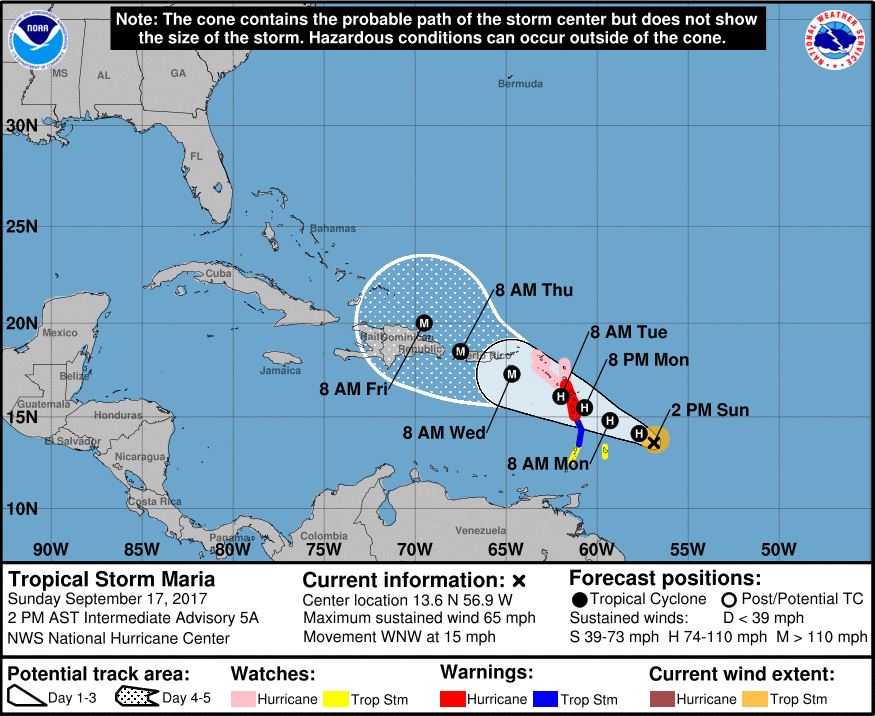 Tropical Storm Maria official forecast track and predicted strength at the 2:00 PM AST update
With the damage of Harvey and Irma still fresh in the minds of the entire country it serves as a reminder that we all should be prepared in the event of any natural disaster. For help starting your emergency preparedness kit, head to https://www.ready.gov/build-a-kit. The National Hurricane Center at http://www.nhc.noaa.gov/ is a great resource with information on how to prepare for a natural disaster. Our fellow Americans could still also use your support in the ongoing clean up and rebuilding after Irma and Harvey; consider making a donation to the Red Cross for disaster relief at https://www.redcross.org/.
Tom Padham, Weather Observer/Education Specialist
Ellen Estabrook
Adjusting to Life on the Summit By Charlie Peachey Working on the summit of Mount Washington is not your average job. There aren't too many other places where the employees work and live together for
Ellen Estabrook
A Surprise Aurora By Francis Tarasiewicz After 17 months of working at New England's highest peak, it finally happened. On the night of November 12th, 2023, I was lucky enough to view the famous and
Ellen Estabrook
A Glimpse at METAR Reports By Alexis George, Weather Observer & Meteorologist METAR observations are submitted every hour of every day at Mount Washington Observatory. METAR is a format for reporting weather information that gets