Transformational Bequest to Fund New Weather and Climate School Programs across New Hampshire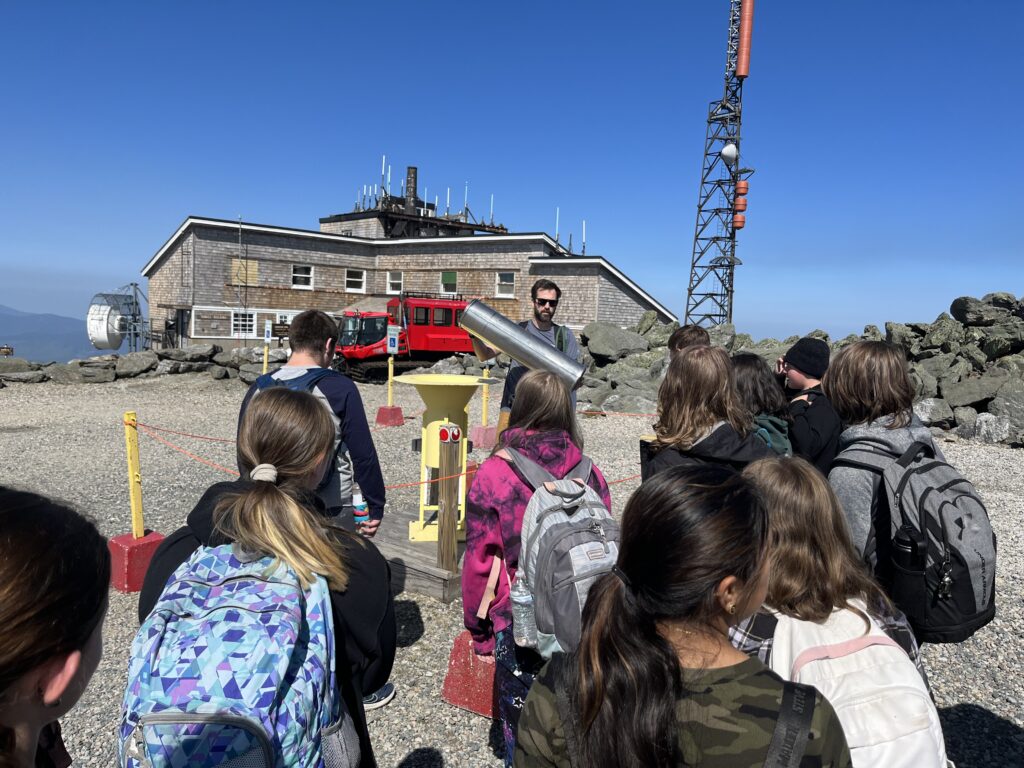 Eighth-grade students from Whitefield Elementary School learn about measuring precipitation on Mount Washington on May 31 with MWOBS Director of Education Brian Fitzgerald.
North Conway, NH – June 8, 2023 – New Hampshire's school children will be the beneficiaries of a generous $4 million bequest from the Sheldon Family Estate to Mount Washington Observatory (MWOBS). These funds will be used by the private, nonprofit scientific research organization to offer school educators enhanced support in the teaching of weather and climate science that meets the Next Generation Science Standards.
"We're excited to offer schools across our region a full suite of programming options," Brian Fitzgerald, MWOBS Director of Education, said. "We will be in schools, at afterschool programs, and on the summit of Mount Washington with students and teachers from across the state. We couldn't be more thrilled about this opportunity to enrich our programs and inspire more kids."
Monies from the bequest will be used to offer schools a new menu of options that include school day, after-school, virtual, and field trip programs that teach students the technical science, technology, engineering, and math (STEM) skills found in weather and climate science. In the coming months, MWOBS will offer teachers further opportunities such as curricula, professional development, and lesson planning. Already, MWOBS has added two new staff to support this effort.
MWOBS began piloting educational field trips to the summit of Mount Washington in partnership with the Mount Washington Cog Railway Company this spring with middle school students from three Coos County schools: Whitefield Elementary School, Stratford Public School, and Groveton High School. These trips were made possible at no cost to each school thanks to a generous Empowering Coos Youth Program Grant from the New Hampshire Charitable Foundation's Neil and Louise Tillotson Fund. A student leadership council made up of students from each school provided MWOBS staff with guidance on topics and activities that are of highest interest to their peers.
"As stewards of Mount Washington State Park, we congratulate MWOBS on this impactful bequest and are excited to welcome more students to the summit of Mount Washington in partnership with the Observatory and the Cog Railway Company," Sarah Stewart, Commissioner of the Department of Natural and Cultural Resources, said. "This type of investment in education for regional students aligns perfectly with the Division of Parks and Recreation's mission to provide outstanding educational and inspirational experiences through the cooperative stewardship of the state's natural and cultural resources."
More than 76 organizations across the United States will benefit from shares of the Sheldon Family Estate, with a focus on small- and mid-sized environmentally focused nonprofits and a concentration in New England. A large number hail from the Sheldon family's home state of Maine. In New Hampshire, the only other beneficiary besides MWOBS will be The Costeau Society in Etna, NH.
"We cannot thank the Sheldon family enough for helping us meet our goal of increasing access to Mount Washington for all students in New Hampshire," Drew Bush, MWOBS Executive Director, said. "Maintaining a weather station on New England's highest peak holds truly high costs, and more than 60 percent of our operating budget comes from private donors. We've operated on a shoestring for decades. And even despite this amazing gift, we still could not do what we do without our members' support."
Remaining monies from the bequest will be used to pay down a portion of the substantial debt held by MWOBS on its administrative office building in North Conway as well as be invested in the organization's endowment in anticipation of future expenses.
####
About Mount Washington Observatory:
Mount Washington Observatory (MWOBS) is a private, nonprofit, member-supported institution with a mission to advance understanding of the natural systems that create Earth's weather and climate. It serves this mission by maintaining a weather station on the summit of Mount Washington, performing weather and climate research, conducting innovative science education programs, and interpreting the heritage of the Mount Washington region. Our summit facility is located within Mount Washington State Park. For more information, call 603-356-2137 or visit mountwashington.org.
Contact:
Charlie Buterbaugh, Director of Communications
(603) 356-2137, ext. 211
Ellen Estabrook
Adjusting to Life on the Summit By Charlie Peachey Working on the summit of Mount Washington is not your average job. There aren't too many other places where the employees work and live together for
Ellen Estabrook
A Surprise Aurora By Francis Tarasiewicz After 17 months of working at New England's highest peak, it finally happened. On the night of November 12th, 2023, I was lucky enough to view the famous and
Ellen Estabrook
A Glimpse at METAR Reports By Alexis George, Weather Observer & Meteorologist METAR observations are submitted every hour of every day at Mount Washington Observatory. METAR is a format for reporting weather information that gets