Tuesday's Winds
2015-10-21 23:04:52.000 – Michael Kyle, Weather Observer/IT Specialist
As you can tell from the last few comments, winter conditions have reappeared on the summit of Mount Washington. While it is great seeing the snow and rime covering the summit again, the winds over the weekend were a slight let down for me. Though most people rarely see winds on the same scale as a CAT 1 hurricane, they are common here on Mount Washington, especially during the winter. Luckily, the weekend's let down was made up for on Tuesday, when 90+ MPH gusts rocked the summit.
Being a weather nerd like the one I am, the higher the winds the more I enjoy them. There is nothing like the rush that comes with 90, 100, or 120+ MPH wind gusts, pushing against you as you attempt to de-ice several inches of rime or glaze ice that has accumulated over the last hour. Yes it can be scary at times, or even dangerous if you are not properly equipped, but there is nothing more exhilarating then feeling the force of Mother Nature hurling all of her power at you. The closest thing to compare it to would be the rush you get going down the first big hump on a roller coast. One major difference though is that the roller coaster only last a few moments while the winds last as long as you can withstand them.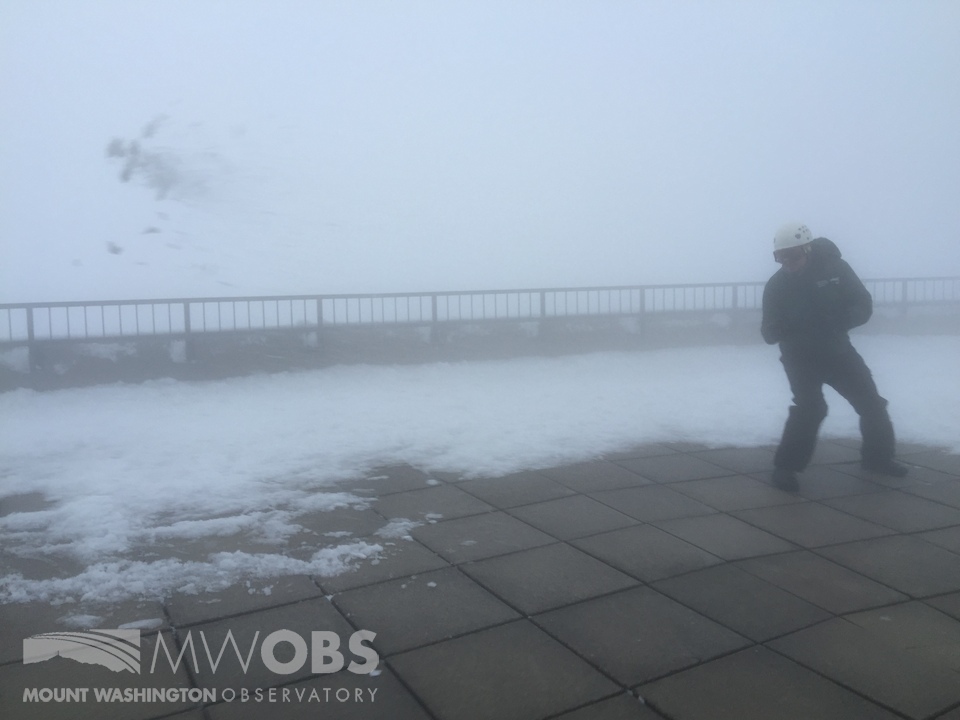 With the heart of winter just around the corner, wind gusts of 74+ MPH will be an almost daily event on the summit of Mount Washington, with gusts of 100+ MPH being seen on a weekly basis. Until then, I will have to enjoy the more random events like the one seen on Tuesday.
Michael Kyle, Weather Observer/IT Specialist
Ellen Estabrook
Adjusting to Life on the Summit By Charlie Peachey Working on the summit of Mount Washington is not your average job. There aren't too many other places where the employees work and live together for
Ellen Estabrook
A Surprise Aurora By Francis Tarasiewicz After 17 months of working at New England's highest peak, it finally happened. On the night of November 12th, 2023, I was lucky enough to view the famous and
Ellen Estabrook
A Glimpse at METAR Reports By Alexis George, Weather Observer & Meteorologist METAR observations are submitted every hour of every day at Mount Washington Observatory. METAR is a format for reporting weather information that gets