UK College Students Experience Mount Washington
2016-11-03 15:58:26.000 – Eric Kelsey, Director of Research
Tuesday, I had the pleasure of hosting 20 students and professors from the University of Portsmouth, United Kingdom, at the summit. We could not have asked for better weather for November 1; clear skies, winds less than 30 mph and temperatures in the low to mid 30s. Best of all, the students were excited to roam the snow and rime encrusted summit in these beautiful sunlit conditions.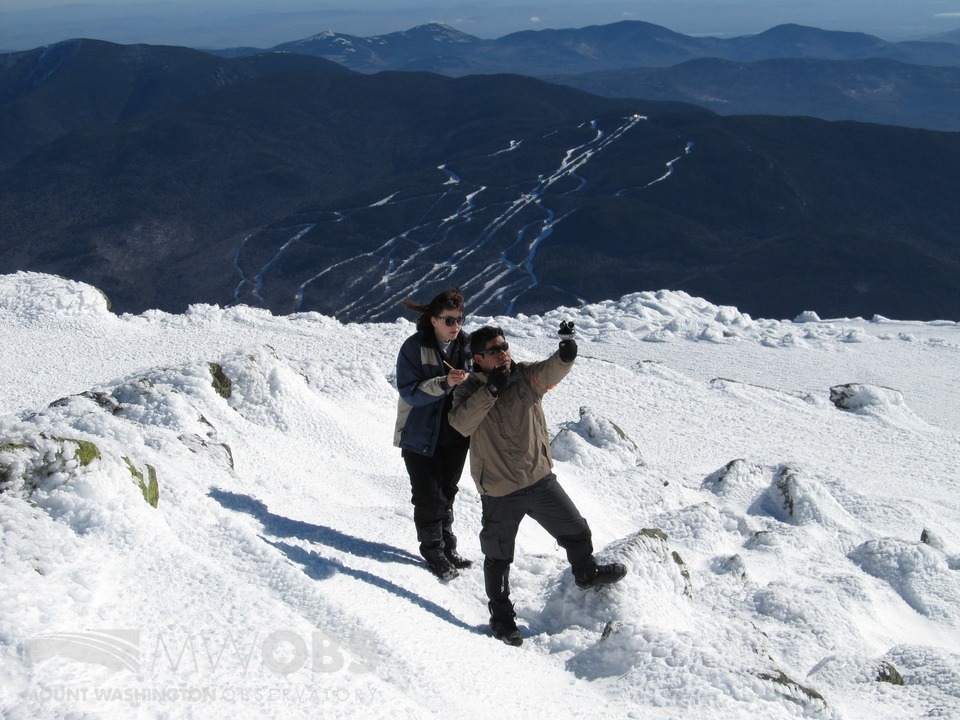 The students worked in 8 pairs to measure wind speed and direction around the summit cone concurrently to learn how wind flows over the summit. They recorded wind speed every 5 seconds over a 1-minute period and then repeated the process at a total of 10 different locations around the summit cone. In the short time they had on the summit, they started plotting their winds on an aerial map and saw that the winds generally parted around the peak. There were indications of turbulence on the lee side of the summit-all of which is consistent with theory and other past observations.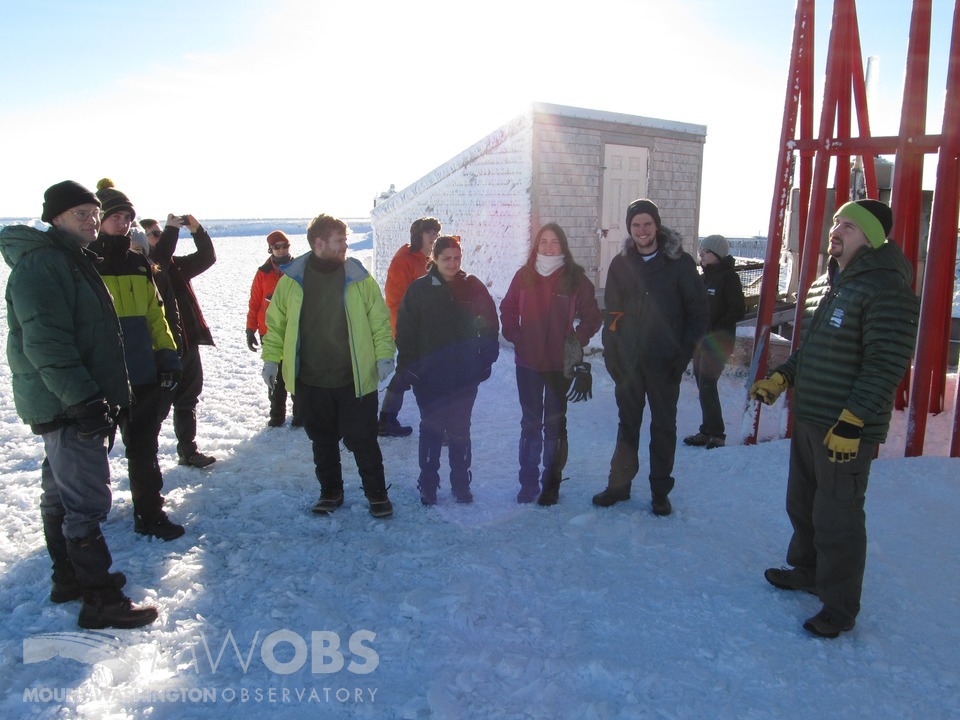 The day ended with a presentation about the history and logistics of running a MWO, and my research on exploring boundary layer exposure impacts on elevation-dependent warming here in the White Mountains. It was a pleasure to present my hypotheses to this group since the professor, Dr. Nick Pepin, has researched this topic at other locations around the world, including at Mount Kilimanjaro, where he maintains a series of weather stations along a vertical gradient, much like our Auto Road Vertical Profile.
Both Dr. Pepin and I would like to have his group return again in the future to advance both research and education in the White Mountains and other mountains globally.
Eric Kelsey, Director of Research
Ellen Estabrook
Adjusting to Life on the Summit By Charlie Peachey Working on the summit of Mount Washington is not your average job. There aren't too many other places where the employees work and live together for
Ellen Estabrook
A Surprise Aurora By Francis Tarasiewicz After 17 months of working at New England's highest peak, it finally happened. On the night of November 12th, 2023, I was lucky enough to view the famous and
Ellen Estabrook
A Glimpse at METAR Reports By Alexis George, Weather Observer & Meteorologist METAR observations are submitted every hour of every day at Mount Washington Observatory. METAR is a format for reporting weather information that gets