Up Close With Frost
2014-02-04 18:18:46.000 – Ryan Knapp,  Weather Observer/Meteorologist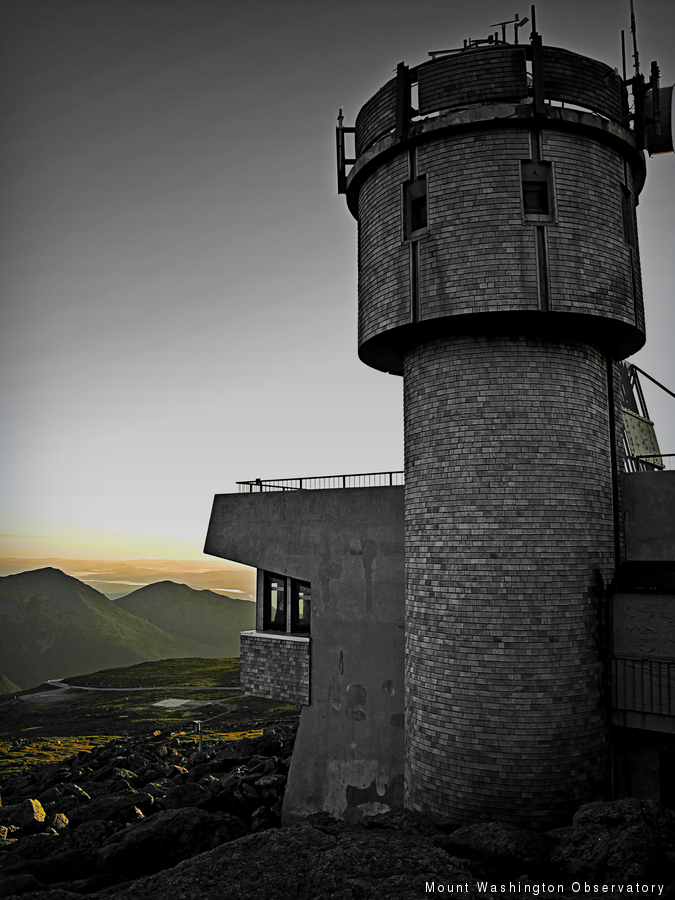 The outside of our tower during summer.
Our observation tower serves a few functions. The first is its connection between the two levels of NH State Park's Sherman Adams building where we lease space for our living and working quarters. It also connects us to the observation deck door so we can do our hourly weather observations 24 hours a day, 365 days a year. Going even higher in this tower, we house our deck webcam and an available "cold" room for experiments. Going even higher, we start to find various communication devices and instrumentation, including all of our wind instruments. These are all of the "big" things that our observation tower provides; however, in this Observer Comment, I am going to focus on something smaller that our tower provides that most people do not typically pause and take notice of when visiting us for the day or night in the winter – frost!
If you are a daily follower of our Observer Comments, you are probably thinking, "Oh great, another Comment about rime ice formation!" Fear not though, instead of focusing on what forms on the outside of our tower, this time I am bringing a focus on the types of frost that form on the inside of our observation tower. Over the course of the winter, the inside of our observation tower cools to well below freezing, currently it is holding steady in the lower teens. This makes all of its surfaces equally cold. As we go in and out of our living quarters and the weather room, warm, moist air enters the tower and then slowly rises. This air then is exposed to the chilled surfaces, eventually reaching its dew point and allowing it to condense into frost on anything and everything.
Over the course of the winter throughout the tower, we get differing types of frost. Hoarfrost is most common and comes in the variations of surface hoar and in some of our window frames, an equivalent of depth hoar. Additionally we have window frost (or fern frost) on some windows and walls, creating some interesting and intricate shapes. Unfortunately, writing about each one of these forms of frost would make this comment a novel; so, if you click on the highlighted words above, I have linked to additional descriptions to describe them a bit more.
To give you an idea of some of the frost we get, over the span of three nights, I used two cameras, a cheap lens from ebay, two headlamps, tripods, remote switches, a series of magnifiers, and duct tape to photograph some of the various forms of frost in our tower. So, below are a series of some of their intricate features I was able to capture.
Observer Footnote: If you are looking for something fun, free, and informative this weekend, please feel free to join the Mount Washington Observatory for a presentation on Backcountry Awareness. The program starts at 6pm on Saturday February the 8th at the Weather Discovery Center. The Observatory will also be joined by one of the Mount Washington Avalanche Centers Snow Rangers. The Weather Discovery Center is located across the street form the Eastern Slopes Inn in North Conway Village, NH.
Ryan Knapp,  Weather Observer/Meteorologist
Ellen Estabrook
Adjusting to Life on the Summit By Charlie Peachey Working on the summit of Mount Washington is not your average job. There aren't too many other places where the employees work and live together for
Ellen Estabrook
A Surprise Aurora By Francis Tarasiewicz After 17 months of working at New England's highest peak, it finally happened. On the night of November 12th, 2023, I was lucky enough to view the famous and
Ellen Estabrook
A Glimpse at METAR Reports By Alexis George, Weather Observer & Meteorologist METAR observations are submitted every hour of every day at Mount Washington Observatory. METAR is a format for reporting weather information that gets