Valentine's Day Winds
2012-02-14 23:38:53.000 – Rick Giard,  Weather Observer / Education Specialist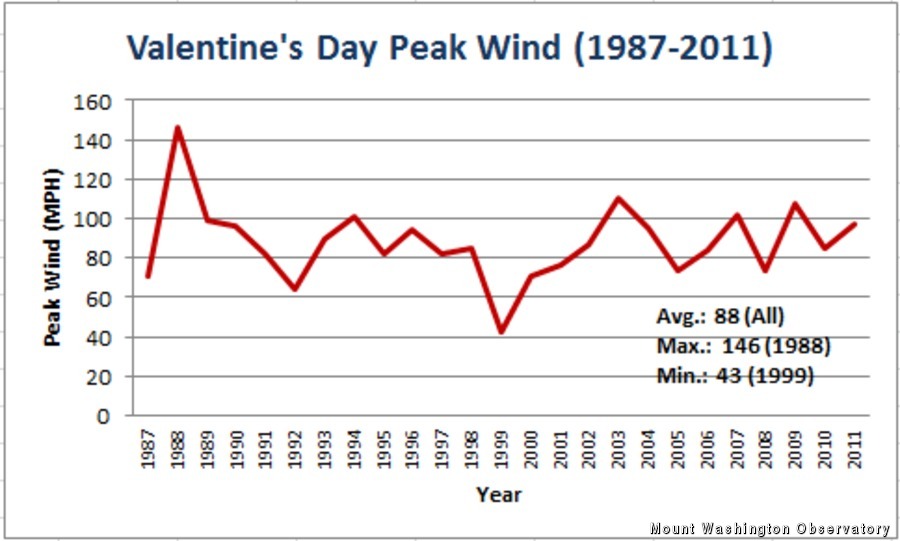 =$caption?>Valentine Peak Winds
It has been an extremely busy week on at the Observatory. Besides having had many overnight and daytime guests, we have also dealt with a number of weather and technical challenges. And, in the education area I have given eight hour-long distance learning programs to classrooms in NH, NY, and NJ. Mount Washington is a fascinating and exhilarating place to be a meteorologist and educator! However, after living and working up here 24/7 for an entire week, one does need some serious R&R. You start to yearn for home and family. Holidays can be especially hard times to be on shift. Valentine's Day is really no big deal – just a fun day with the kids at home making valentines, and maybe a special dinner together. It's just enough to begin feeling a bit homesick.
This evening while suppressing the urge to pack my gear and hike home, I started pondering what to write about. Is there anything unusual about Valentine's Day weather to note? What are the typical conditions on February 14th on the summit? As I delved into the archived weather sheets for this date, at first nothing unusual came to light. After calculating key statistics for the past 25 years, here are a few particulars.
AVERAGE DAILY STATS (1987-2011)
High Temperature (F) = 12.9
Low Temperature (F) = -6.3
Precipitation = 0.29 inches
Daily Snowfall = 2.4 inches
Snow Depth: = 9.8 inches
Well, no big surprises so far. It does seem as if the snow figures are rather light. Then I looked at the winds, and this turned out to be the most interesting feature of this date on the calendar. Valentine's Day is a very windy day!
Average peak wind = 88 MPH
Maximum peak wind = 146 MPH (1988)
Minimum peak wind = 43 MPH (1999)
So, if you like wind, Valentine's Day appears to be a good time to visit the Rock Pile. Of course, with high winds in February you are also likely to get low temperatures, bitter wind chills, freezing fog and blowing snow. Be well prepared for serious subarctic conditions.
Rick Giard,  Weather Observer / Education Specialist
Ellen Estabrook
Adjusting to Life on the Summit By Charlie Peachey Working on the summit of Mount Washington is not your average job. There aren't too many other places where the employees work and live together for
Ellen Estabrook
A Surprise Aurora By Francis Tarasiewicz After 17 months of working at New England's highest peak, it finally happened. On the night of November 12th, 2023, I was lucky enough to view the famous and
Ellen Estabrook
A Glimpse at METAR Reports By Alexis George, Weather Observer & Meteorologist METAR observations are submitted every hour of every day at Mount Washington Observatory. METAR is a format for reporting weather information that gets