Visiting the Jefferson Snow Patch
2019-07-12 05:29:57.000 – Ryan Knapp, Weather Observer/Staff Meteorologist
During our previous shift on the summit, my coworkers and I discussed where and when we would hike in our off-week. After discussing everyone's schedules, it seemed as though Tuesday, 9 July would work out the best for most. As for the where we narrowed our decision down to the peak of Mt Jefferson via the Caps Ridge Trail. But if we were going to hike Mt Jefferson, we were all in agreement that we would add a side-journey down to the "Jefferson snow patch" on the eastern slope of Mt Jefferson. This large patch of snow is one that we can see from our office windows on any given clear day and is typically one of the last patches of snow to melt out from the previous winter season. As we headed down for the off-week, the patch was still in good shape as it lingered into early July thanks in part to the amount of snowfall received in the 2018/19 season (314.3 inches) and the cool/cold weather that persisted well into the start of June which aided in slowing down its melt-out period.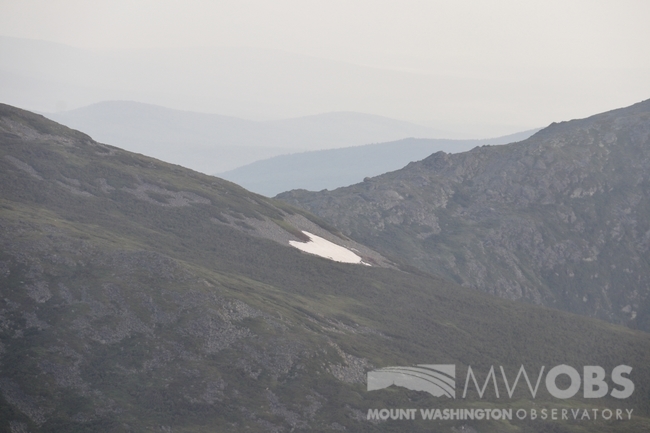 The Jefferson snow patch as viewed from Mt Washington on 11 July 2019
As Tuesday rolled around, a portion of our
Seek the Peak
team, the
Cirrus Contenders
, met at the Caps Ridge Trail Parking lot in the morning and then started our climb. As we were climbing up, we began to wonder whether or not the snow patch was still around. Just because it was present the week prior didn't necessarily mean it would be there the day we were climbing especially since the days prior to our hiker were hot and humid. As we climbed, I shot my coworker on the summit, Adam, a text and he confirmed that it was still visible to him from the summit. After we hit the summit of Mt Jefferson, we got out the topo map and referenced some pics and figured out where it was located then proceed to rock-hop down to it.
Our Seek the Peak team the Cirrus Contenders

Looking at Mt Washington from the summit of Mt Jefferson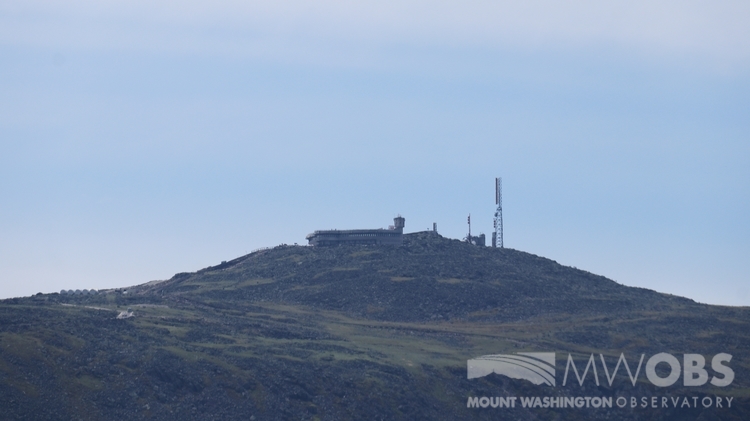 Zoom in on the NHSP Sherman Adams Building where MWO leases space
It was kind of surreal to finally be stepping foot on the snow patch after viewing it from afar for so long and thinking, "I'm gonna hike over there" but then never following through on my thought. But this year, it was more than a though as I took action and finally hiked over to it. Once I reached it, I was snapping pictures every which way while my coworkers built a little snowman. We all got our snowman pics in, had a bite to eat then proceeded up and over the mountain back to our cars. As we were descending the Caps Ridge Trail, visibilities were decreasing as wildfire smoke from Canada started to flow in. By the time I got home, visibility at my house was down to 4 miles due to thick smoke/haze. If you want to learn more about the recent smoke/haze, you can check out my coworker's blog post
HERE
.

Looking at Mt Washington from the Jefferson snow patch – for scale, note the three people in the upper right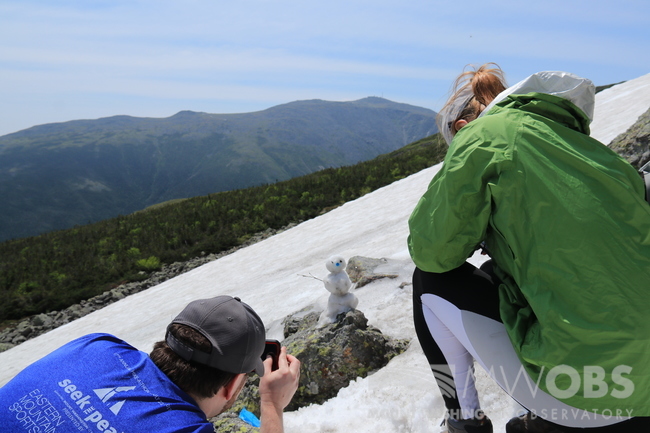 Coworkers taking their pics of our little summer snowman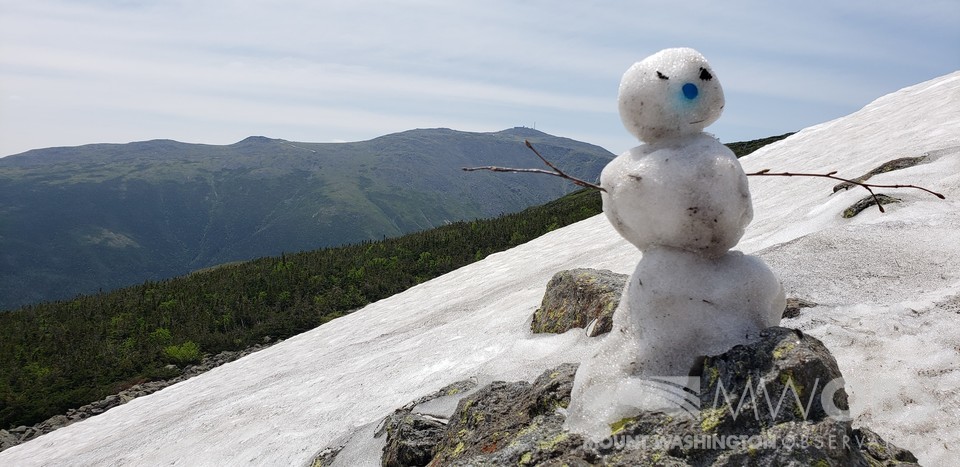 Snowman in summer on Mt Jefferson snow patch pointing out work
Ryan Knapp, Weather Observer/Staff Meteorologist
Ellen Estabrook
Adjusting to Life on the Summit By Charlie Peachey Working on the summit of Mount Washington is not your average job. There aren't too many other places where the employees work and live together for
Ellen Estabrook
A Surprise Aurora By Francis Tarasiewicz After 17 months of working at New England's highest peak, it finally happened. On the night of November 12th, 2023, I was lucky enough to view the famous and
Ellen Estabrook
A Glimpse at METAR Reports By Alexis George, Weather Observer & Meteorologist METAR observations are submitted every hour of every day at Mount Washington Observatory. METAR is a format for reporting weather information that gets