Volunteer Notes After a Fourth Visit
2012-04-25 23:15:48.000 – Lisa Carruthers,  Summit Volunteer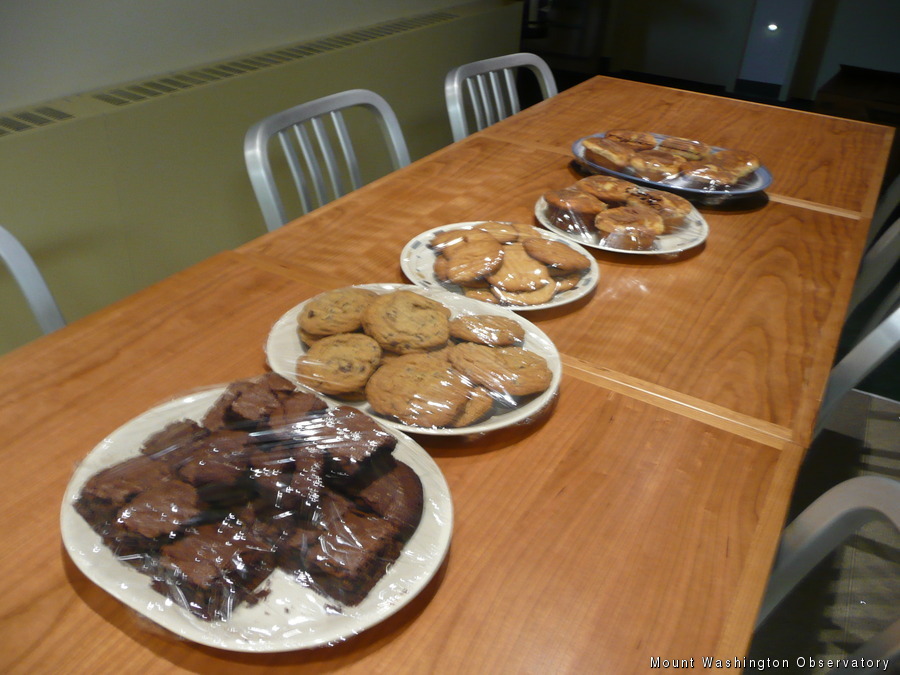 Some goodies for the summit crew
Today marked the end of my fourth shift volunteering on the Summit and I'm already missing this magical place. No two shifts are alike, but what is common to all of them is the opportunity to understand what the MWO is about, to experience a piece of extreme weather, and to meet some awesome and dedicated staff.
People always have one of two reactions when they hear that I volunteer on the summit: 'Why would you want to do that?' or 'Wow, that sounds awesome!' If you're reading this, you are probably in the second camp. So, I have a question for you: When are you going to plan this awesome opportunity for yourself?
I am truly a lucky lady! The Observatory's mission is one I strongly support, volunteering at the summit feeds my 'weather junkie' side, I have what amounts to a well stocked grocery store to bake and cook from, and I have the chance to interact with amazing scientists and adventurers.
This shift is short handed due to Steve's vacation. This leaves Mike as Acting Shift Supervisor and Night Observer, Rebecca as Education Specialist and Day Observer, Brian as Intern (on his last shift…Good luck Brian!), and Marty, Summit Feline. As a result, shift change times have blurred, with everyone doing much more than their 12 hour shift. Their work ethic, commitment to getting the job done, academic excellence, and patience in answering questions is inspiring.
Just to be clear, no one has asked me to promote either the observers or the observatory, but I feel compelled to do both. My professional career involved working for non-profit organizations so I have a high degree of skepticism for the way organizations manage their funds. I am completely confident in the way MWO budgets and expends their funds, which is only one way, frugally. Government and corporate funding, even for worthwhile scientific projects such as the Obs conducts, is harder to come by these days. The current capital campaign, which ends April 30th, is about $32,000 short of its goal. So, if you can't answer my initial question in the affirmative, or even if you can, please join me in making a financial contribution and/or by becoming a member of this important organization as well.
Lisa Carruthers,  Summit Volunteer
Ellen Estabrook
Adjusting to Life on the Summit By Charlie Peachey Working on the summit of Mount Washington is not your average job. There aren't too many other places where the employees work and live together for
Ellen Estabrook
A Surprise Aurora By Francis Tarasiewicz After 17 months of working at New England's highest peak, it finally happened. On the night of November 12th, 2023, I was lucky enough to view the famous and
Ellen Estabrook
A Glimpse at METAR Reports By Alexis George, Weather Observer & Meteorologist METAR observations are submitted every hour of every day at Mount Washington Observatory. METAR is a format for reporting weather information that gets