Weekly Weather Summary December 25-31
2012-01-02 14:42:12.000 – Rick Giard,  Weather Observer / Education Specialist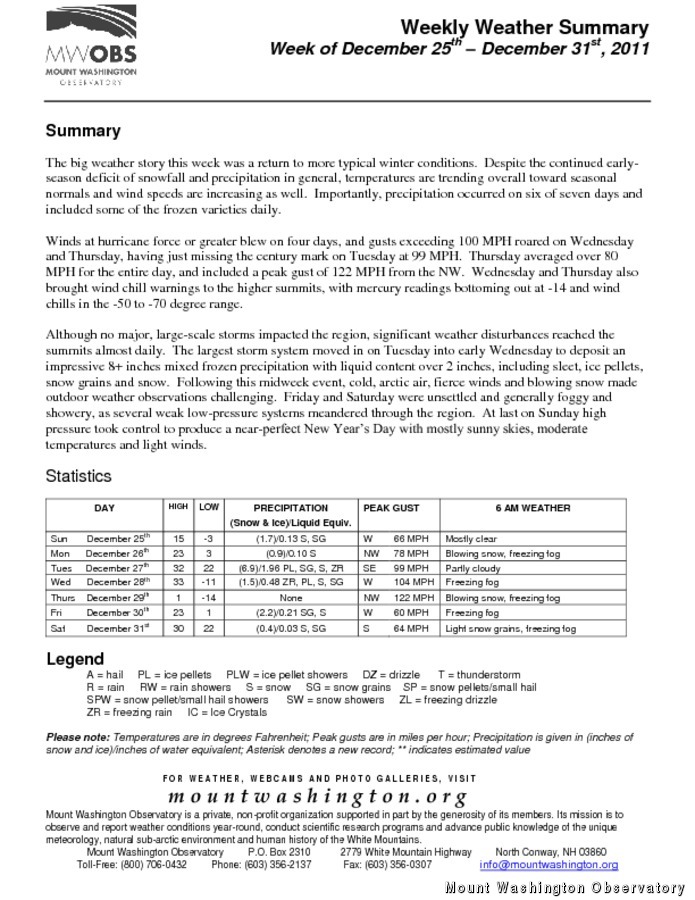 Weather Dec. 26-31
WEEKLY WEATHER SUMMARY
December 25-31
The big weather story this week was a return to more typical winter conditions. Despite the continued early-season deficit of snowfall and precipitation in general, temperatures are trending overall toward seasonal normals and wind speeds are increasing as well. Importantly, precipitation occurred on six of seven days and included some of the frozen varieties daily.
Winds at hurricane force or greater blew on four days, and gusts exceeding 100 MPH roared on Wednesday and Thursday, having just missing the century mark on Tuesday at 99 MPH. Thursday averaged over 80 MPH for the entire day, and included a peak gust of 122 MPH from the NW. Wednesday and Thursday also brought wind chill warnings to the higher summits, with mercury readings bottoming out at -14 and wind chills in the -50 to -70 degree range.
Although no major, large-scale storms impacted the region, significant weather disturbances reached the summits almost daily. The largest storm system moved in on Tuesday into early Wednesday to deposit an impressive 8+ inches mixed frozen precipitation with liquid content over 2 inches, including sleet, ice pellets, snow grains and snow. Following this midweek event, cold, arctic air, fierce winds and blowing snow made outdoor weather observations challenging. Friday and Saturday were unsettled and generally foggy and showery, as several weak low-pressure systems meandered through the region. At last on Sunday high pressure took control to produce a near-perfect New Year's Day with mostly sunny skies, moderate temperatures and light winds.
Rick Giard,  Weather Observer / Education Specialist
Ellen Estabrook
Adjusting to Life on the Summit By Charlie Peachey Working on the summit of Mount Washington is not your average job. There aren't too many other places where the employees work and live together for
Ellen Estabrook
A Surprise Aurora By Francis Tarasiewicz After 17 months of working at New England's highest peak, it finally happened. On the night of November 12th, 2023, I was lucky enough to view the famous and
Ellen Estabrook
A Glimpse at METAR Reports By Alexis George, Weather Observer & Meteorologist METAR observations are submitted every hour of every day at Mount Washington Observatory. METAR is a format for reporting weather information that gets