Weekly Weather Summary Jan. 8-14, 2012
2012-01-16 22:54:33.000 – Rick Giard,  Weather Observer / Education Specialist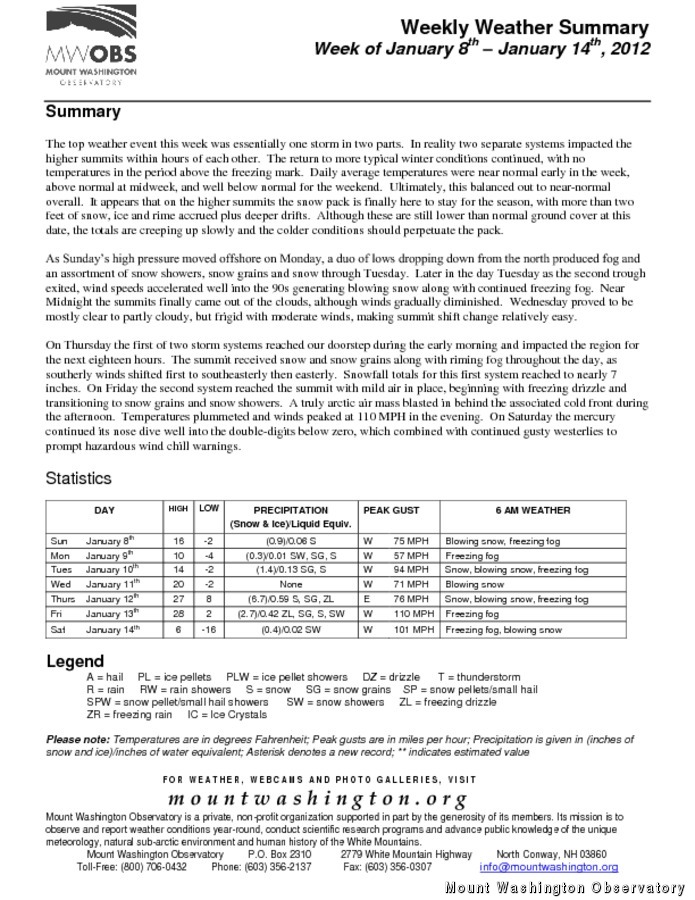 =$caption?>Weather Jan. 8-14
WEEKLY WEATHER SUMMARY
Jan. 8th – 14th
The top weather event this week was essentially one storm in two parts. In reality two separate systems impacted the higher summits within hours of each other. The return to more typical winter conditions continued, with no temperatures in the period above the freezing mark. Daily average temperatures were near normal early in the week, above normal at midweek, and well below normal for the weekend. Ultimately, this balanced out to near-normal overall. It appears that on the higher summits the snow pack is finally here to stay for the season, with more than two feet of snow, ice and rime accrued plus deeper drifts. Although these are still lower than normal ground cover at this date, the totals are creeping up slowly and the colder conditions should perpetuate the pack.
As Sunday's high pressure moved offshore on Monday, a duo of lows dropping down from the north produced fog and an assortment of snow showers, snow grains and snow through Tuesday. Later in the day Tuesday as the second trough exited, wind speeds accelerated well into the 90s generating blowing snow along with continued freezing fog. Near Midnight the summits finally came out of the clouds, although winds gradually diminished. Wednesday proved to be mostly clear to partly cloudy, but frigid with moderate winds, making summit shift change relatively easy.
On Thursday the first of two storm systems reached our doorstep during the early morning and impacted the region for the next eighteen hours. The summit received snow and snow grains along with riming fog throughout the day, as southerly winds shifted first to southeasterly then easterly. Snowfall totals for this first system reached to nearly 7 inches. On Friday the second system reached the summit with mild air in place, beginning with freezing drizzle and transitioning to snow grains and snow showers. A truly arctic air mass blasted in behind the associated cold front during the afternoon. Temperatures plummeted and winds peaked at 110 MPH in the evening. On Saturday the mercury continued its nose dive well into the double-digits below zero, which combined with continued gusty westerlies to prompt hazardous wind chill warnings.
For the complete Weekly Summary along with daily statistics, please click on the link above.
Rick Giard,  Weather Observer / Education Specialist
Ellen Estabrook
Adjusting to Life on the Summit By Charlie Peachey Working on the summit of Mount Washington is not your average job. There aren't too many other places where the employees work and live together for
Ellen Estabrook
A Surprise Aurora By Francis Tarasiewicz After 17 months of working at New England's highest peak, it finally happened. On the night of November 12th, 2023, I was lucky enough to view the famous and
Ellen Estabrook
A Glimpse at METAR Reports By Alexis George, Weather Observer & Meteorologist METAR observations are submitted every hour of every day at Mount Washington Observatory. METAR is a format for reporting weather information that gets