Weekly Weather Summary March 18-24
2012-03-25 13:46:36.000 – Rick Giard,  Weather Observer / Education Specialist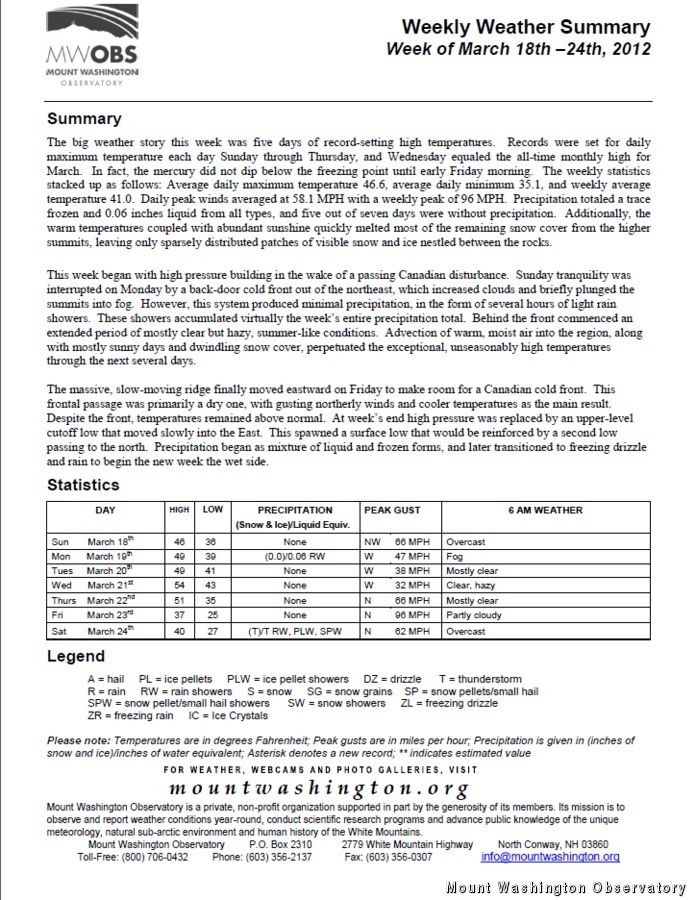 Weather Mar. 18-24
WEEKLY WEATHER SUMMARY
March 18-24, 2012
The big weather story this week was five days of record-setting high temperatures. Records were set for daily maximum temperature each day Sunday through Thursday, and Wednesday equaled the all-time monthly high for March. In fact, the mercury did not dip below the freezing point until early Friday morning. The weekly statistics stacked up as follows: Average daily maximum temperature 46.6, average daily minimum 35.1, and weekly average temperature 41.0. Daily peak winds averaged at 58.1 MPH with a weekly peak of 96 MPH. Precipitation totaled a trace frozen and 0.06 inches liquid from all types, and five out of seven days were without precipitation. Additionally, the warm temperatures coupled with abundant sunshine quickly melted most of the remaining snow cover from the higher summits, leaving only sparsely distributed patches of visible snow and ice nestled between the rocks.
This week began with high pressure building in the wake of a passing Canadian disturbance. Sunday tranquility was interrupted on Monday by a back-door cold front out of the northeast, which increased clouds and briefly plunged the summits into fog. However, this system produced minimal precipitation, in the form of several hours of light rain showers. These showers accumulated virtually the week's entire precipitation total. Behind the front commenced an extended period of mostly clear but hazy, summer-like conditions. Advection of warm, moist air into the region, along with mostly sunny days and dwindling snow cover, perpetuated the exceptional, unseasonably high temperatures through the next several days.
The massive, slow-moving ridge finally moved eastward on Friday to make room for a Canadian cold front. This frontal passage was primarily a dry one, with gusting northerly winds and cooler temperatures as the main result. Despite the front, temperatures remained above normal. At week's end high pressure was replaced by an upper-level cutoff low that moved slowly into the East. This spawned a surface low that would be reinforced by a second low passing to the north. Precipitation began as a mixture of liquid and frozen forms, and later transitioned to freezing drizzle and rain to begin the new week on the wet side.
Rick Giard,  Weather Observer / Education Specialist
Ellen Estabrook
Adjusting to Life on the Summit By Charlie Peachey Working on the summit of Mount Washington is not your average job. There aren't too many other places where the employees work and live together for
Ellen Estabrook
A Surprise Aurora By Francis Tarasiewicz After 17 months of working at New England's highest peak, it finally happened. On the night of November 12th, 2023, I was lucky enough to view the famous and
Ellen Estabrook
A Glimpse at METAR Reports By Alexis George, Weather Observer & Meteorologist METAR observations are submitted every hour of every day at Mount Washington Observatory. METAR is a format for reporting weather information that gets