What has happened in the last 110 days?
2015-10-04 20:06:30.000 – Michael Kyle, Weather Observer/IT Specialist
In the last 110 days, the U.S. Women's soccer team won FIFA's Women's World Cup, Donald Trump announced his candidacy for the U.S. Presidential Election in 2016, the first female graduated from the Army's Ranger School, and Mount Washington stayed above freezing for 104 days. That's right, from June 18th, 2015 through September 30th ,2015, Mount Washington did not drop below freezing (32°F). While that isn't making headlines around the world, it is buzzing around the Mount Washington Observatory. The 104-day streak of above-freezing temperatures was the longest streak of above-freezing temperatures since our records began in 1935. The last time a streak of this magnitude was seen on the summit of Mount Washington was back in 1937 when there was a streak of 102 days above freezing.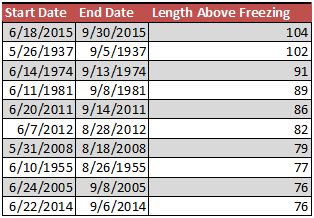 Top 10 Longest Streaks Of Above Freezing Temperatures On Mount Washington From 1935-Current
Now that the streak has ended, it seems like winter is coming back to the summit in full force. The last few days' temperatures have dropped to below-average and the summit saw its first icing event of the fall. With winter right around the corner, the summit crew is undertaking our winter preparations like installing the storm windows and bringing out the winter gear. This way, we'll be ready for winter when it finally does arrive.
Michael Kyle, Weather Observer/IT Specialist
Ellen Estabrook
Adjusting to Life on the Summit By Charlie Peachey Working on the summit of Mount Washington is not your average job. There aren't too many other places where the employees work and live together for
Ellen Estabrook
A Surprise Aurora By Francis Tarasiewicz After 17 months of working at New England's highest peak, it finally happened. On the night of November 12th, 2023, I was lucky enough to view the famous and
Ellen Estabrook
A Glimpse at METAR Reports By Alexis George, Weather Observer & Meteorologist METAR observations are submitted every hour of every day at Mount Washington Observatory. METAR is a format for reporting weather information that gets