What is this Storm Going to Do?
2017-02-11 16:16:33.000 – Adam Gill, Weather Observer/IT Specialist
This has been a question us Observers have been trying to answer over the past couple of days. Usually when you see a storm this intense near Mount Washington it is 300 hours out in fantasy land on the computer models. (The reason it is called fantasy land is due to how crazy all the storms are from model error!)
One thing that has not been a question is if we are going to see a lot of snow. The dynamics with this storm have heavy snow accumulations over a wide area and the White Mountains are right in the middle. A small shift in the storm track is not going to affect our snowfall totals too much. Currently we are expecting close to 2 feet of snow by the end of the storm!
The big question we have is how high the winds are going to get. This has been really tough to figure out because of how small the field of intense winds will be. A small shift to the west could mean that we could see some serious winds with this storm, possibly the highest that we have seen in years! But on the reverse side, if there is a small shift east, then the winds will not be anything major. Either or, we are likely going to see winds in excess of 100 mph. If the storm ends up moving a little further west, I would not be surprised to see wind gusts getting into the 140-150 mph range. With an easterly track, the more likely result will be gusts into the 120 mph range, which is still pretty windy!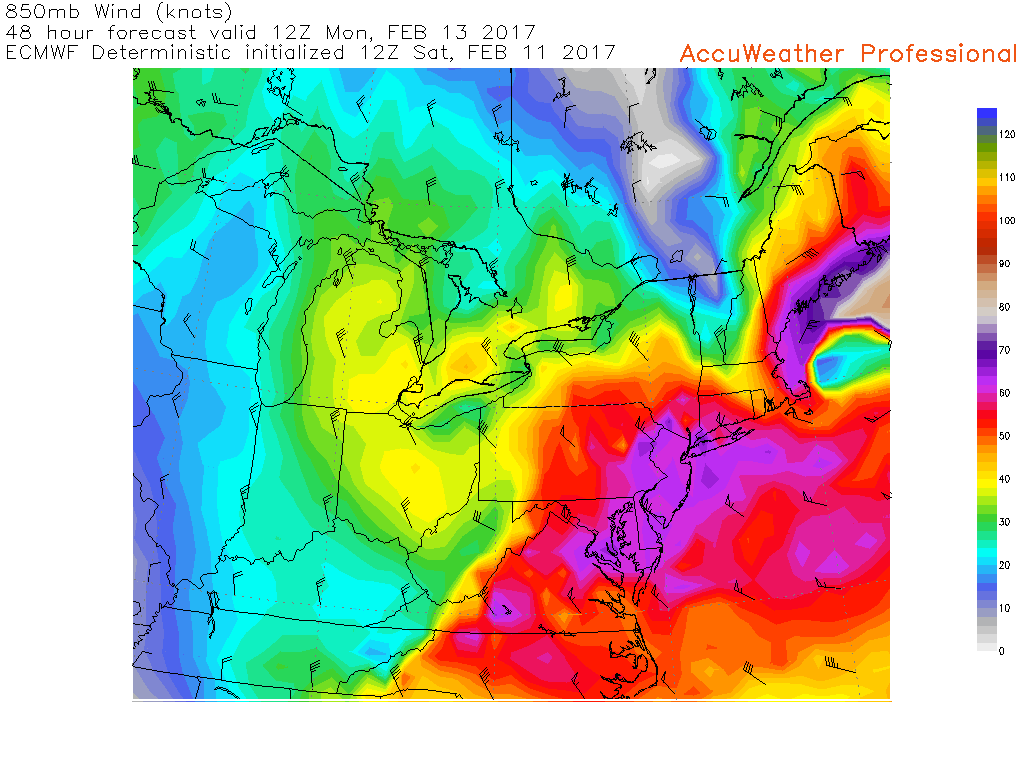 This is 850mb winds or winds at 5000ft above sea level. There is a very tight wind gradient from east to west with this storm and we are just outside of the sweet spot right now!
Another issue is that there is an inverted trough that will be present just behind the low. Underneath an inverted trough, a lot of times the winds are really light in the upper atmosphere. The plus side to being under the inverted trough would mean that we would see more snow that would actually fall into the precipitation can in the lighter winds.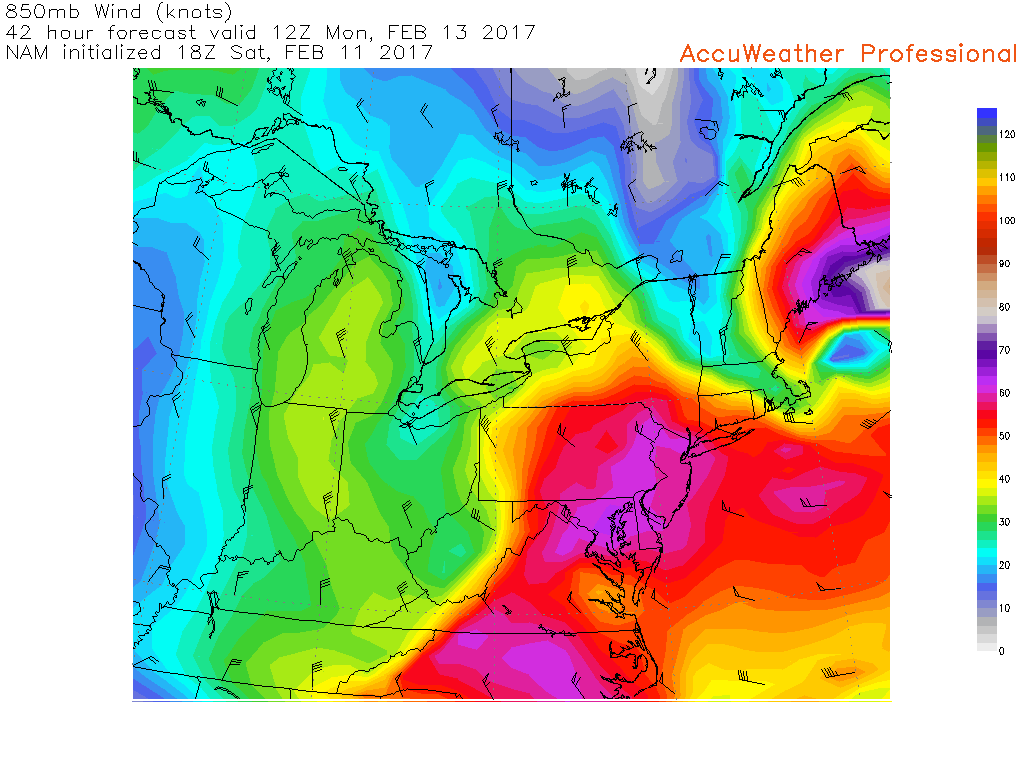 In higher resolution models in the 850mb winds there is a pronounced elongated area of lighter winds just behind the storm. This is the inverted trough and being under that would mean much lighter winds.
These two factors are going to play a huge role and we may not know until as close as 12 hours before the storm. Even then we can still get big sudden gusts, especially with a storm this strong that could exceed expectations!
Adam Gill, Weather Observer/IT Specialist
Ellen Estabrook
Adjusting to Life on the Summit By Charlie Peachey Working on the summit of Mount Washington is not your average job. There aren't too many other places where the employees work and live together for
Ellen Estabrook
A Surprise Aurora By Francis Tarasiewicz After 17 months of working at New England's highest peak, it finally happened. On the night of November 12th, 2023, I was lucky enough to view the famous and
Ellen Estabrook
A Glimpse at METAR Reports By Alexis George, Weather Observer & Meteorologist METAR observations are submitted every hour of every day at Mount Washington Observatory. METAR is a format for reporting weather information that gets