What Winter Has Left Behind
2017-04-17 12:44:47.000 – Nathan Flinchbaugh, Summit Intern
It was quite a mild Easter weekend for the entire Northeast. Temperatures soared well into the 80s up and down the Eastern Seaboard. Boston's high temperature Sunday climbed all the way to 86 degrees, one shy of the daily record, and five degrees warmer than Sunday's highs in both Miami and New Orleans. Here on Mount Washington, we reached 49 Sunday. Not a record by any means, but enough to set off spring fever. The long snow covered landscape of the summit transitioned to one of mainly wet rocks with only patches of snow remaining.
Although the weather is starting to make a turn towards more summer like conditions, a long cold winter on the Rockpile has left behind many reminders of its impact. In the more sheltered areas, there's still plenty of snow left, including on sides of the Observatory building that do not receive as much sunshine as others. One particular spot that was pretty hard to miss was just outside of the sub door to the tower. A five to six foot mound of primarily glaze ice sat in the corner of the building. The ice buildup was so high that it almost exceeded the height of the door.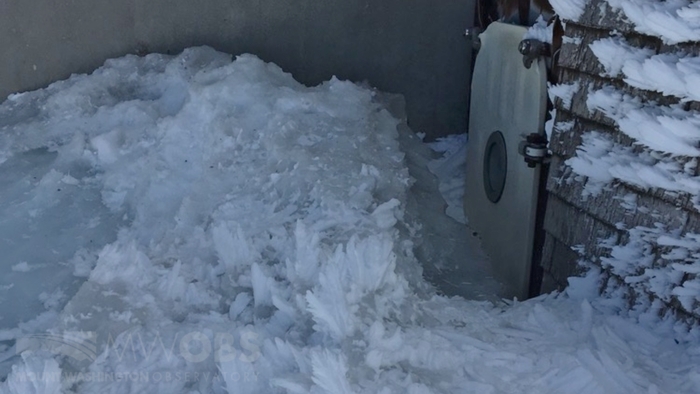 Compacted snow and ice against our submarine door to the tower. The top of the door is roughly 6 feet off ground level!
Myself and observer Tom went out to try and chip away at it, but the thickness and depth of the mound proved to render the job unrealistic. Judging by its size, combined with the fact it is located in a sheltered area, this pile of ice will more than likely last through all of May, and perhaps even well into June. The hope is that it will melt slowly over this duration; otherwise flooding within the tower may become a concern.
As far as the next few days go, it appears temperatures are going to come back down to more typical readings for mid-late April. I'm sure most would agree that it was nice to get a brief taste of summer, but it is still only April. Even if additional snow and ice for the coming weeks is kept to a minimal, it's going to take a long time to erase all that a Mount Washington winter has left behind.
Nathan Flinchbaugh, Summit Intern
Ellen Estabrook
Adjusting to Life on the Summit By Charlie Peachey Working on the summit of Mount Washington is not your average job. There aren't too many other places where the employees work and live together for
Ellen Estabrook
A Surprise Aurora By Francis Tarasiewicz After 17 months of working at New England's highest peak, it finally happened. On the night of November 12th, 2023, I was lucky enough to view the famous and
Ellen Estabrook
A Glimpse at METAR Reports By Alexis George, Weather Observer & Meteorologist METAR observations are submitted every hour of every day at Mount Washington Observatory. METAR is a format for reporting weather information that gets