what's up on the summit
2009-01-09 15:16:40.000 – Stacey Kawecki,  Observer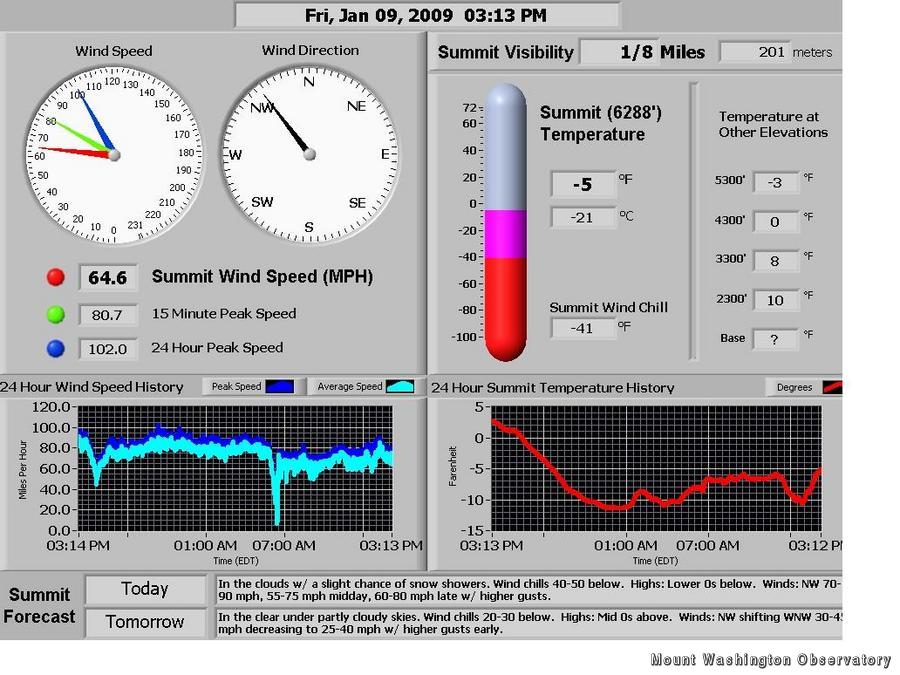 Its not that cold!
What does one write about when it is merely cold and windy? When there are no spectacular sunrises, sunsets, snowfall totals, winds, or temperatures? This is precisely my predicament. It doesn't even feel right to say its cold and windy compared to last week's condition, considering temperatures are only in the negative single digits and winds are only gusting to the 80's.
So, in other news, we are finally fully staffed, for the first time since June. This is perfect timing, since things look like they might start to get a bit hectic on the summit. Our IT staff has been shuffled a bit: Jeff has gone on to program for the 'real' world and Mike D has accepted an amazing position in southern NH. We have hired our new IT coordinator, but it will take some time for him to learn all the nooks and crannies that the Observatory's network. Combine the upheaval of the IT staff with the launch our distance learning program, we're all going to have our hands full on the summit!
Speaking (writing) of the distance learning program, we have our very first official program this Tuesday. We have done a test program with a real school, real teacher, and real students, which went quite well. Hopefully our programs only get better from here on out. Cross your fingers, because we are all wicked excited and want to put out the best program we possibly can!
Stacey Kawecki,  Observer
Ellen Estabrook
Adjusting to Life on the Summit By Charlie Peachey Working on the summit of Mount Washington is not your average job. There aren't too many other places where the employees work and live together for
Ellen Estabrook
A Surprise Aurora By Francis Tarasiewicz After 17 months of working at New England's highest peak, it finally happened. On the night of November 12th, 2023, I was lucky enough to view the famous and
Ellen Estabrook
A Glimpse at METAR Reports By Alexis George, Weather Observer & Meteorologist METAR observations are submitted every hour of every day at Mount Washington Observatory. METAR is a format for reporting weather information that gets