Wind Statistics From Winter 2018-2019
2019-04-05 15:49:02.000 – Thomas Padham, Weather Observer/Education Specialist
It's been a very memorable winter season, something I've mentioned before in past blogs but still can't really get over is how windy it's been! I decided to do a little more digging into just how windy this winter of 2018-2019 has been, and also how it stacks up to our all-time records going back to the 1930s. The cherry on top to this winter season has obviously been a new February record wind of 171 mph, but I'll focus more on the frequency of high wind events here on the summit this past year/winter.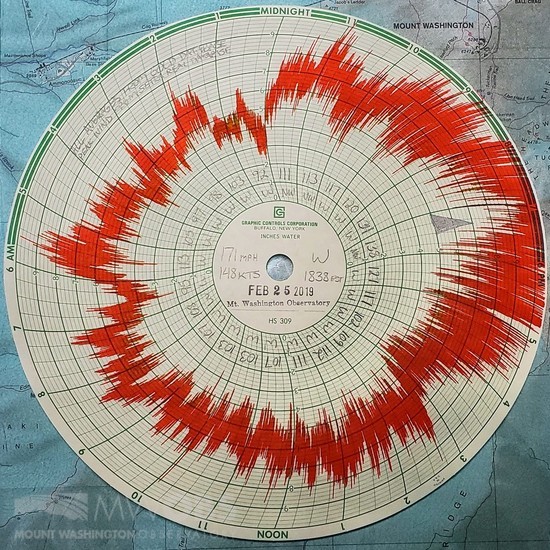 Hays Chart from February 25th, 2019 with a peak gust of 171 mph
November to April is typically the windiest part of the year for the summit of Mount Washington, when we see 100+ mph winds every 4-5 days on average (roughly 32 days per season). This extended winter season has been very impressive, with 43 days of 100 mph winds or greater, and we're only just starting the month of April so there's still time to add a few more to the list!
Besides the extreme events, the consistency of the wind has also been remarkable. From the period November 2018 to March 31st 2019, the summit averaged winds of 47 mph. This is a full 4 mph higher than 30-year norms, impressive for a full 5-month period as we often see one month a few mph above followed by a month below, which often cancels things out. February was anomalously high as expected given it featured two extreme wind events (148 mph and 171 mph). The month averaged 55 mph, 11 mph above climate norms! This rates February as our third windiest on record, with 1939 taking the top spot with an incredible monthly average wind of 70 mph.
All of this wind personally has meant a lot of de-icing and challenges for our crew on top of the mountain. My crew of Taylor, Ryan, Chloe and I have become very accustomed to 100 mph winds this winter, with at least one day of 100+ mph winds occurring each shift on the summit continuously since October 17th! This is the longest stretch of such high winds for all of our current observers, including Ryan who has worked on the summit for 13 years now.
Thomas Padham, Weather Observer/Education Specialist
Ellen Estabrook
Adjusting to Life on the Summit By Charlie Peachey Working on the summit of Mount Washington is not your average job. There aren't too many other places where the employees work and live together for
Ellen Estabrook
A Surprise Aurora By Francis Tarasiewicz After 17 months of working at New England's highest peak, it finally happened. On the night of November 12th, 2023, I was lucky enough to view the famous and
Ellen Estabrook
A Glimpse at METAR Reports By Alexis George, Weather Observer & Meteorologist METAR observations are submitted every hour of every day at Mount Washington Observatory. METAR is a format for reporting weather information that gets