Wind, Temperature, and Wind Chill- Oh My!
2015-01-15 17:24:28.000 – Kaitlyn O'Brien, Weather Observer/Education Specialist
Much of the state will experience bitterly cold temperatures starting Friday and lasting through the early part of the weekend. An area of low pressure to our northwest will be swinging a cold front through, allowing temperatures to plummet throughout the day Friday. This cold air will settle in ahead of high pressure that will move through on Saturday. As a result of this transition of systems, a strong pressure gradient will cause winds to ramp up, approaching 80 mph Friday evening on the summit with even higher gusts. High wind speeds and low temperatures are the perfect combination for low wind chills. But what does it mean when the wind chill is 50 below? Is that the temperature are you actually feeling?
The reason why meteorologists emphasize wind chill values in the first place is to make known the severity of frostbite and frost nip. Wind chill can simply be thought of as a "feels like" temperature and wind chill values are calculated using wind speed and ambient air temperature. Furthermore, wind chill models are explicitly programmed to output wind chill values based on the temperature that would be felt by exposed human skin, and this is done by taking heat loss into consideration. It's not necessarily about how the wind is lowering the temperature of our exposed skin, but rather, it should be interpreted as how the wind is affecting the amount of heat our exposed skin loses, especially as the winds increase. Ultimately, if you are properly dressed from head to toe and you do not have any exposed skin, you will not be affected by the wind chill, and you greatly reduce your chances of acquiring frost nip or frostbite.
Perhaps the hype that surrounds wind chill values is the fact that the wind chill always sounds far more threatening than the ambient air temperature. For example, with temperatures near 4 degrees F and a 30 mph sustained wind, the wind chill value is -20 degrees F. Of course there is a greater "wow" factor when you say to your friends, "The wind chill was 20 degrees below zero!!" instead of describing the wimpy ambient air temperature of 4 degrees. But what you should really explain are the data that make up the wind chill value calculation. If you were not wearing gloves, and your hands were exposed to the elements, it would "feel like" 20 degrees below zero to your hands, but your hands are not really registering that temperature; it's simply a reflection of the calculation that determines heat loss.
On that note, it's important to remember is the wind chill value is constantly fluctuating. Because wind speeds are constantly changing (there's a good oxymoron!), the wind chill will also fluctuate, so often times the values are mere "snapshots" and not truly reflective of the extended period of time you may be spending outside. Furthermore, we are all different and have adapted to different comfort levels (I know this because I'm the lone observer on my shift who likes to sleep cold!) That being said, what may feel cold to one person, may not necessarily feel the same way to another. But when the temperatures fall to well below zero, as they will for the start of this weekend, it's safe to say it's just plain cold!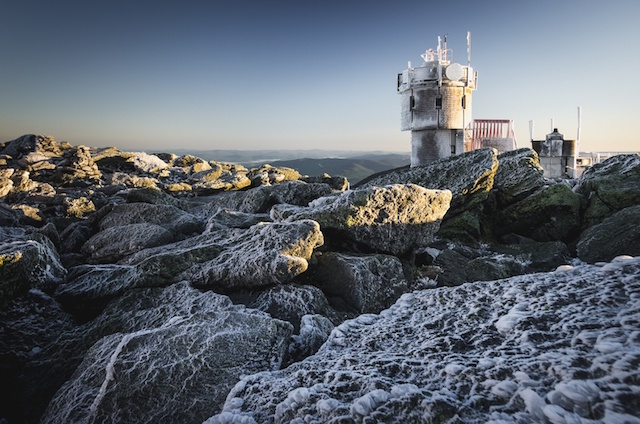 Rime covered rocks on the summit
Kaitlyn O'Brien, Weather Observer/Education Specialist
Ellen Estabrook
Adjusting to Life on the Summit By Charlie Peachey Working on the summit of Mount Washington is not your average job. There aren't too many other places where the employees work and live together for
Ellen Estabrook
A Surprise Aurora By Francis Tarasiewicz After 17 months of working at New England's highest peak, it finally happened. On the night of November 12th, 2023, I was lucky enough to view the famous and
Ellen Estabrook
A Glimpse at METAR Reports By Alexis George, Weather Observer & Meteorologist METAR observations are submitted every hour of every day at Mount Washington Observatory. METAR is a format for reporting weather information that gets