Winter has Returned! For now
2017-03-09 16:32:15.000 – Adam Gill, Weather Observer/IT Specialist
Today we have winds that have well exceeded the century mark with a peak gust of 119 mph! For a short period of time, we were even sustained over 100 mph for about 8 minutes but it was far too gusty to try the century club. Winds have since been breezy, sustained around hurricane force with frequent gusts into the 90s. The peak gust of 119 exceeded my forecasted peak gusts of 100 mph yesterday afternoon. Shortly after submitting the forecast I saw reports of gusts to as high as 80 mph in Rochester NY so I figured I may be a bit low. Luckily our Night Observer forecasted winds gusting over 110 mph for this mornings forecast!
Looking ahead to this weekend it is looking more and more likely that there will be a substantial cool down. Temperatures are expected at this time to plunge to around record low territory on Saturday and Sunday. There has been consistency in the models that 850mb height will fall to 1320 meters (~4300 ft) with temperatures nearing -25°F! Lifting that air to summit level that could cool another 5-10°F putting us in the 30°F below range! Winds will also be ramping up with hurricane force creating very dangerous wind chills. Below is the forecasted 850mb temperatures for early Saturday morning, a bone chilling -31°C right over Mt. Washington!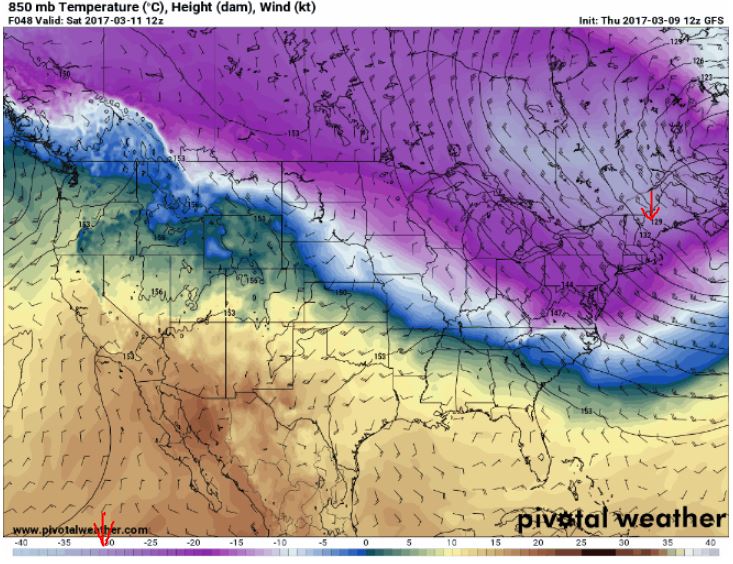 Now I don't normally trust computer models beyond 5 days due to how much error will be present but there has been a significant Nor'easter consistent for the past couple of days now. This event will not take place until early next week but definitely something snow lovers can keep an eye on! This storm is present in most of the major global forecasting models and the storm tracks are all similar which means there will likely be some sort of strong storm in the vicinity of New England! I am wish casting 2 feet of snow for the summit but that is going to depend greatly on the intensity and path it will end up taking!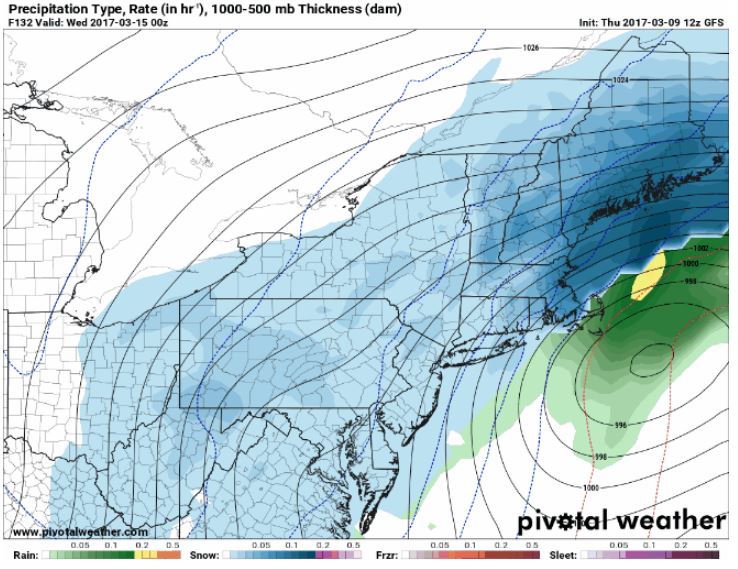 Adam Gill, Weather Observer/IT Specialist
Ellen Estabrook
Adjusting to Life on the Summit By Charlie Peachey Working on the summit of Mount Washington is not your average job. There aren't too many other places where the employees work and live together for
Ellen Estabrook
A Surprise Aurora By Francis Tarasiewicz After 17 months of working at New England's highest peak, it finally happened. On the night of November 12th, 2023, I was lucky enough to view the famous and
Ellen Estabrook
A Glimpse at METAR Reports By Alexis George, Weather Observer & Meteorologist METAR observations are submitted every hour of every day at Mount Washington Observatory. METAR is a format for reporting weather information that gets